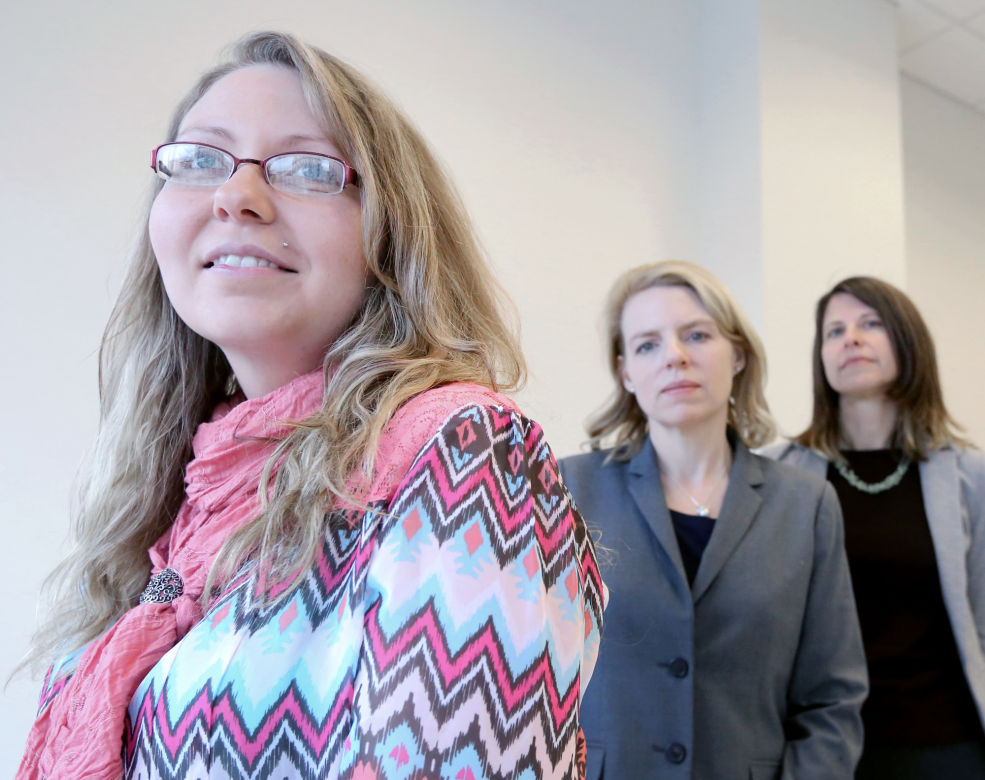 A federal judge has blocked a Wisconsin law — sometimes called the "cocaine mom" law — that allows the state to detain pregnant women suspected of drug or alcohol abuse.
U.S. District Court Judge James Peterson ruled in Madison that the law, which extends protections for abused or neglected children to fetuses, is "void for vagueness."
The amounts of drug use by pregnant women that should prompt state action and the risk to fetuses are not clear, the judge said.
"Erratic enforcement, driven by the stigma attached to drug and alcohol use by expectant mothers, is all but ensured," Peterson wrote in a ruling Friday.
The case involves former Wisconsin resident Tammy Loertscher, who claimed that the law, enacted in 1998, is unconstitutional.
Loertscher was living in Medford in 2014 when she sought a pregnancy test and help for depression and a thyroid problem. At Mayo Clinic in Eau Claire, she told a doctor she had used methamphetamine, marijuana and alcohol but stopped taking them when she thought she was pregnant.
Tests showed Loertscher was 14 weeks pregnant and had traces of the drugs in her body. A Taylor County judge ordered her into inpatient drug treatment. When she refused, she was taken to the county jail for 18 days, including 36 hours in solitary confinement, until she agreed to urinalysis throughout her pregnancy.
Under the law, the state can treat fetuses as children in need of protection if the "expectant mother habitually lacks self-control in the use of alcohol beverages, controlled substances or controlled substance analogs, exhibited to a severe degree, to the extent that there is a substantial risk that the physical health of the unborn child, and of the child when born, will be seriously affected or endangered."
Peterson ruled that "habitual lack of self-control" and "substantial risk to the physical health of the unborn child" are not "amenable to reasonably precise interpretation."
He blocked enforcement of the law statewide. In a claim against Taylor County, the judge sided with the county and said Loertscher was not entitled to monetary damages.
The state Department of Justice could appeal the ruling.
"At this time, we are still reviewing the court's decision and do not have a comment to offer," spokesman Johnny Koremenos said Monday.
The state Legislature passed the law in 1997 after the state Supreme Court said state law didn't give juvenile courts jurisdiction over adult pregnant women.
The state Division of Public Health, the City of Milwaukee Health Department and the state Division of Children and Family Services, now the Department of Children and Families, opposed the law.
The Wisconsin Legislative Council warned at the time that extending protections to fetuses in all stages of pregnancy likely would be unconstitutional.
Doctors who say the law discourages pregnant women struggling with addiction from seeking prenatal care and being open about drug use praised the ruling.
"For the first time in 19 years, Wisconsin women who become pregnant and seek medical help can do so without fear that their confidentiality will be violated and their health and their baby's health undermined by forced treatment and punishment based on medical misinformation and stigma," said Dr. Kathy Hartke, chair of the Wisconsin chapter of the American College of Obstetricians and Gynecologists.
Dr. Aleksandra Zgierska, president of the Wisconsin chapter of the American Society of Addiction Medicine, said babies' health has more to do with socioeconomic factors such as poverty, nutrition and access to health care than what pregnant women do or don't do during pregnancy.
"The best ways to protect babies and grow healthy children is to provide confidential, non-threatening health care that keeps mothers engaged in treatment, if they need it, and mothers and babies together," Zgierska said.
In a filing in December, the Department of Justice said the state has a "substantial and compelling" interest in protecting fetuses from harm.
"Children are protected from abuse from the moment they are born," the state said. "It only makes sense that they be protected from abuse before birth as well."
Between 2005 and 2014, 3,326 reports of abuse against fetuses were screened under the law. The state made claims of abuse of fetuses against 467 women.
In at least 152 cases, authorities removed children from their parents after birth, said Nancy Rosenbloom, director of legal advocacy for National Advocates for Pregnant Women. The group is representing Loertscher, along with the NYU School of Law Reproductive Justice Clinic and Jeff Bowen, of Perkins Coie, a Madison law firm.
A handful of states — including Minnesota, Oklahoma and South Dakota — have similar laws, Rosenbloom said.
Wisconsin's law is unique in allowing for the provision of attorneys for the fetus but not the pregnant woman being detained, and for handling the cases in juvenile court where records are confidential, she said.
Loertscher's son, now 2, is healthy and thriving, the National Advocates for Pregnant Women said.