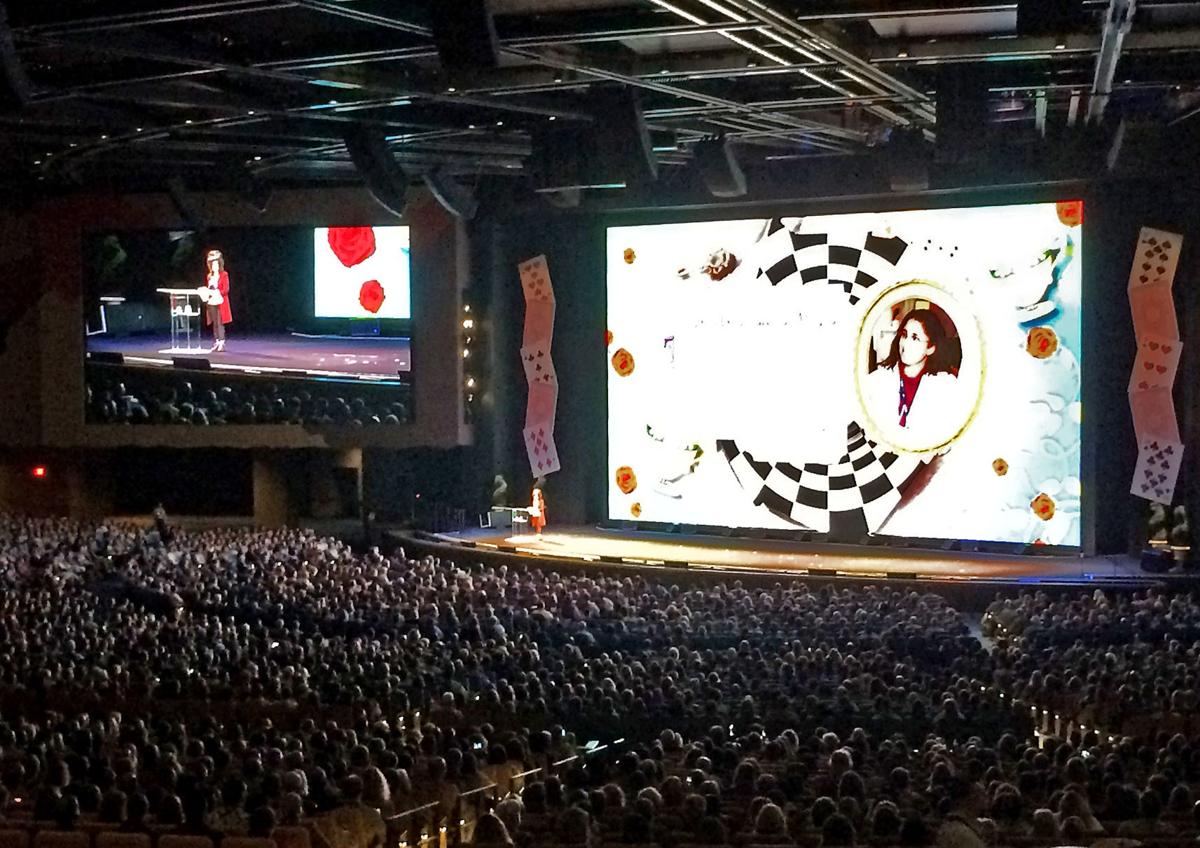 From the Flint water crisis and Syrian refugees to underserved patients and the opioid abuse epidemic, Epic System Corp.'s annual users' group meeting Tuesday was infused with a heavy dose of humanitarianism.
CEO Judy Faulkner — costumed, as is customary, this year as the Mad Hatter to suit the "An Adventure in Wonderland" theme — told some 18,000 attendees that it was mercury poisoning that made the hatter mad.
"Could the electronic health record have helped? Probably," she said.
Faulkner explained that Dr. Mona Hanna-Attisha, of Hurley Medical Center in Flint, Michigan, used Epic's electronic medical records last year to help expose unsafe lead levels in children who drank the city's contaminated water.
Faulkner told those gathered for the meeting, which started Monday and runs through Thursday at Epic's campus in Verona, that Epic is working with the American University of Beirut to put basic health information about Syrian refugees onto thumb drives that the refugees will be able to keep.
"If they end up, maybe, in another country, they'll be able to share their information," she said. "Right now, it's very scattered information. It's a real challenge to take care of the refugees."
Faulkner said health care systems that provide specialty and inpatient care for federally qualified health centers, also known as community health centers, will now get free licenses and free maintenance for that service.
The centers, such as Access Community Health Centers in Madison, get federal grants to primarily serve low-income patients on a sliding fee scale.
Other Epic staff, in describing changes planned for MyChart, Epic's patient portal, said patients soon will be able to get online estimates of the cost of their care. They'll be able to apply online for charity care, if needed and available, to help pay their bills.
To address the opioid abuse epidemic, Epic president Carl Dvorak said, the company is trying to make it easier for doctors to check Prescription Drug Monitoring Programs, which track how often patients get medications.
Epic is also looking at including data in the medical chart that could help predict opioid abuse. For example, a patient might click the button on a hospital pain pump 25 times, even though the doctor ordered only nine doses.
"What does that tell us, in a predictive model, about how they might self-manage opioids at home?" Dvorak said. Including such information should "help you help the patient the best you can in controlling and managing opioids."
The speakers also focused on Epic's efforts to enhance interoperability, or the ability of medical record systems to communicate with one another.
Epic has been criticized by some competitors and Congress members for impeding interoperability, though Epic says it supports making patient records more exchangeable.
Happy Together, Epic's initiative to let patients see MyChart information from a variety of providers, should also enable health care systems to better manage large groups of patients as they are increasingly being paid to do, Faulkner said.
Epic's Cosmos Research Network — a group of about a dozen health care organizations around the country, including Johns Hopkins Medicine and Duke University — is pooling patient data to better understand and treat conditions such as autism, Alzheimer's disease and multiple sclerosis, Faulkner said.
"It's going to be a huge discovery platform for health care knowledge," she said.
Epic's customers include nearly 400 health care organizations representing more than half of Americans. With CVS and Walgreens now on Epic, more than 80 percent of retail pharmacies in the country are Epic users.
An estimated 9,900 employees and 8,000 customers are attending this week's meeting, including visitors from 13 countries.
The annual meeting has an estimated economic impact in the Madison area of $9.5 million, second only to the World Dairy Expo, according to the Greater Madison Convention and Visitors Bureau.
Be the first to know
Get local news delivered to your inbox!