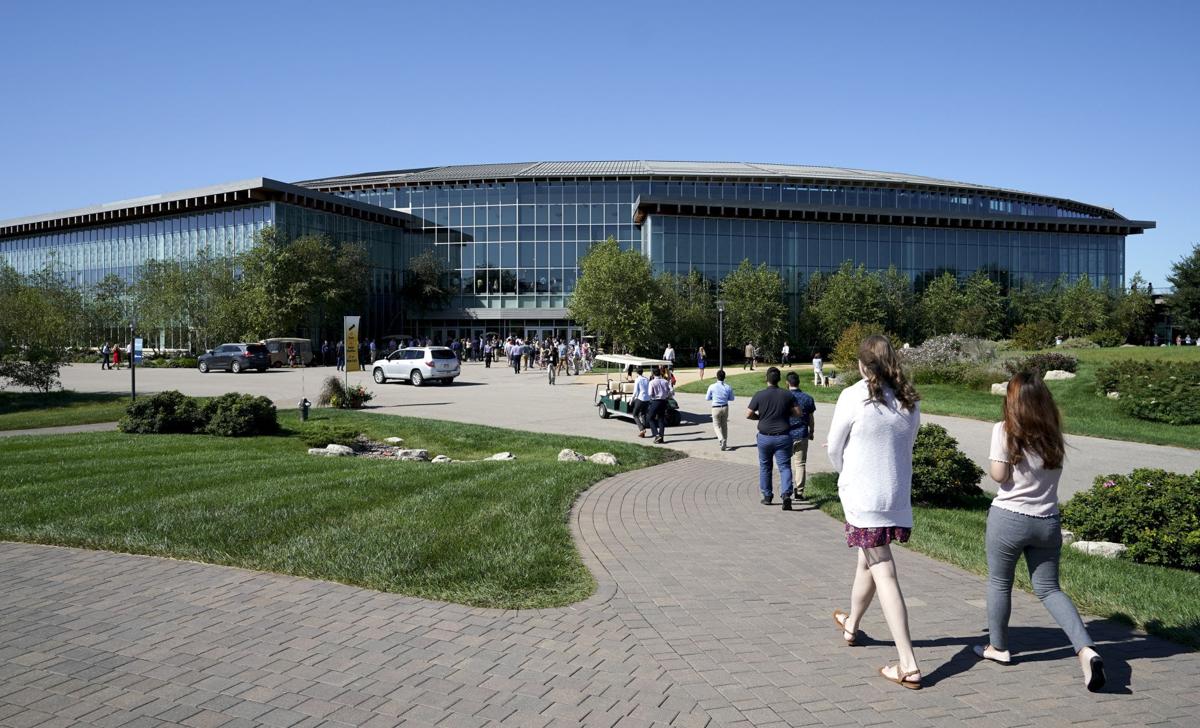 Epic Systems Corp. employees will be required to work at the Verona headquarters, not remotely, at least part-time starting July 19 — a transition by one of the Madison area's largest employers as the COVID-19 pandemic ebbs that follows complaints from some workers over the company's attempted back-to-work mandate last August.
The electronic medical records company plans to resume its annual Users Group Meeting in person Aug. 23-25 for fully vaccinated attendees. Traditionally bringing in about 8,000 visitors, the event will be the first big meeting to be held at the campus since August 2019, as conferences have been conducted online because of COVID-19 restrictions.
The company's new back-to-work plan, which was shared with employees Friday morning, will require workers to return to the office at least three days a week starting July 19, said Kristen Dresen, a member of Epic's administration team.
Starting Aug. 1, employees will need to be in the office at least four days a week, and starting Sept. 1, they'll need to come nine days of every two weeks, Dresen told the Wisconsin State Journal. The plan will be reevaluated after October, she said.
"It's a very phased-in, gradual approach," Dresen said. "We've been taking our time to watch vaccination rates, follow the guidelines and be aligned with what public health and others are recommending."
About 4,000 of Epic's 9,400 Verona-based employees are voluntarily working in the office on any given weekday, Dresen said. More than 94% have received at least one dose of COVID-19 vaccine, many at on-site vaccination clinics, and more than 80% are fully vaccinated, she said.
Those who aren't fully vaccinated when they return will be required to wear masks in public spaces and maintain distance from others, Dresen said. Most Epic workers have their own enclosed offices.
After Epic initially told employees to return to the office last August, some decried the policy anonymously in news reports and filed complaints with Public Health Madison and Dane County. The health department wrote Epic a letter questioning whether the company was facilitating remote work "to the greatest extent possible," as required by the department's order at the time.
Asked if some employees might resist, given that fewer than half have returned voluntarily, she said, "It's hard to know. It's certainly possible. Our plan has been thoughtful. I think we'll work with staff to make their transition a good one."
The company set July 19 as the initial timeline because administrators had said they would give employees four weeks' notice and didn't see the need to make people return sooner, she said.
In-person attendees at the Users Group Meeting will need to attest that they're fully vaccinated, which is appropriate because "they're health care leaders and take their health status very seriously," Dresen said.
The meeting, one of several yearly boosts to the Madison-area economy that have been gone since the pandemic began in early 2020, will signal a key new start, she said.
"It's really important for our customers to have an opportunity to get together and learn from each other," she said.