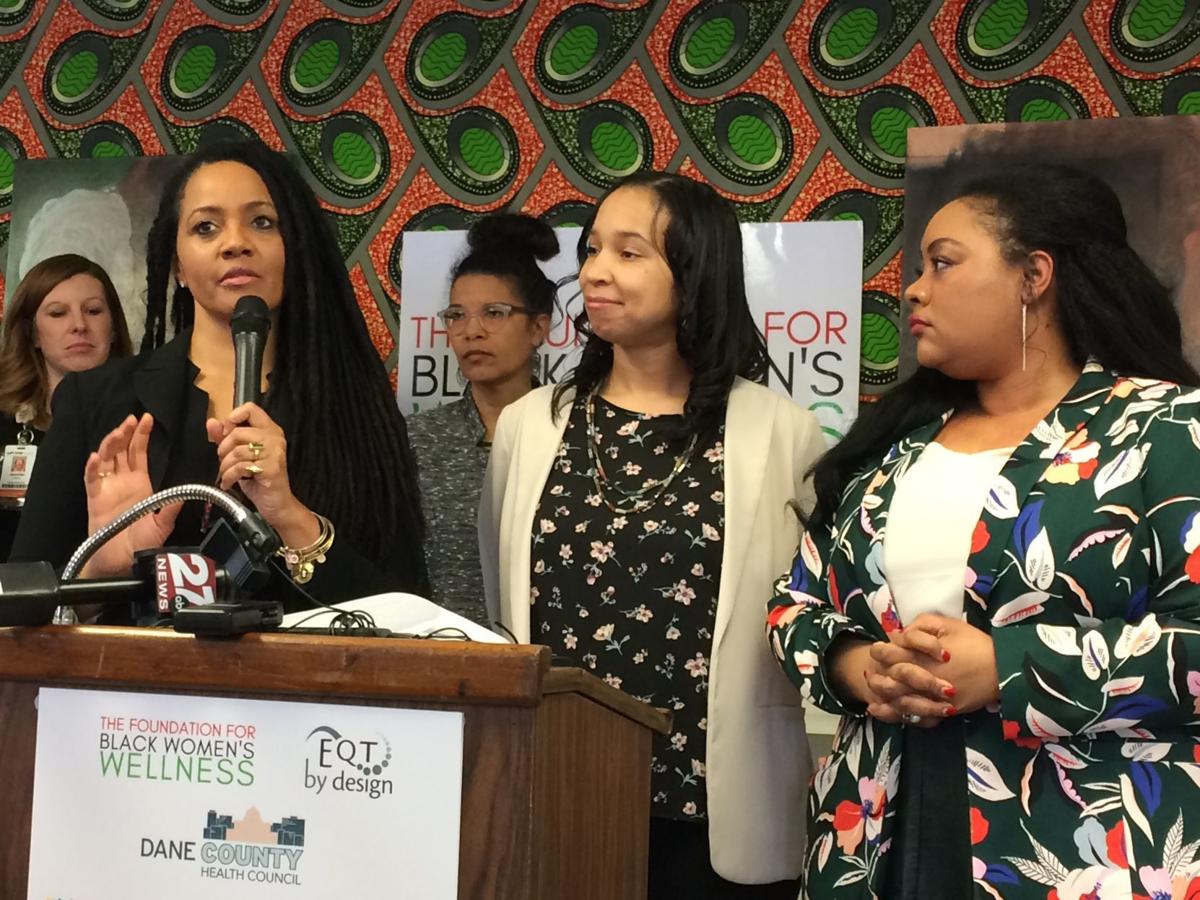 An expanded birth coach program, a new Black Maternal and Child Health Alliance, and a screening tool to connect black pregnant women to community resources are being launched to address poor outcomes for black babies in Dane County, organizers said Thursday.
The effort, led by the Foundation for Black Women's Wellness and the Dane County Health Council, aims to reduce high rates of low birth weight and infant mortality among black babies.
"We are confident that these initial investments and actions will set the stage for a long-term success that we seek in changing the complexion of black maternal and child health in Dane County," Lisa Peyton-Caire, the foundation's founder and president, said at a news conference at the foundation's new offices on Madison's West Side.
"We are committed to system changes that are centered in the voices of black women," said Dr. Mark Huth, CEO of Group Health Cooperative of South Central Wisconsin, which is a council member along with other Madison-area health care providers, the Madison School District, United Way of Dane County and Public Health Madison and Dane County.
In 2016-18, the black infant mortality rate in the county was 12 deaths per 1,000 births, compared to 4.3 deaths per 1,000 births for white babies. The rate was 7.8 for Hispanics and 4.4 for Asians.
Stressed families, economic struggles and institutional racism are key reasons black babies in the county are twice as likely as white babies to be born with low birth weight, which contributes to higher black infant mortality, according to a report last year by the council and the foundation.
The report was based on nine months of focus groups and surveys involving nearly 300 black women, black men and health care and social services providers.
To help address the problem, the health council will contribute $25,000 to train 15 or more black doulas, or birth coaches, who assist pregnant women before, during and after delivery.
Madison-based Harambee Village Doulas currently has 10 doulas who help 85 to 100 mothers each year with births and lactation, said executive director Micaela Berry. More than doubling the capacity should allow the group to assist with many more of the county's 600 or so annual black births.
By providing emotional and social support, doulas can increase breastfeeding rates, reduce the need for medications and curb preterm deliveries, said Tia Murray, CEO of Harambee Village Doulas.
The new Black Maternal and Child Health Alliance will "lead, shape and guide solutions," Peyton-Caire said. The alliance will hold a round-table discussion in April to identify priorities and goals. It plans to organize a summit next year.
To help pregnant women get more social support, Madison-area health systems will use a new care coordination screening tool in their electronic medical records purchased from Verona-based Epic Systems Corp., Huth said.
"Community resources are disconnected and hard to navigate," Huth said. "(The tool will) identify social needs during prenatal appointments and link families more quickly to agencies that provide critical community resources like stable housing, employment and childcare assistance."
The screening tool program is supported by a $1 million grant from the Wisconsin Partnership Program at the UW School of Medicine and Public Health.
Peyton-Caire said poor outcomes for black babies "is not simply a health care industry issue. This is a community, systemic issue that touches all sectors — economic, housing, education, criminal justice — the whole gamut."
The effort to address the problem will involve "many more steps," she said. "This is incremental, continuous, ongoing change that is moving us upwards and forwards."