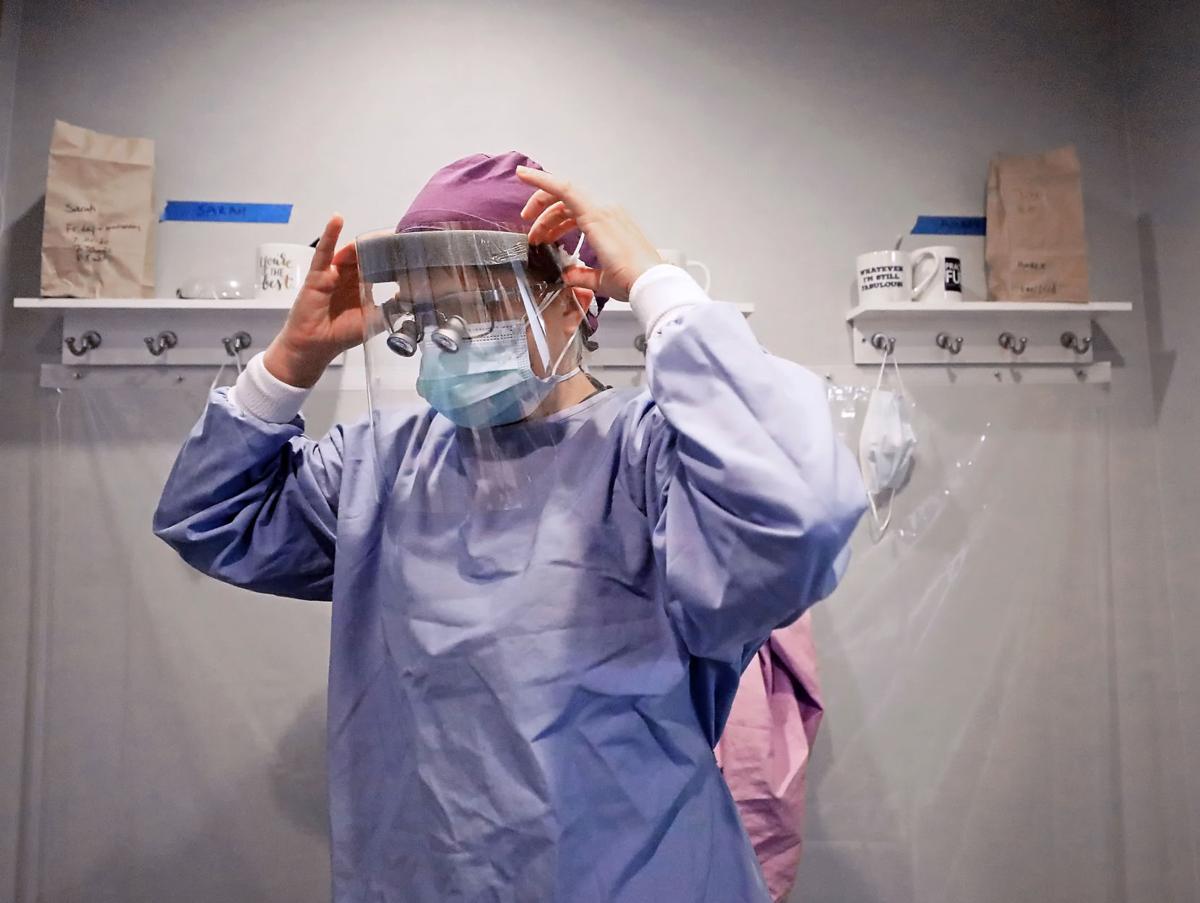 From swishing hydrogen peroxide rinse to having hygienists remove plaque by hand instead of with an ultrasound tool, patients returning to dental offices are seeing many changes because of COVID-19.
"You can never eliminate all risk, just as you could never eliminate all risk before," said Danielle Turner, director of operations for First Choice Dental, which has 11 clinics in the Madison area. "But I feel like the dental office is one of the safest places you could go to right now."
Most dental practices around the country closed for all but emergency procedures in mid-March as the coronavirus outbreak grew. Many reopened in May or early June, with 99% offering routine care again by late July, when patient volume was at 73% of pre-pandemic levels, according to the American Dental Association.
Patients generally must answer several questions before their visit to check for symptoms of COVID-19, their exposure to it and their risk of complications if they get it. When they arrive, they have to wear a mask and call from their vehicles before entering and being screened again, including with a temperature check.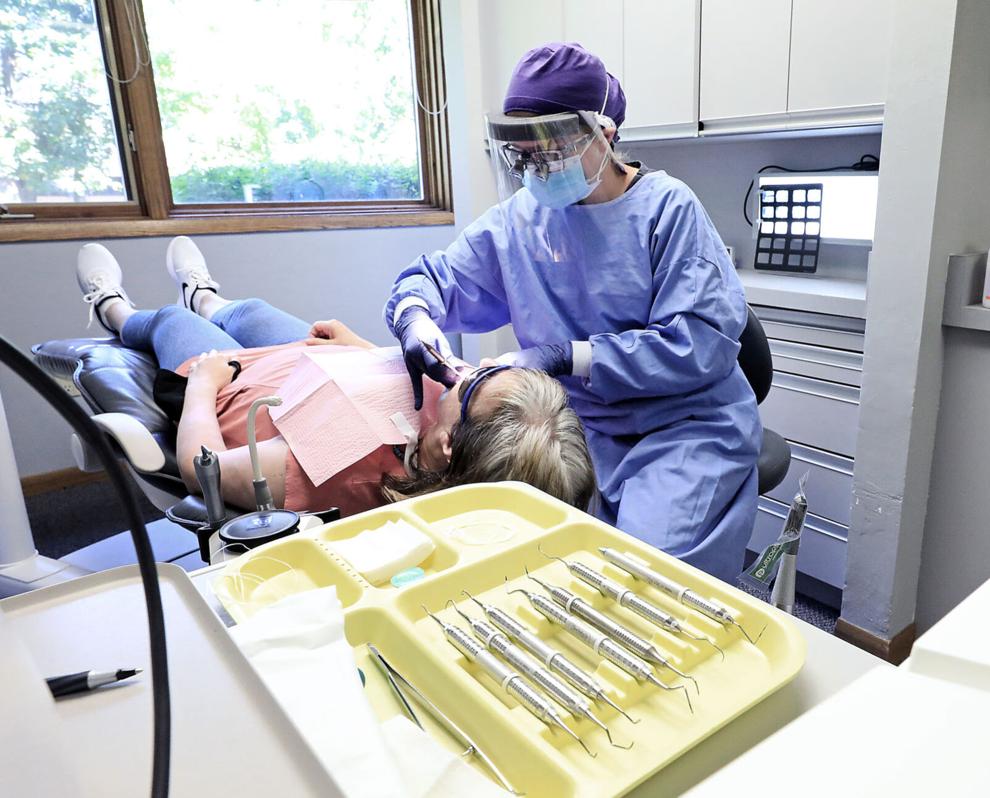 Once in the dental chair, patients are often asked to rinse with a hydrogen peroxide solution and put on safety glasses. Hygienists and dentists often wear surgical masks over N95 masks and face shields, gowns and caps, along with disposable gloves as before.
Hygienists have mostly stopped using ultrasound tools to clean teeth because the process releases aerosols, tiny liquid droplets in the air that could spread the virus. Some are polishing teeth differently or skipping it. For procedures such as fillings and crowns, many dentists are using special suction devices and dental dams — sheets of rubber that cover the mouth except for the teeth being worked on — also to reduce aerosols.
"A dental dam, coupled with high-speed suction, drastically cuts down on the aerosols," said Dr. Patrick Tepe, with Associated Dentists in Verona, who is now using dental dams for fillings in addition to root canals as before.
Cleaner air
Like some other dentists, Dr. Tamim Sifri, of Smart Dental on Madison's North Side, has added a new air purification system to his office and now allows 10 to 15 minutes of "settling time" in rooms after procedures that can produce aerosols.
"When you're dealing with aerosols, there's spatter. It's not just what you can see. There's a lot that you can't see," Sifri said.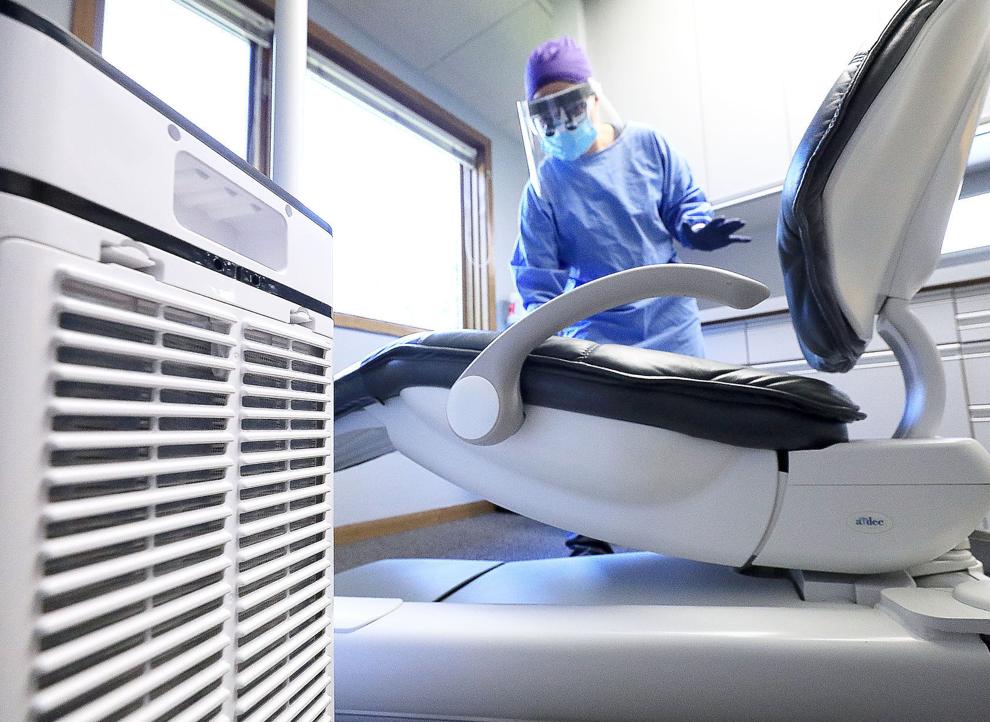 Some practices, such as Madison No Fear Dentistry, explain online the steps they are taking. The clinic has started using hypochlorous acid as a disinfectant, sometimes in a fogger throughout a room, and added an ionization system to better clean the air, said Dr. David Ducommun. "We just don't see the dust in the air anymore," he said.
Dr. Benjamin Farrow, of Monroe Street Family Dental in Madison, said dentists have always been "meticulous" about infection control. "A dental office is in a lot of ways cleaner than most of our houses and other places we visit," he said.
Farrow's clinic has taken a step many offices haven't. Hygienists have stopped polishing teeth, which allows them to forgo wearing N95 masks, though they still use surgical masks and face shields, he said.
Teeth polishing is mostly done to remove stains, Farrow said. "There's no specific health benefit to the polishing," he said. "We're trying to keep things a little simpler."
Farrow is also using silver diamine fluoride, an antimicrobial liquid brushed on cavities to neutralize tooth decay, a bit more as a temporary alternative to fillings, especially on older adults at greater risk for COVID-19.
Dr. Chris Kammer, a longtime Madison-area dentist, recently opened a "no-drill dentistry" practice in Middleton, called Victorious Dental. He started working on the concept long before the pandemic, but said its avoidance of aerosols is "very timely" and "fits perfectly" with the need to minimize the risk of COVID-19.
Caution takes hold
Other changes patients might notice at dental clinics are a lack of chairs or magazines in waiting rooms and the addition of acrylic barriers around reception desks. Many clinics are requiring patients to sign consent forms acknowledging risks of COVID-19, and some are charging an extra $20 — which some insurance plans may cover — for the additional costs of protective equipment and other coronavirus-related supplies.
Some changes may become permanent, as gloves did after HIV emerged in the 1980s. "I don't see face shields going away in dentistry," Sifri said.
Many dental hygienists were worried about returning to work in the spring, when the supply of N95 masks, face shields and other protective equipment was often in question. Matt Crespin, a hygienist from Milwaukee who until June was president of the American Dental Hygienists' Association, said some hygienists retired early or haven't returned to work. But most are back on the job.
"The vast majority of dental hygienists do feel safe," said Crespin, associate director of the Children's Health Alliance of Wisconsin.
It helped that the CDC this month updated its COVID-19 guidance for dental clinics to more clearly recommend N95 masks during aerosol-generating procedures and to specify the kind of safety glasses providers should wear, Crespin said.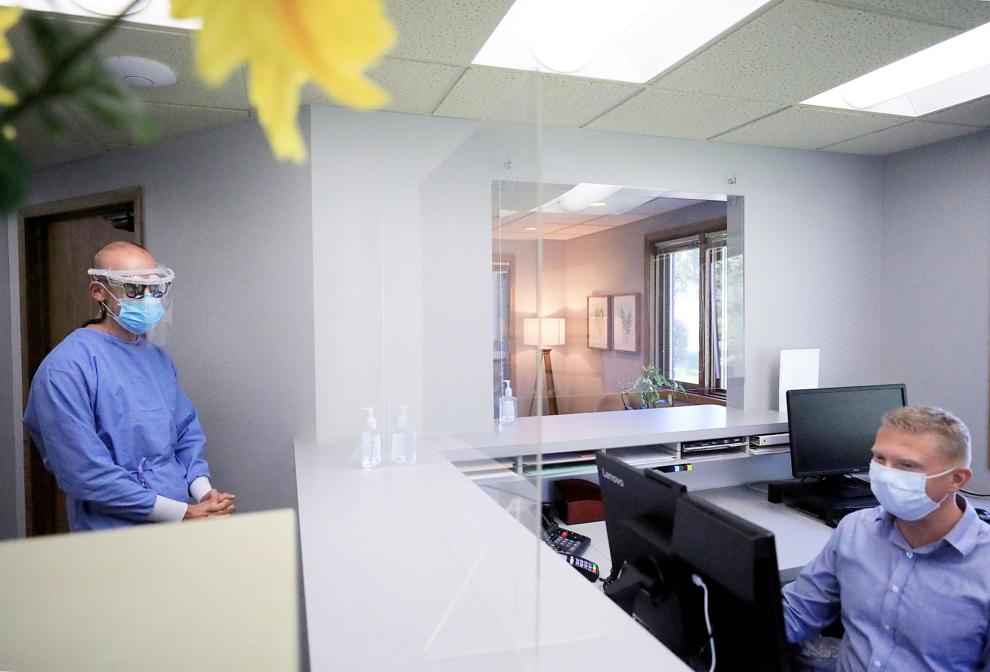 Protective equipment is more available now, but some items, such as gowns, can still be scarce. "They're still a little bit difficult to find," said Turner, of First Choice Dental.
How essential?
The WHO recommended that "routine non-essential oral health care — which usually includes oral health check-ups, dental cleanings and preventive care — be delayed until there has been sufficient reduction in COVID-19 transmission rates from community transmission to cluster cases or according to official recommendations at national, sub-national or local level."
Dr. Nasia Safdar, medical director for infection control at UW Health, echoed the WHO guidance, saying dental care "is considered high risk" and "routine dental care should still be approached cautiously given that rates of COVID transmission remain high."
Dr. Chad Gehani, president of the American Dental Association, said in a statement responding to the WHO guidance: "Dentistry is essential health care because of its role in evaluating, diagnosing, preventing or treating oral diseases, which can affect systemic health."
Sifri, of Smart Dental, agreed, saying preventive dental care can stave off problems. He had a visit this week with an 11-month-old boy and his mother, to talk about diet and home care that can prevent cavities.
"To delay that until the end of the pandemic I think would really be harmful," he said.