Dr. Jasmine Zapata's mother and husband weren't sure they wanted to get the COVID-19 vaccine, but after talking with her about their concerns they got immunized in March.
Zapata, a UW Health pediatrician who is Black, is having similar conversations with patients, before church groups, at school forums and with friends and other family — pretty much anyone she knows who wants help making a decision.
Sometimes it takes multiple discussions, but Zapata said that's OK.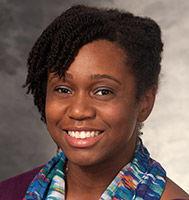 "Yes, there is urgency. Yes, we want everybody to get it right away," said Zapata, who this week will become chief medical officer for community health at the Wisconsin Department of Health Services. "But we need to also be patient and continue having conversations."
COVID-19 vaccination rates in Dane County — where 61.1% of residents have had at least one dose, the highest in the state — are higher than the state average for all racial and ethnic groups.
But the county's rate among Blacks is 53% lower than for whites, larger than the statewide disparity. The county's rate for Hispanics is also significantly lower than for whites, though the gap is smaller than it is statewide.
Zapata is among many medical providers, community leaders, nonprofits and health agencies working to boost immunization among communities of color so their rates are closer to those for whites.
Organizers say the effort involves addressing distrust of the health care system stemming from decades of problematic treatment of minorities and suspicions about the rapid development of the vaccines, along with making the injections available in familiar, comfortable spaces.
"We need to work on those who don't want it or say, 'I'll wait and see what happens to you,'" said the Rev. Marcus Allen of Mt. Zion Baptist Church in Madison, who was immunized in January and has helped nearly 200 of his 500 members get shots, including at the church last month. "Everyone who wants the vaccination, they've received it."
Lourdes Shanjani, bilingual health education coordinator at Public Health Madison and Dane County who is leading the agency's vaccine outreach efforts to communities of color, has participated in numerous panel discussions about the vaccine, including one at Mt. Zion streamed on Facebook.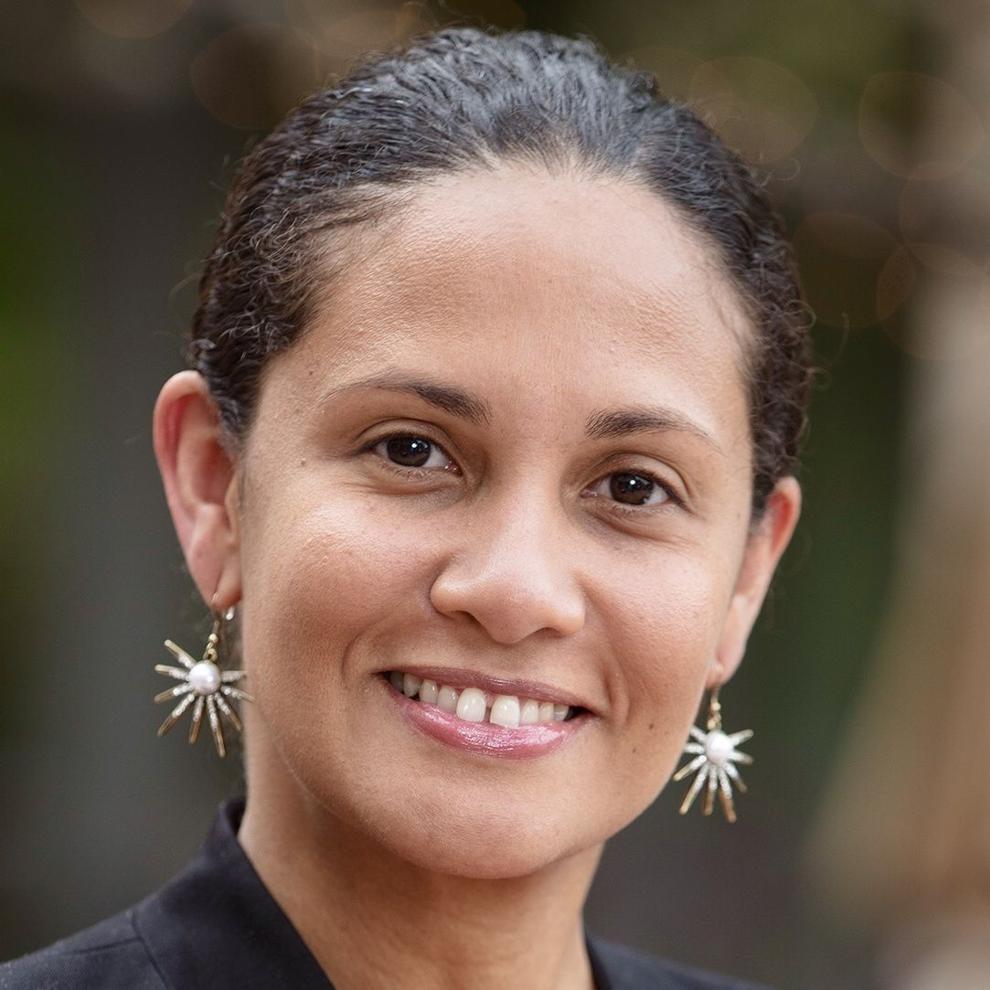 "We understand that trust needs to be earned," Shanjani said. "It's a process, and we need to be patient with that process."
She worked with local providers to produce a flyer addressing frequently asked questions about the COVID-19 vaccine, such as whether it changes people's DNA (no), if there's any cost to get it (no), and if safety was comprised during the rapid development (no).
"No steps were skipped or rushed, despite the speed of the process," the document says. "Scientists from around the world were able to build on decades of vaccine knowledge to speed up development."
Disparate statistics
Statewide, 20.8% of Blacks, 27.1% of Hispanics, 27.2% of American Indians, 38.9% of Asians and 41.4% of whites had at least one dose of the vaccine as of Saturday, with more than 11% listed as other or unknown race, according to the state health department. About 80% of residents, those 16 and older, are currently eligible.
In Dane County, it's 26.4% of Blacks, 44.5% of Hispanics, 48.0% of Asians and 56.2% of whites. Among American Indians, the rate is 72.8%, likely because the Ho-Chunk Nation's vaccination clinics in nearby Baraboo have been easily accessible and the Madison area has many other vaccination options, said Ronelle McKernan, a public health nurse with the tribe.
But the racial disparities in vaccination come on top of inequities in how COVID-19 has impacted communities of color. Compared to whites, Hispanics have 1.7 times greater case rates, Blacks have 2.1 times higher hospitalization rates and American Indians have 1.5 times greater death rates, according to the state health department.
"As part of our work to reach an 80% vaccination rate across our state, we have to ensure those Wisconsinites that have been hit hardest by the pandemic have the opportunity to protect themselves and their loved ones from the virus," DHS Secretary-designee Karen Timberlake said last month in announcing $6.2 million in grants to 100 organizations to boost vaccinations among marginalized or underserved populations.
Clinics and forums
The Boys & Girls Club of Dane County, which received one of the grants, is organizing a COVID-19 vaccination awareness walk at the state Capitol on Tuesday, an online community town hall on Wednesday and an online youth town hall on Thursday, featuring Zapata, Shanjani and other speakers.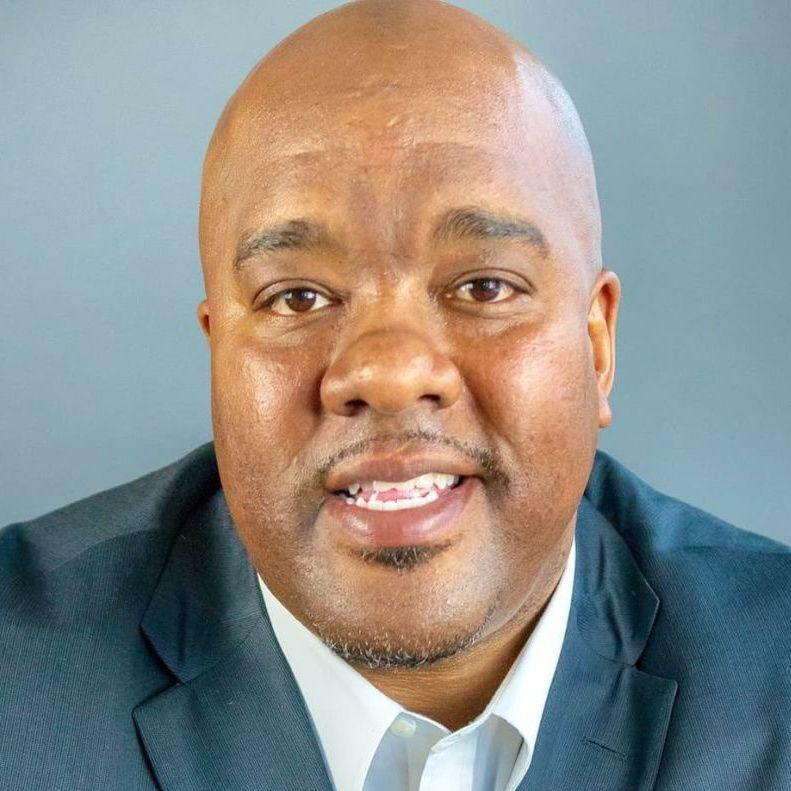 The first clinic in Sun Prairie inoculated nearly 500 people with the one-dose Johnson & Johnson vaccine. But Michael Johnson, president of the Boys & Girls Club, said demand slowed after health officials temporarily paused use of that vaccine to study serious but rare side effects.
Johnson said he got the J&J shot prior to the pause and felt fine after some initial chills and a headache. He thinks many people who remain unvaccinated will come around to rolling up their sleeves.
"I'm not hearing a lot of hard no's," he said. "What I'm hearing is, 'I'll wait and see.'"
The club's clinic on Saturday was scheduled to be at the largely Hispanic Lighthouse Church in Madison, were the Rev. Marcio Sierra said registration forms have been handed out in Spanish and bilingual helpers have been available.
"We are trying to promote vaccination for the Hispanic community," Sierra said.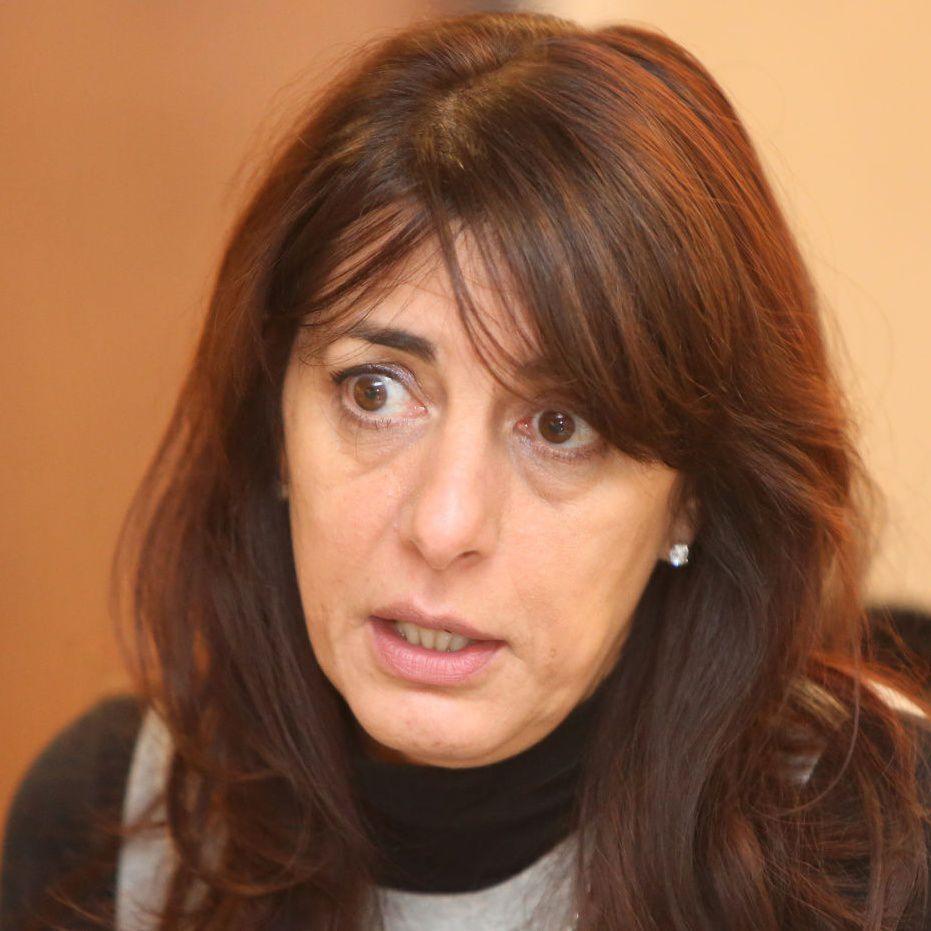 Shiva Bidar-Sielaff, chief diversity officer at UW Health, said many Hispanic patients have been vaccinated at the system's Arboretum Clinic on South Park Clinic, which has had held "vaccine racial equity days."
After vaccine supply was scarce for months and appointments were hard to get around the country, some people "just gave up," Bidar-Sielaff said.
With supply now exceeding demand, UW Health recently hired six vaccine educators — three Black, two Hispanic and one Hmong — to contact patients in those communities who aren't vaccinated and help them register for appointments if they agree.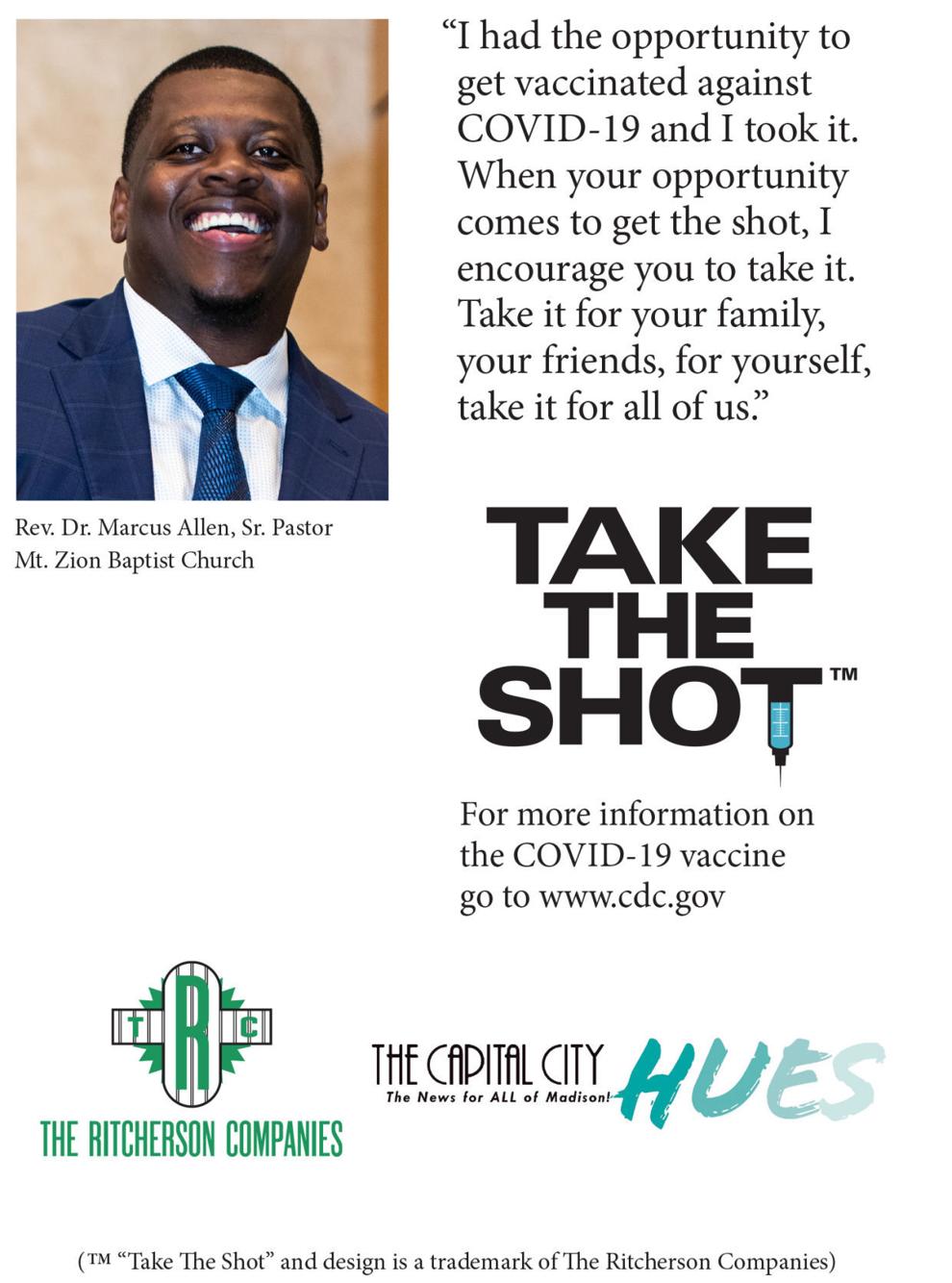 "When you have two jobs and other issues going on, trying to figure out rent for the next month ... if someone calls you and gives it to you, it makes it a lot easier," Bidar-Sielaff said.
Respected figures
Seeing respected figures endorse the shots can also help, which is the strategy behind an ad campaign by Rod Ritcherson, of The Ritcherson Companies in Madison.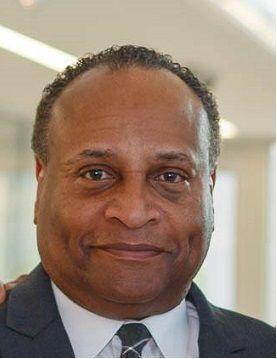 Using the slogan "Take the Shot," he has produced ads featuring Allen and others — including Jessica Cavazos, CEO of the Wisconsin Latino Chamber of Commerce — that have run in The Capital City Hues and Umoja magazine.
"It's geared towards what has been called the 'moveable middle,' those who, with a little more education and encouragement, will say, 'Yes, I'll take the vaccine,'" said Ritcherson, who self-financed the campaign.
For Zapata, opening up about her own story with COVID-19 seems to help others relate to her as a person as well as a doctor, she said.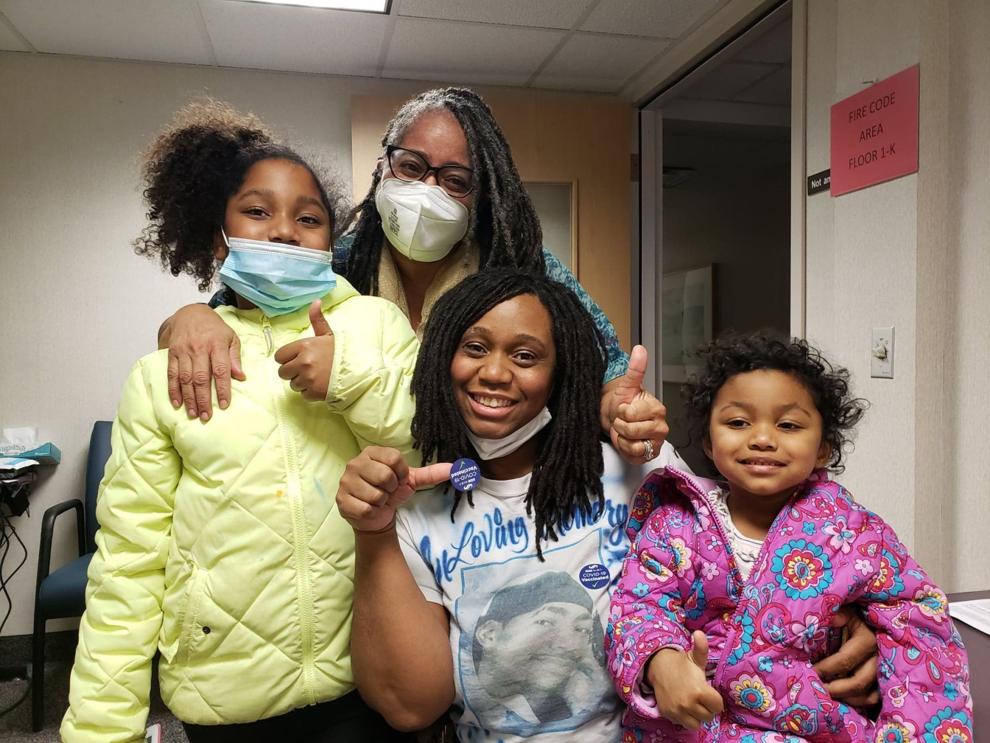 After her great aunt died from COVID-19, she, her husband, her mother and one of her three children contracted it late last fall. None of them were sick enough to be hospitalized, but the infections were "very scary for us," Zapata said.
Her brother died unexpectedly from epilepsy in 2007 at age 16, and the immediate family feared losing someone to another disease, she said. After they recovered, that worry became the motivation for her mother and husband to overcome hesitancy about the vaccine and get it.
Zapata and her mother, Julia Saffold, received the J&J shot together in March, with Saffold's playful teasing of Zapata over her anxiety about needles — even now, as a doctor — captured on a family video. Zapata wore a T-shirt memorializing her brother.
"Having the opportunity to get the shot with my mom, us doing what we can to protect ourselves, to not lose another loved one, was so powerful," she said.