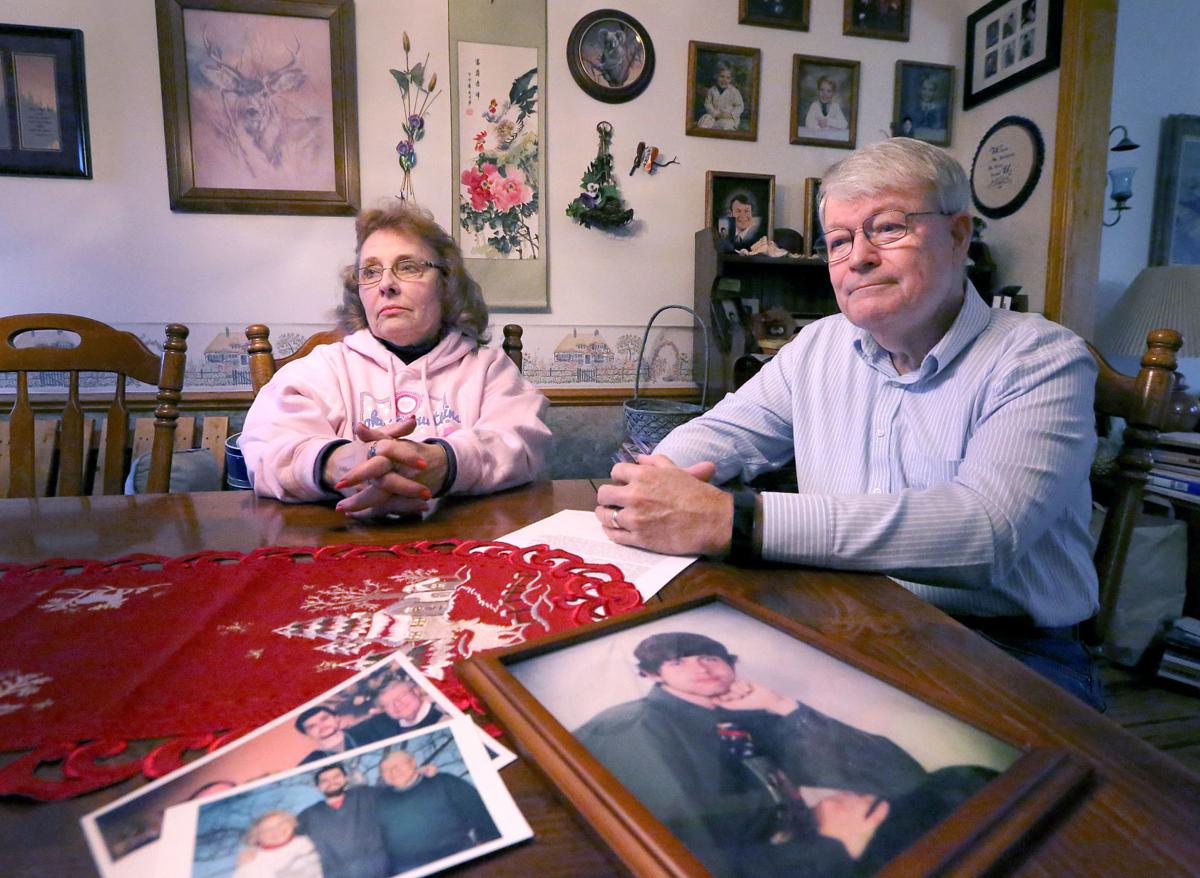 Aaron Gilbert called 911, saying he had a knife and wanted to hurt someone.
Police took the Middleton man, then 26, to the Dane County Jail — where his mental illnesses, stemming from fetal alcohol syndrome, got worse, his adoptive parents say.
They say a crisis restoration center, a triage unit where police could bring people with mental health crises, would help people like their son.
"They could get immediate assessment focused on mental health," Tom Gilbert said.
"Incarcerating people with mental illness exacerbates the mental illness," said his wife, Jan Gilbert.
Dane County is wrestling with how to handle people with uncontrolled mental illness — many of whom are caught up in the law enforcement system and taken to jail, emergency rooms or a mental health institute nearly two hours away.
The County Board has approved a $76 million renovation of jail facilities, expected to curb the worrisome practice of placing many inmates with mental illness in solitary confinement. But some advocates say the county should do more by establishing a crisis restoration center that can better screen people in distress and find them appropriate treatment.
Officials are starting a study of the county's mental health services, which will assess whether a crisis restoration center is needed. Some say the county already has many elements of a crisis center, though the providers themselves say key aspects are missing.
In the Madison area, Strategic Behavioral Health says it will build a psychiatric hospital with 72 beds. Other providers say it's too early to tell how much the new facility is needed, since the company hasn't released details about what services it will offer.
Meanwhile, Strategic Behavioral Health, a for-profit company based in Memphis, Tennessee, plans to build a psychiatric hospital in the Madison area, which would include what it calls a crisis assessment center open around the clock.
It's not clear yet how much that center would operate like successful crisis centers that have opened around the country in recent years — the kind advocates would like to see here.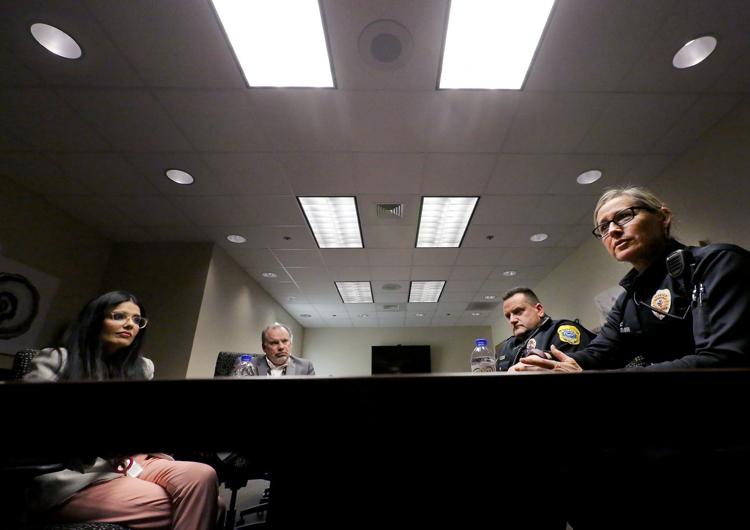 "We could potentially develop a program that is specifically tailored to (Dane County's) needs," said Mike Garone, director of development for Strategic Behavioral Health. "I would certainly hope we would be part of the solution."
Lindsay Wallace, executive director of the Dane County chapter of the National Alliance on Mental Illness, or NAMI, said the county's study, expected to start this spring, could find that taxpayer dollars should be spent on expanding community mental health programs instead of a crisis center.
"We don't have the data we need to figure out where money should be invested," Wallace said.
But Paul Saeman, a member of Madison Organizing in Strength, Equality, and Solidarity, or MOSES, an interfaith group that works on social justice issues, said Dane County should follow the example of other communities where crisis centers have diverted many people with mental illness from jail.
"This community should seriously look at (a crisis restoration center) as a way of keeping people with mental illness out of the criminal justice system, and out of the jail, and getting the treatments that they need," Saeman said.
Crisis stabilization
In 2011, the county opened two mental health crisis stabilization centers — also known as hospital diversion facilities — to reduce psychiatric hospitalizations and placements at state mental health institutes. Although the names are similar, there is disagreement about whether they and related services provide the same breadth of services that a crisis restoration center would.
One of the centers, Bayside Care Center, in Downtown Madison, is run by Journey Mental Health Center. The other, Dane County Care Center, in Monona, is run by Tellurian. Starting last year, Tellurian got the whole county contract, involving 10 of its 16 beds.
Bayside, which has 12 beds, no longer provides crisis stabilization beds for publicly funded patients in Dane County but does so for six surrounding counties.
Journey also operates Dane County's mental health emergency services, known as the crisis unit, in the same building as Bayside. The services include a place where people with mental health crises can be evaluated and connected to services.
Lynn Green, the county's director of human services, said the stabilization and emergency services, along with a detox center run by Tellurian, play the role of a crisis restoration center.
"Law enforcement has places to take people in a mental health crisis other than jail, if mental health issues are the major concern," Green said.
But Journey's emergency services can't take everyone, said Hannah Flanagan, clinical director of emergency services at Journey. Police can't drop people off from midnight to 8 a.m., and the unlocked unit isn't fit for patients deemed dangerous, she said.
"There are certainly cases where people are too ill for us to safely keep them in this environment," Flanagan said.
Likewise, the Dane County Care Center isn't set up for police to routinely drop off mentally ill patients, said Kevin Florek, Tellurian's executive director. But Tellurian's detox center, on Madison's South Side near the Beltline, performs triage for substance abuse and could be expanded to include mental illness, Florek said.
"We have that model for drugs and alcohol, and we could add onto it," he said. "Having a one-stop shop place that prevents people from slipping through the cracks, in theory, really seems to make sense."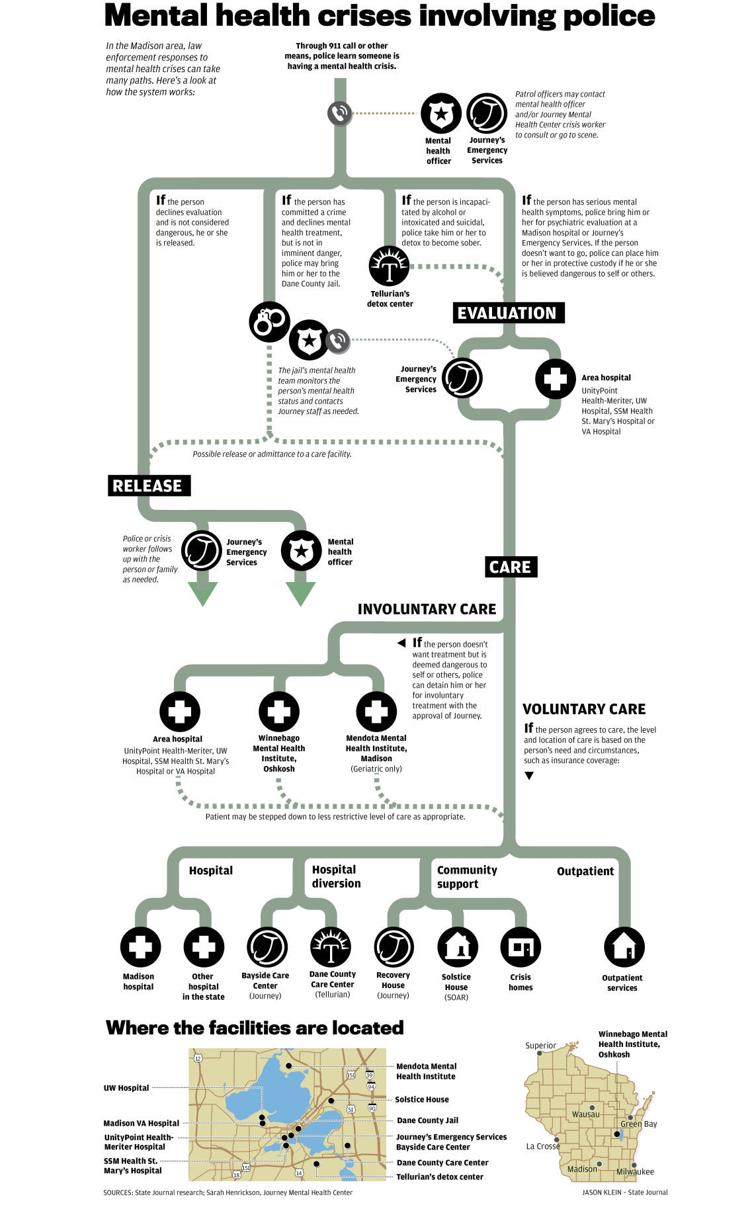 Other crisis centers
Around the country, cities and counties have opened mental health crisis centers in recent years.
In Des Moines, Polk County Health Services opened a six-bed crisis observation center, along with a nine-bed crisis stabilization center, in 2015. Last year, the observation center, which costs $1 million a year to run, helped avoid up to $2.5 million in hospital and ER costs, plus $143,000 in jail costs, according to the health department.
Teresa Bomhoff, president of NAMI Greater Des Moines, said the center is the mental health equivalent of an urgent care center where people go for sprained ankles or sore throats.
"This is how mental illness treatment should be available — no delays in treatment and assessment, help with resource location and appointments, and a place where care can be received, with possible diversion from more expensive care," Bomhoff said.
In Tucson, Pima County opened a crisis response center in 2011. It has space for 44 patients to be observed for up to 23 hours, as well as a 15-bed unit for stays of up to five days.
The center and an adjacent building that includes a psychiatric hospital, emergency room and mental health court were built with $54 million in bonds approved by voters.
Nearly half of the patients at Tucson's crisis center are brought by police, who can drop them off quickly at a secure entrance, said Dr. Margie Balfour, chief clinical officer at Connections Health Solutions, which runs the center.
Clarke Romans, executive director of NAMI Southern Arizona, said the center gives police a place to take people having crises for treatment and help.
"They're not put in a cell and stripped naked like often happened in the county jail if somebody was out of control," Romans said.
Advocates point to San Antonio as a national model for how to keep people with mental illness out of jail and emergency rooms. Bexar County, facing overflowing jails, opened a crisis restoration center in 2008, as part of several measures that eventually included a campus for the homeless with nearly 1,000 beds.
The Center for Health Care Services, which runs the facilities, said they avoided more than $15 million in medical, jail and other costs in 2016.
"This seems to be a really effective concept," said Saeman, of MOSES.
'There is not much
low-hanging fruit'
But Dane County has a lower incarceration rate than Bexar County and other places where crisis centers have been cost-effective at diverting people with mental illness from jail, according to consultants hired by Dane County to study its jail.
Dane County's incarceration rate was 204.8 per 100,000 in 2014, compared with the national average of 341.3 per 100,000, Patrick Jablonski of Pulitzer/Bogard and Associates told the County Board last year. Both rates dropped slightly in 2015.
"Dane County has done an excellent job of managing the criminal justice system, in suppressing the jail's population," Jablonski said. "There is not much low-hanging fruit, if you will, in terms of reducing the jail's incarceration rate."
About 20 percent of the county's inmates have mental health problems when booked into jail, and roughly 38 percent are on psychotropic medications, according to a report by Pulitzer/Bogard and Mead and Hunt in December 2016.
Most inmates with mental illness are arrested for serious crimes that require them to be in jail, the report said. Only up to 16 people a day, out of the jail's average census of 757 inmates, have lower-level offenses that could allow them to be diverted, the consultants said.
"Somebody with a mental health condition — they could be very stable," said Capt. Richelle Anhalt, who served as jail administrator until October. "They can make a conscious choice, just like you and I can, to commit a crime. They do present a risk and some danger to the community."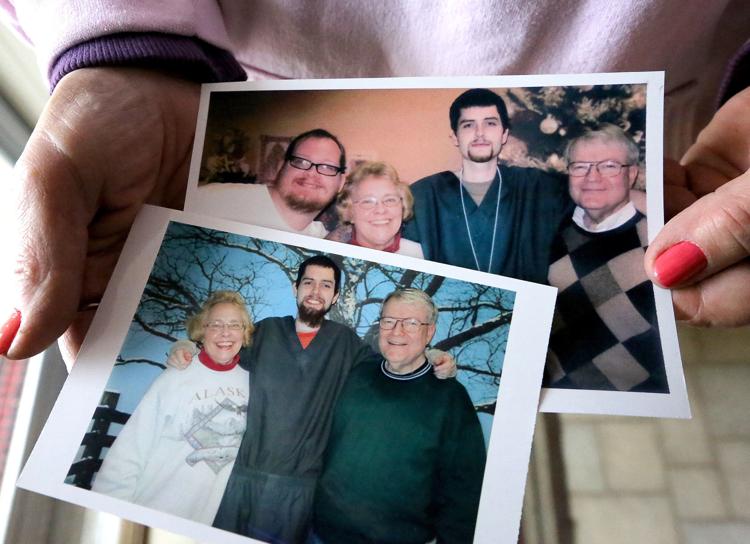 The County Board approved $140,000 to study mental health services and whether a crisis center is needed. A consultant should be selected by April, with the study possibly finished this year, said Green, the human services director.
A crisis center wouldn't have prevented Aaron Gilbert, now 28, from landing in prison for aiding and abetting a kidnapping and sexual assault in 2010, his parents said. He drove a friend and the friend's girlfriend to Milwaukee, not knowing the friend planned to force her into prostitution, they said.
But after Aaron Gilbert served his five-year sentence, a crisis center might have prevented other stays in jail that made his symptoms worse, his parents said.
He called 911 in November 2015, and again in April 2016, saying he wanted to harm himself or others. He was struggling with depression, anxiety and a condition called cognitive processing impairment, stemming from fetal alcohol syndrome, they said.
A crisis restoration center "would have been the right thing to take him to," Tom Gilbert said. "At a certain level, this is not a really bad character. But his mental health issues are just so impairing in his life."
After each call, Aaron Gilbert spent months in jail, not getting the treatment he needs, said his parents, who adopted him at age 6. He is in jail again today, on suspicion of violating probation related to the use of illegal drugs in September.
"Surely, our community can do better than incarcerate people who are having a mental health crisis," Jan Gilbert said.