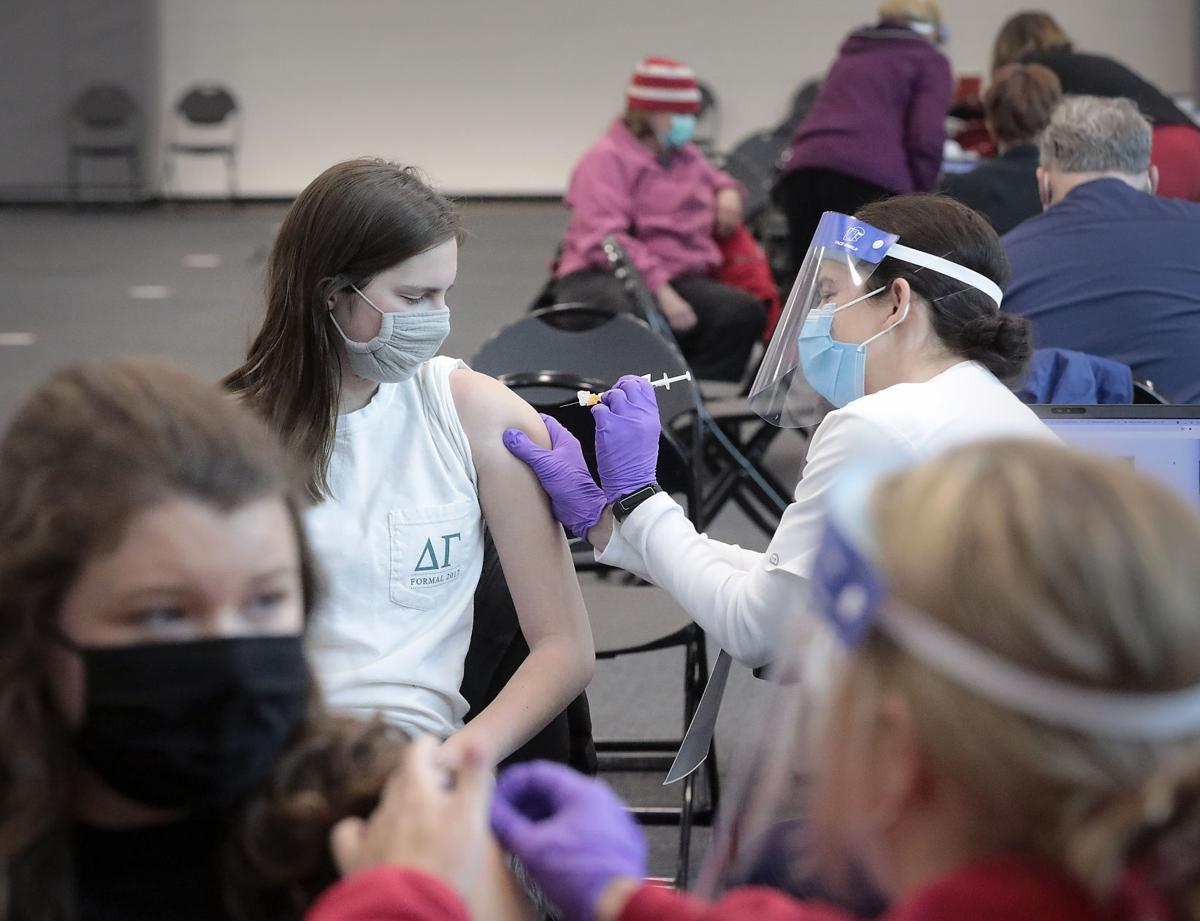 With new COVID-19 cases in Dane County down 78% from a peak in November and more than 11% percent of residents having received at least one dose of the coronavirus vaccine, health officials Monday eased restrictions on gatherings and activities.
A new order by Public Health Madison and Dane County, which takes effect Wednesday and lasts four weeks, allows gatherings of up to 50 people inside and 150 people outside if food and drink are not provided. If food and drink are offered, the limits are 25 people inside and 100 people outside.
The previous order allowed gatherings of up to 10 people indoors and 50 people outdoors, regardless of food and drink.
"Though this order is intended to reflect hope and progress, I also want to stress caution," said Janel Heinrich, director of Public Health Madison and Dane County. "As we saw in the fall, things can change quickly, and we may need to act swiftly if there is a dramatic increase in illness. This may be even more true as new virus variants spread across the world and the United States."
The new order came as Gov. Tony Evers said the state's first community-based COVID-19 vaccination clinic will be held in Rock County Feb. 16, with six to 10 more sites to open across the state as needed.
Wisconsin has administered 767,020 doses of COVID-19 vaccine, with 165,370 people fully immunized with two doses, according to the state health department. As of Monday, it ranked 10th among states in the percentage of people who have received at least one dose, up from near the bottom last month, according to the Centers for Disease Control and Prevention.
In Dane County, the new order loosens some restrictions but requires face masks and physical distancing inside as before. It now requires, not just recommends, masks outside when people are at gatherings of more than 50 people or while playing sports in which physical distancing can't be maintained.
The measure maintains restrictions on restaurants, limiting indoor dining to 25% of capacity and allowing outdoor seating with physical distancing.
Face mask specifications
The new order also updates requirements for face coverings, in accordance with CDC guidance, specifying cloth face coverings with two or more layers and not allowing bandanas, single-layer neck gaiters or ski masks.
Under the order, games and competitions are allowed for all sports, with face coverings generally required. Physical distancing is required except when people are actively participating in the sport.
Sports that cannot maintain physical distancing are limited to 25 people indoors and 100 outdoors. The previous order allowed competition only in "low-risk sports," such as swimming, skiing, golf and cross-country.
The conservative Wisconsin Institute for Law and Liberty, which sued the city-county health department last month on behalf of two county residents, arguing the department's orders had exceeded its authority, welcomed some of the changes Monday but said the suit would continue.
The health department's "restrictions on sports were unreasonable and unnecessary," Luke Berg, WILL's deputy counsel, said in a statement. "WILL's lawsuit challenged these provisions, and we are pleased to see them relaxed."
The new order removes a limit of 15 children in child care and 4-year-old kindergarten groups, and it requires indoor youth settings to follow gathering limits. Temporary retail stores are now able to operate under the same requirements as permanent retail stores.
Provisions are unchanged for schools, continuing education and higher education institutions, industry-specific requirements, health care, public health, human service, infrastructure, manufacturing, government, and religious entities and groups.
Businesses remain limited to 50% of capacity. Indoor seating at taverns is not allowed but customers can enter to order, pick-up or pay for food or beverage.
The new order is the 13th by the city-county health department since the pandemic began. When the 12th one was issued on Jan. 11, the county had a seven-day average of 213 new COVID-19 cases per day and 71 people were hospitalized with COVID-19.
On Monday, the seven-day case average was 107 and 63 people were hospitalized with COVID-19. In mid-November, the case average was 490 and 179 hospitalized patients had coronavirus infections.
Vaccinations ramping up
AMI Expeditionary Healthcare, based in Reston, Virginia, will run the clinic in Rock County, Evers said, through a partnership with the state Department of Health Services, the Wisconsin National Guard and Wisconsin Emergency Management.
The Rock County site will start by vaccinating up to 250 individuals daily. If Wisconsin's vaccine allocations increase, the clinic's goal is to provide up to 1,000 vaccinations per day. No location was disclosed.
"We expect to be able to share detailed information about the location with you in the coming days," Elizabeth Goodsitt, a spokeswoman for the state health department, said in an email.
The state health department plans to add community sites as needed and when more vaccine is available, Evers said.
Dane County has applied to be one of 100 federal COVID-19 vaccination sites, at the Alliant Energy Center. County Executive Joe Parisi said Monday the designation could bring an additional 6,000 doses of vaccine to the area per day.
A vaccination clinic by Lands' End and the Iowa County Health Department started Monday, at the Comer Center at Lands' End headquarters in Dodgeville. The clinic, to be open "for the foreseeable future," will initially vaccinate 160 people over a four-hour period and can eventually accommodate up to 1,600 people over eight hours, Lands' End said.