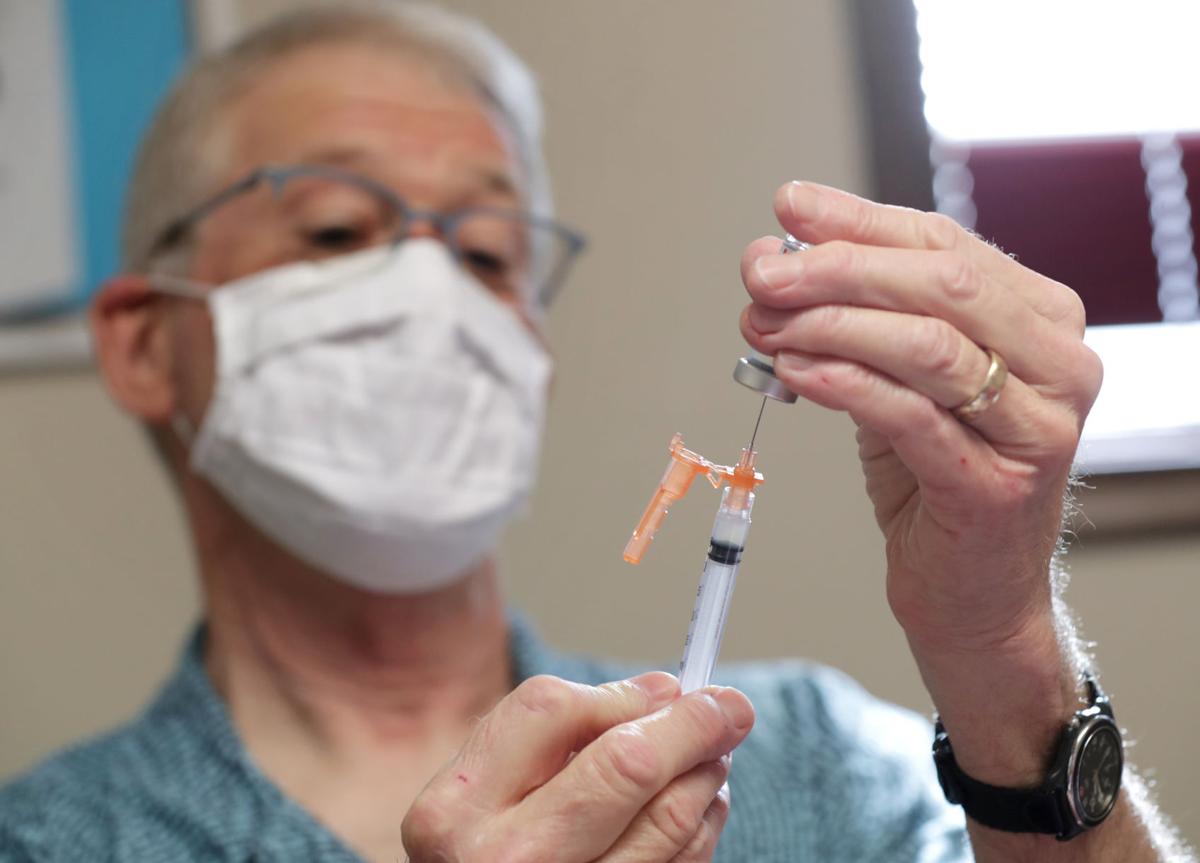 With COVID-19 vaccine supply nearing demand and Wisconsin more than halfway to reaching its goal of immunizing 80% of residents, health officials, hospitals and UW-Madison said Thursday that many injection appointments are available.
The state's total reported cases of a worrisome coronavirus variant went up 73% this week, but Wisconsin has not seen a surge in overall cases like in Michigan, the nation's hotspot. Michigan could simply be a month ahead of Wisconsin, said Dr. Ryan Westergaard, a chief medical officer for the state Department of Health Services.
"The landscape is similar enough (here) that we ought to be concerned," Westergaard said. "We're definitely not out of the woods."
After four months in which demand for vaccine has greatly exceeded supply, the forces are starting to equalize. In Wisconsin, where the state is receiving about 150,000 first doses of Moderna and Pfizer vaccines each week, vaccinators are now requesting about 250,000 first doses, down from 400,000 recently, said Julie Willems Van Dijk, deputy director of the state health department.
Vaccine strategy
With the gap closing, health officials soon will shift from mass clinics to smaller offerings at shopping centers, churches, workplaces, schools and community centers, with many shots also still available at clinics and pharmacies, Willems Van Dijk said. Officials will also rely more on health care providers and trusted community messengers to reach out to people who remain unvaccinated, she said.
More than 41% of state residents have received at least one dose of vaccine. Among people 16 and older who are eligible, it's more than 50%. With nearly 4.1 doses administered, about 3 million more need to be given to reach 80% vaccination among adults, a level considered to be "herd immunity" that can prevent outbreaks.
Willems Van Dijk said that goal is achievable by the Fourth of July. "We just need people to keep saying yes," she said.
Student shots
UW-Madison expects to offer at least 3,500 doses to students and staff next week, at least twice as much supply as the campus clinic has received in past weeks, UW-Madison spokesperson Meredith McGlone said.
The university is setting up a special vaccination clinic from 11 a.m. to 3 p.m. Saturday and Sunday for students and staff. Appointments can be made at MyUHS.uhs.wisc.edu.
For students leaving Madison for the summer, UW-Madison is encouraging them to get their first dose on campus and find a provider for their second shot through the Vaccine Finder tool.
Nearly 16,000 students have received at least one dose of vaccine, a little more than a third of the 45,000 undergraduate and graduate students.
Meanwhile, a federal committee is scheduled to meet Friday to decide whether to resume use of Johnson & Johnson's one-dose vaccine, paused more than a week ago to review reports of rare, unusual blood clots.
The variants
Wisconsin on Thursday reported a total of 518 cases of the B117 variant of the coronavirus, first identified in England, up from a total of 299 cases in the state last week. The state reported 412 total cases of four other variants being closely tracked, up from a total of 285 last week.
About 27% of samples sequenced in Wisconsin recently have been the B117 variant, compared to 60% in Michigan and 57% in Minnesota, which is also seeing a high level of cases overall.
Despite Wisconsin's increase in variants, the state's daily average of overall cases has declined slightly in the past week after going up slightly over the previous few weeks.
State Journal reporter Kelly Meyerhofer contributed to this report.