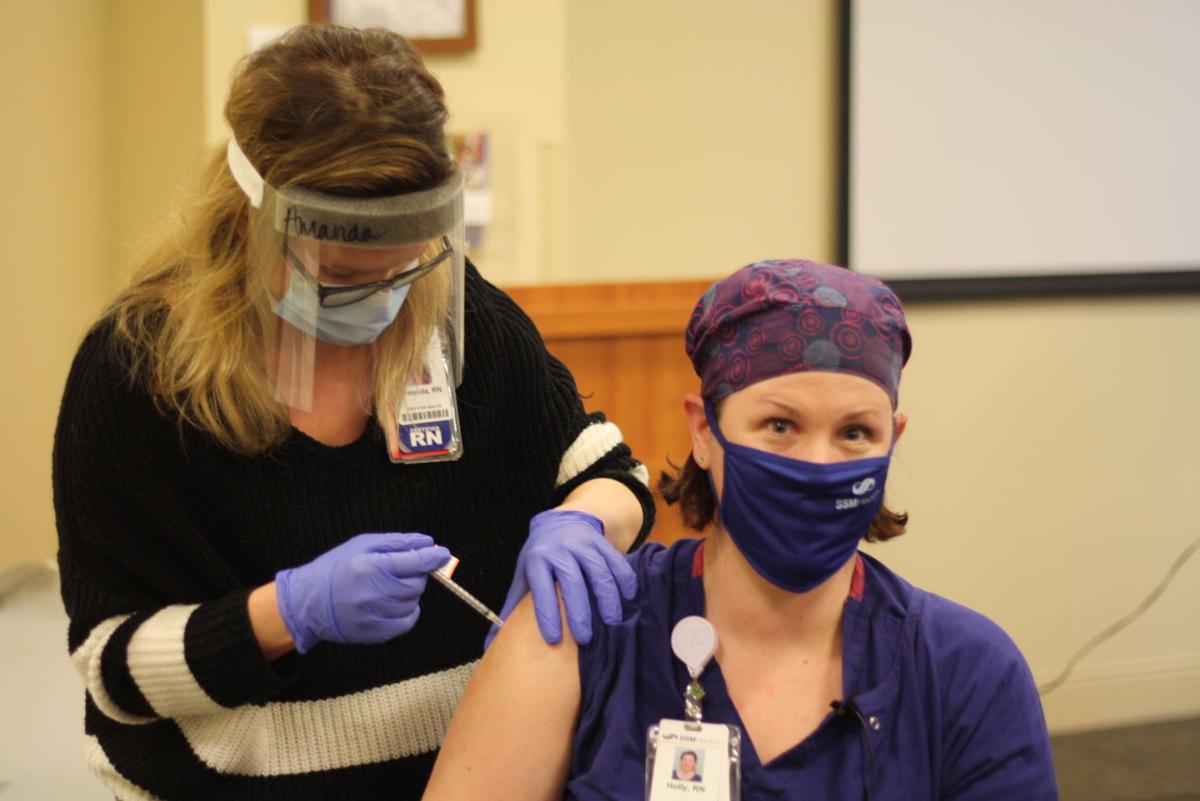 UW Health expected to vaccinate 250 employees against COVID-19 by Wednesday and SSM Health St. Mary's Hospital anticipated immunizing about 500, as a weeks-long effort to inoculate Wisconsin's 450,000 health care workers and nursing home residents against the coronavirus before others can get the injections started to ramp up.
The state received the last of its initial shipment of 50,000 doses of Pfizer's shot Wednesday and planned to get 101,000 doses of a second vaccine by Moderna as early as next week if it is authorized later this week as expected.
Just how long it will take to vaccinate the state's nearly 400,000 health care workers and roughly 57,000 nursing home residents is not clear, as the state doesn't have reliable estimates on how much vaccine might arrive each week, said Secretary of Health Services Andrea Palm.
Given that the Pfizer and Moderna shots each require two doses three or four weeks apart, the effort that started Monday could take months to complete, Palm said. It's also not clear when other priority groups, such as essential workers, the elderly and people with high-risk medical conditions, can be vaccinated. The general public is expected to be eligible by spring or summer.
"While the arrival of vaccine is a critical and exciting milestone and so very important to our ability to end the COVID-19 pandemic, it is early and our vaccine distribution process will continue to evolve," Palm said. "It really matters how much we get on a weekly basis."
The Wisconsin Immunization Registry had recorded 192 vaccinations against COVID-19 as of noon Wednesday, she said.
UnityPoint Health-Meriter — which unlike UW Health and St. Mary's isn't a regional hub for the Pfizer vaccine, which requires ultra-cold storage — doesn't know exactly when it will get vaccine, spokeswoman Leah Huibregtse said. "We hope to receive our initial shipment within the next week, and our team is eager to receive it," she said.
UW Health said Monday it got 3,900 doses of Pfizer's vaccine for its workers. St. Mary's said it got 6,000 doses, two-thirds for its workers and a third to be distributed elsewhere.
Moderna's vaccine, expected to be reviewed Thursday by a federal expert panel, does not require ultra-cold storage and is expected to go directly to health care systems, including in rural areas. It will also be used to start immunizing nursing home residents late this month, through a federal partnership with the pharmacy chains CVS and Walgreens, said Stephanie Schauer, immunization program manager for the state health department.
Meanwhile, Wisconsin reported 2,402 new cases of COVID-19 Wednesday for a daily average of 3,247 cases, down from a peak of 7,090 on Nov. 17. The state reported 74 deaths, the highest in a week, with a daily average of at least 40 deaths for more than a month.
Nearly three weeks after Thanksgiving, it seems clear that a feared post-Thanksgiving surge in cases did not materialize, Palm said, perhaps because people took precautions after hearing hospitals were overwhelmed. COVID-19 testing has declined, which could mask an uptick, but emergency room data also suggests no recent increase in patients with coronavirus symptoms, Palm said.
"We feel pretty good about where our numbers are post-Thanksgiving, recognizing that we are still, as a general proposition, way too high," she said. "Our hospitals are still strained. They are still having significant staffing shortages. We are still seeing too many deaths."
With Christmas and other holidays coming up, people should continue to stay home when possible, keep physically distant from others, wear masks and frequently wash their hands.
"Continued vigilance is the message," Palm said.