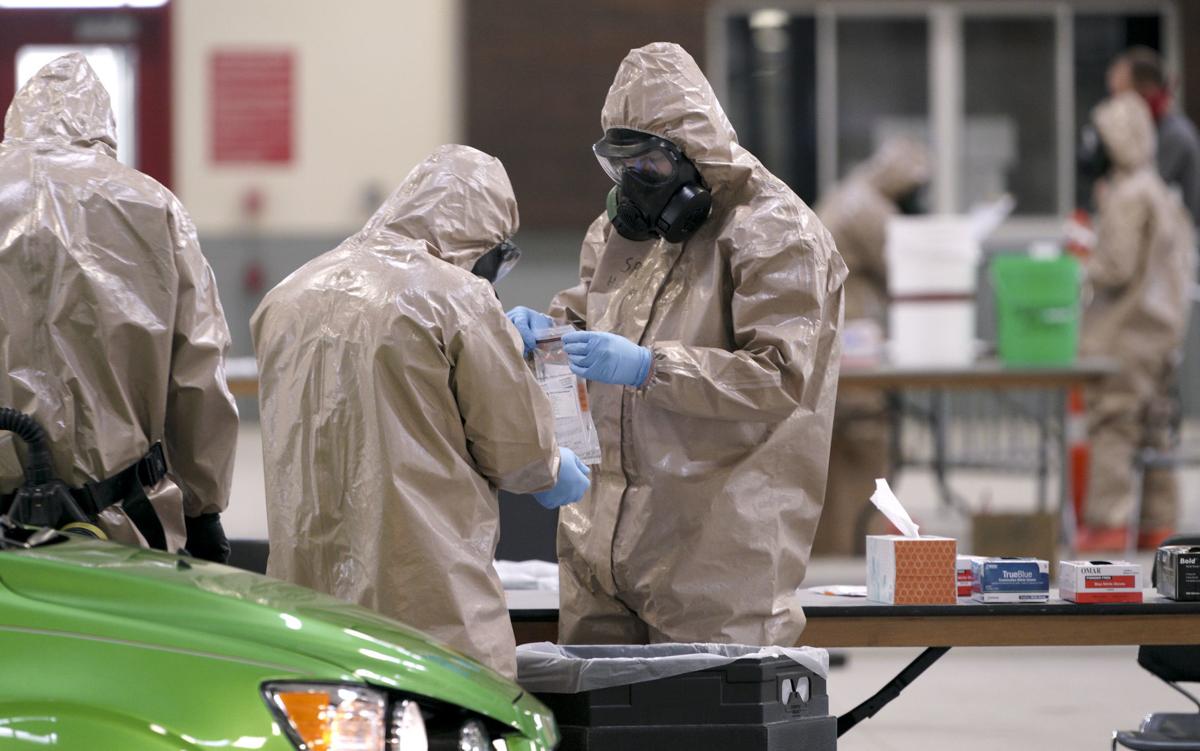 Increasing demand for COVID-19 testing at the Alliant Energy Center has resulted in waits of up to four hours this week, though testing moved along relatively quickly Wednesday.
People may have been worried about possible exposures from the Fourth of July weekend, when the site was closed Saturday and Sunday, the health department said Tuesday. Typically the site is open Monday through Saturday, and infections may not show up until several days after exposure.
"It's hard to speculate as to why we've seen increased demand for testing (in) recent weeks, but we've definitely seen an uptick in demand as the number of cases statewide has increased," said Capt. Joseph Trovato of the Wisconsin National Guard, which operates the testing site.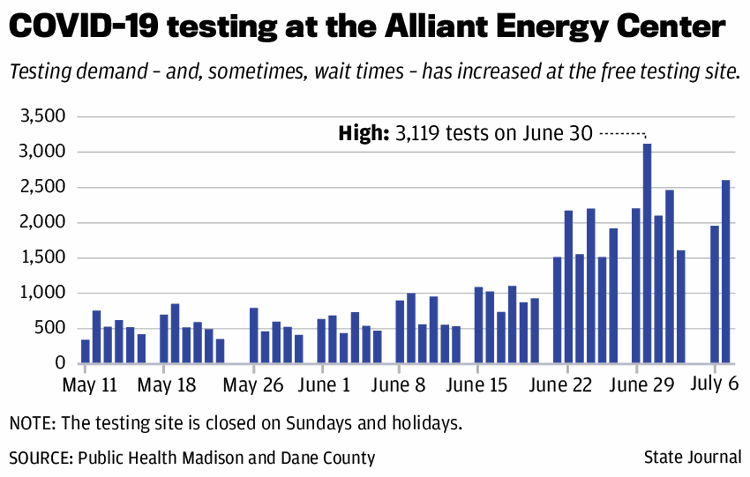 On Wednesday, wait times were half an hour or less, health department spokeswoman Sarah Mattes said. Early Wednesday afternoon, the predicted wait time shown on an electronic sign said 15 minutes, but lines seemed to be moving even quicker.
"It's actually shocking, we were not expecting this," said Nicole Jackson, of Madison, as she approached the testing site.
Julianne McGill was also relieved to see a short line, given her situation. "We're just so surprised to be here," said McGill, of Madison. "My youngest just tested positive, and she's 23 and a CNA. I'm living with my mother who is 83, so I'm just trying to be precautionary and responsible."
The health department and the Wisconsin National Guard have started an online registration system that has improved wait times, the health department said Wednesday.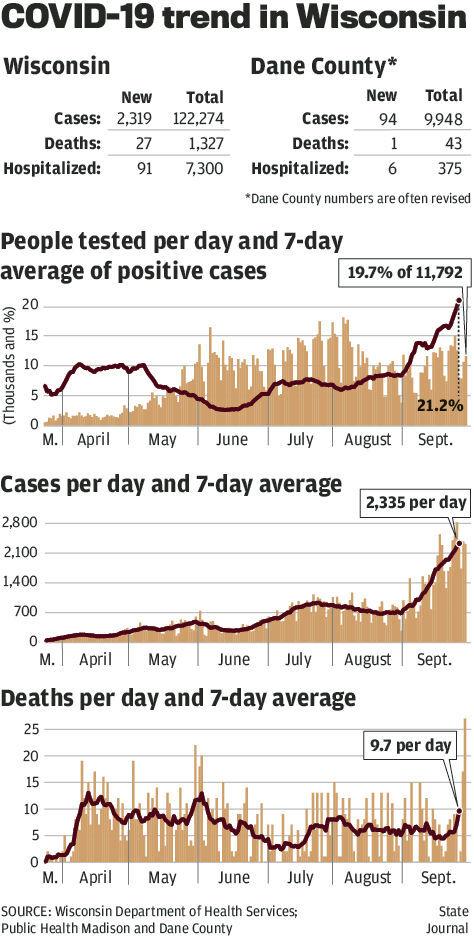 The Alliant Center, where diagnostic COVID-19 testing started May 11 and will continue at least through Aug. 31, is among dozens of free community testing sites around Wisconsin. It is available for drive-thru, bike-up or walk-up testing from 8 a.m. to 4 p.m. Mondays, Wednesdays, Fridays and Saturdays and from 8 a.m. to 8 p.m. on Tuesdays and Thursdays.
More than 50,000 people have been tested at the site, including 3,119 on June 30, the daily record for tests administered.
People who have symptoms of COVID-19 — such as fever, cough or shortness of breath — should contact their health care providers for testing, the health department and Madison hospitals said Tuesday in a statement. "Local health systems are well prepared to handle testing for COVID-19, turn the results around quickly and, if necessary, provide treatment," the statement said.
Symptoms can also include chills, sore throat, loss of taste or smell, runny nose, nasal congestion, headache, severe fatigue or exhaustion and muscle pain.
People ages 5 and older who don't have symptoms should get tested at the Alliant Center, the statement said. Anyone can be tested there, but it is recommended for those who have been exposed to individuals who have tested positive for COVID-19, have friends or relatives who are at higher risk of complications from COVID-19 or have upcoming travel, work or other life events that may require testing.
Statewide, 10,736 test results were reported Wednesday, 598 of them positive. Nearly 12,600 people were tested Tuesday, and test results exceeded 12,000 three days last week.
The record was June 3, when 16,451 test results were reported statewide. The first day test results exceeded 5,000 was May 7, as testing capacity started to grow.
State Journal reporter Anna Walters contributed to this report.