GREEN BAY — First came adult, geriatric and detox beds. Outpatient services started a few months later. Adolescent care was added after that. Treatment for children could begin soon.
"We have a very methodical way of opening our buildings," said Dave Bertrand, director of business development for Willow Creek Behavioral Health, which opened in January 2017 on the east side of Green Bay.
The 72-bed psychiatric hospital is owned by Strategic Behavioral Health, a for-profit company based in Memphis, Tennessee, that plans to build a similar facility in the Madison area.
The company, which has 10 facilities in six states, is building one in Kingsport, Tennessee, and plans to start on another this spring in Bettendorf, Iowa.
In Green Bay, Willow Creek has been welcomed by police, who take many people there who have mental health crises and agree they need treatment.
"Willow Creek is a breath of fresh air," said Barb Gerarden, one of the Green Bay Police Department's two mental health officers. "We really didn't have much in the way of voluntary options before."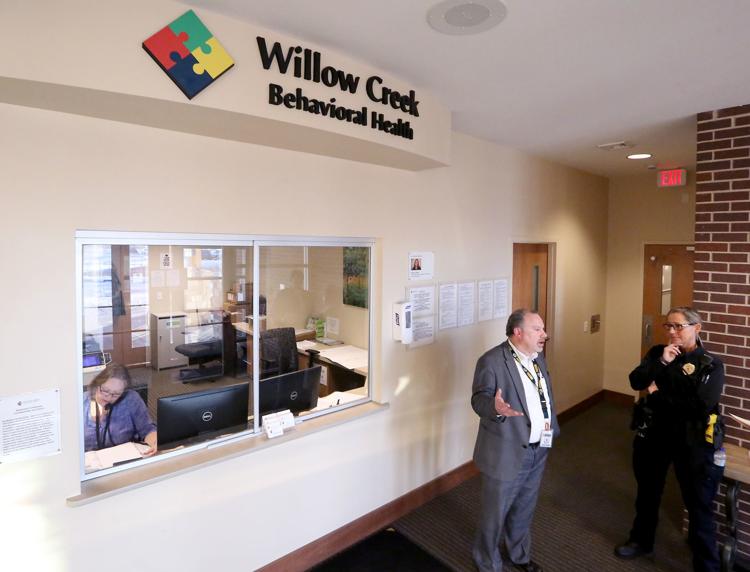 The opening of the hospital helped reduce the police department's mental illness-related emergency detentions to 495 in 2017 from 595 in 2016, Gararden said. Trips to Winnebago Mental Health Institute in Oshkosh dropped to 21 in 2017 from 31 in 2016, she said.
However, Green Bay's other mental health providers say Willow Creek wasn't needed.
"We have a lot of beds sitting here, not filled," said Sharla Baenen, president of Bellin Psychiatric Center, run by Bellin Health.
Bellin's psychiatric hospital has 65 operational beds, 40 of which are staffed, Baenen said. The average census is in the 20s, she said.
Managers of the Brown County Community Treatment Center, which has 16 beds, joined Bellin in opposing Willow Creek, according to the Green Bay Press-Gazette. Despite that, the City Council approved selling 10 acres of land to Strategic Behavioral Health for $494,000 and providing up to $1 million in tax increment financing.
In Bettendorf, other providers — Genesis Health System and UnityPoint Trinity — also spoke against Strategic Behavioral Health's plan, according to the Quad-City Times. But the state and the City Council approved the project.
You have free articles remaining.
Register for more free articles
Stay logged in to skip the surveys
A year after Willow Creek opened, it has an average of about 50 patients, Bertrand said. About 40 percent are on Medicaid and 20 percent on Medicare, and about 30 percent have private insurance. The hospital has a 16-bed geriatric unit, with the remaining beds available for adults and adolescents.
The facility accepts voluntary admissions from people with mental health crises and some involuntary commitments, once patients who require medical clearance elsewhere receive it, Bertrand said.
"We are a 24-7 assessment and referral center," said Teena Ahuja, regional vice president of operations for Strategic Behavioral Health. "We're not a drop-in center or a stabilization (center)."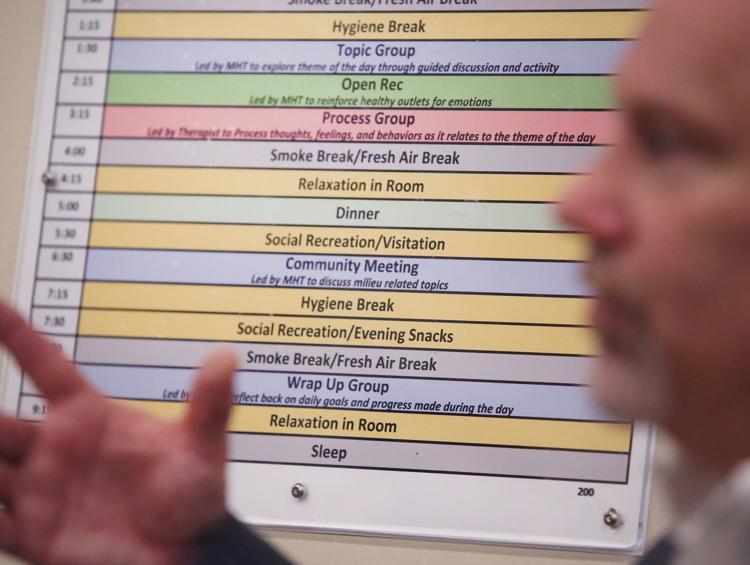 Need in Madison unclear
In the Madison area, Strategic Behavioral Health says it will build a psychiatric hospital with 72 beds. Other providers say it's too early to tell how much the new facility is needed, since the company hasn't released details about what services it will offer.
"I have no idea how full they would be," said Dr. Michael Peterson, director of inpatient psychiatry at UW Hospital. "I'm guessing they probably wouldn't be empty since most of the hospitals here are usually relatively full."
UW Hospital's 18-bed adult psychiatric unit usually has 15 or 16 patients, Peterson said.
UnityPoint Health-Meriter has a 20-bed unit for adults plus a 20-bed Child and Adolescent Psychiatric Hospital on Madison's Southwest Side. Each typically has 11 to 13 patients, spokeswoman Leah Huibregtse said.
The adult unit at SSM Health St. Mary's Hospital, which has 20 beds, is expanding to 24 beds. It typically has 15 to 18 patients, spokeswoman Lisa Adams said.
Stoughton Hospital has a 10-bed geriatric psychiatry unit.
Mendota Mental Health Institute, on Madison's North Side, has 293 beds, all of which are reserved for criminal cases except for a 15-bed civil geriatric unit, said Elizabeth Goodsitt, spokeswoman for the state Department of Health Services.
"Willow Creek is a breath of fresh air. We really didn't have much in the way of voluntary options before." Barb Gerarden,
mental health officer, Green Bay Police Department