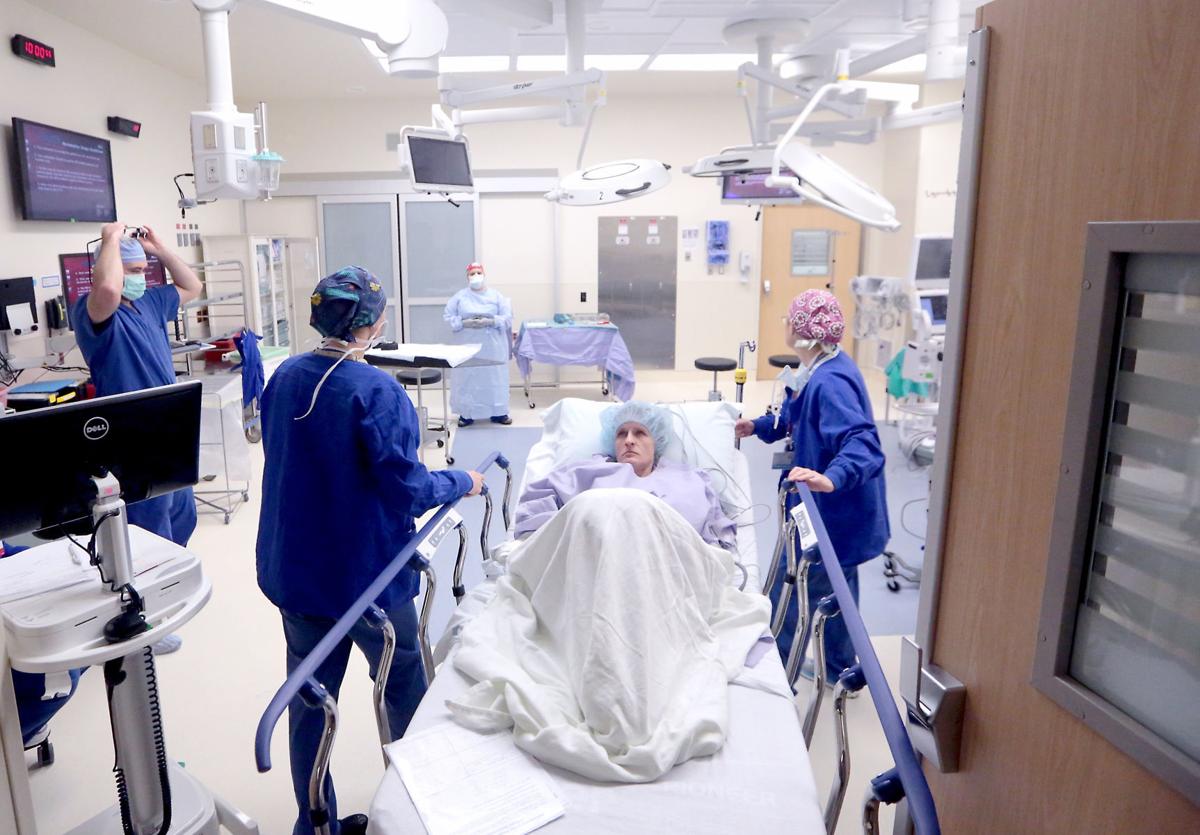 A bill in Wisconsin would require explicit informed consent before medical students practice pelvic exams on patients under anesthesia, which is sometimes done as part of training.
Ten states have laws against unauthorized pelvic exams, four passing the measures last year after a bioethics article and the #MeToo movement brought more attention to the longstanding practice.
"This is a violation of a patient's rights and trust between patient and doctor, and directly ignores a patient's right to bodily autonomy," said a memo by the bipartisan lawmakers who introduced the Wisconsin bill last month.
"It's related to women not being treated as autonomous individuals in the clinical setting for a long, long time," said Rep. Chris Taylor, D-Madison, one of the lead sponsors. "This is a vestige of that, that just needs to end."
Other lead sponsors are Rep. Janel Brandtjen, R-Menomonee Falls; Sen. Lena Taylor, D-Milwaukee; and Sen. Andre Jacque, R-DePere.
The bill would require hospitals to get written and verbal consent from patients before pelvic exams are done under anesthesia for the educational benefit of medical students. Currently, some hospitals rely on general consent forms that don't specify procedures done for training.
Pelvic exams involve inserting fingers of a gloved hand into a patient's vagina to examine organs including the uterus and ovaries. Surgeons do the exams before gynecologic surgeries to determine the positioning of the organs, and medical students sometimes do the exams for training.
In 2003, when California became the first state to pass a law requiring consent before pelvic exams on unconscious patients for teaching purposes, the American College of Obstetricians and Gynecologists said "specific informed consent" should be required. The Association of American Medical Colleges called the procedures "unethical and unacceptable" if done without consent.
Medical students train at academic medical centers, such as UW Hospital and Froedtert Hospital in Wauwatosa, and at some community hospitals. The Wisconsin Hospital Association opposes the bill, spokesman Mark Grapentine said.
UW adopts policy
UW School of Medicine and Public Health adopted a policy in July covering "educational sensitive exams," including breast, pelvic, urogenital, prostate and rectal exams on patients under anesthesia or otherwise sedated.
Under the policy, doctors must obtain and document informed consent before allowing medical, physician assistant and physical therapy students to do the exams, which must be a routine part of the patient's procedure.
"Prior to our change in official policy, patients were not routinely asked to provide specific consent for pelvic exams while under anesthesia," UW Health spokesman Tom Russell said in a statement. "They were, however, asked to provide consent generally, which included the involvement of medical student learners."
Russell didn't respond to a question about how often medical students have done pelvic exams on unconscious patients for training.
You have free articles remaining.
"With respect to pelvic exams, patients under anesthesia are relaxed, affording students the opportunity to examine and understand anatomy in ways not possible in non-relaxed, awake patients," Russell said. "Conducting exams on surgical patients under anesthesia also allows students to gain experience with tumors, atypical anatomy, and other pathologies not usually present in standardized patients."
One woman's experience
Sarah Wright, 40, a science teacher from Madison, said she had significant vulvar sensitivity after surgery in 2009 to remove ovarian cysts by UW doctors at UnityPoint Health-Meriter.
In the fall of 2018, she needed to have another ovarian lesion removed. Having read about pelvic exams under anesthesia and having failed, despite records requests, to find out what caused her pain in 2009, Wright pressed UW for details on when pelvic exams are conducted.
She didn't get a specific answer, but her 2018 surgery — again at Meriter with UW doctors — went fine. Still, she believes her pain in 2009 likely stemmed from an unauthorized pelvic exam.
"If I'm not going into a procedure with fully informed consent, who is?" said Wright, who teaches at Eagle School in Fitchburg. "It's not right."
In late 2018, Wright contacted Taylor, who inquired at UW, which then developed its policy.
"When we were contacted by Rep. Taylor in February of 2019, we conducted an internal review of our procedures for obtaining informed consent across departments and determined we could improve our process and better serve our patients," Russell said.
Ethical debate
California, Hawaii, Illinois, Iowa, Oregon and Virginia have pelvic exam informed consent laws, and Delaware, Maryland, New York and Utah joined them last year, according to a University of Illinois College of Law blog that tracks the issue.
"Do we want the sexual mores of society to place restrictions on the ability of physicians to care for the whole patient?" asked Goedken, an obstetrician-gynecologist at Emory University in Atlanta.
However, she argued for "written consent that is specific for this activity."
Bioethicist Phoebe Friesen, of McGill University in Quebec, wrote about the issue in the journal Bioethics and in Slate in 2018, after discussing ethical issues with medical students at Mount Sinai Hospital in New York. Some told her they felt uncomfortable about practicing pelvic exams on unconscious women who may not have consented.
An unauthorized pelvic exam is "unjust, in that it violates both the autonomy and the bodily rights of patients," Friesen wrote.
If asked, 62% of women would agree to pelvic exams under anesthesia by medical students, Friesen said, referring to a survey in Canada.