Doctors in Madison and elsewhere are trying to curb the soaring cost of pharmaceuticals by switching patients from brand-name biologic drugs to nearly identical versions called "biosimilars."
Under a bill before the state Assembly's health committee Thursday, pharmacists could shift patients to cheaper biosimilars unless doctors prohibit it, as pharmacists can do now for generic drugs. The Senate passed the measure last week.
Biosimilars are generic copies of biologics, drugs made from living organisms that are among the most expensive on the market.
Unlike conventional chemical drugs, biologics can't be replicated exactly because they involve complex molecules, according to the Congressional Research Service. Imitations are considered highly similar, or biosimilar.
Lead sponsors of the bill — Rep. Mike Rohrkaste, R-Neenah, and Sen. Leah Vukmir, R-Brookfield — say letting pharmacists dispense biosimilars as they do generic drugs would save consumers up to 20 percent.
"This bill will result in the lowering of prescription drug prices for Wisconsin families and seniors," Vukmir said at a public hearing in December.
A report by the RAND Corp. said biosimilars could save $44 billion from 2014 to 2024, or about 4 percent of spending on biologics.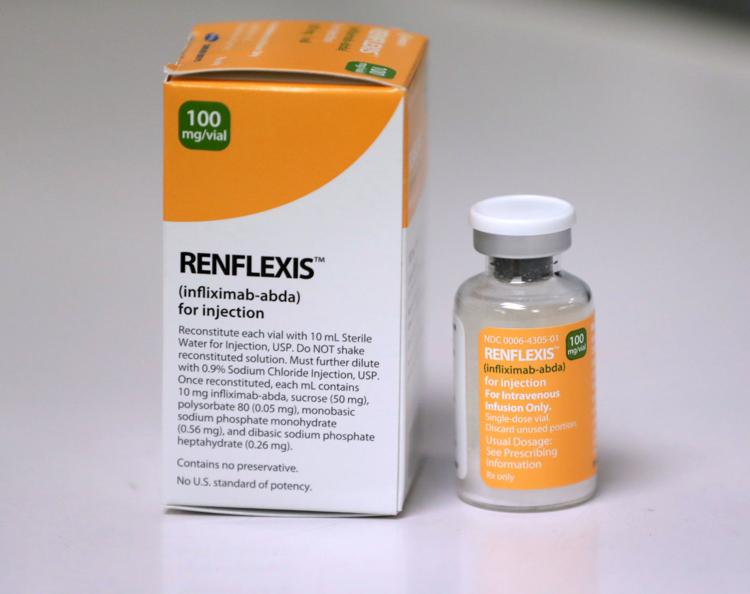 Nine biosimilars have been approved by the U.S. Food and Drug Adminstration since 2015. Lawsuits have delayed sales of most of them, but more are expected to be approved soon.
Most biosimilars are given as injections or infusions for cancer, rheumatoid arthritis or other inflammatory conditions such as psoriasis and Crohn's disease.
Brand-name alternatives include Enbrel, Humira and Remicade, each of which accounted for more than $4 billion in U.S. sales in 2015, ranking among the top five drugs sold.
SSM Health Dean Medical Group has been using biosimilars for Neupogen, a cancer drug, said Eric Huckins, specialty pharmacy supervisor.
Last fall, Dean started switching many patients with arthritis or Crohn's disease from Remicade, which has a sticker price of roughly $9,000 a dose, to Renflexis, which costs less than $6,000. Patients take the drug every four to eight weeks.
You have free articles remaining.
"If we can save substantially to the health system and to the patients, most importantly, we're going to do so," Huckins said.
UW Health has also been using biosimilars for Neupogen, and plans to switch some patients from Remicade to Renflexis soon, said Philip Trapskin, program director of medication use strategy and innovation.
"We're expecting patients to save at least 30 percent," Trapskin said. "This can be done safely and in a way that gets patients the same outcome for a lower cost."
Patients can develop antibodies to biologics or biosimilars, making them unable to take the drug again, Trapskin said. The risk might increase if they switch from one drug to another, but studies have found few problems, and doctors aim to prevent frequent switching, he said.
Janet Fritsch, pharmacist at Hometown Pharmacy's Baraboo Corner Drug Store, said she dispenses some biologics but not as many as specialty pharmacies.
Biosimilars can bring significant savings to insurance companies and government programs like Medicaid, Fritsch said. Patients don't save much directly unless their insurance has a high deductible or requires a lot of cost sharing, she said.
"I think it's always good to lower costs wherever we can as long as the outcomes remain the same," Fritsch said.
The bill would allow pharmacists to shift patients to cheaper biosimilars if the FDA deems the drugs interchangeable with biologics. So far, the FDA hasn't made that determination for any biosimilars, Trapskin said.
Pharmacists would have to tell prescribing doctors about the switch.
Several patient groups support the bill. The Pharmacy Society of Wisconsin hasn't taken a stance. Drug companies that make biosimilars, including Pfizer and Amgen, support the bill, as do makers of brand-name biologics, such as AbbVie and Johnson and Johnson.
Editor's note: This story has been corrected to reflect that the number of biosimilar drugs approved by the FDA is nine.