When James Schenk was born in October, the blue-eyed baby with soft brown hair weighed a healthy 6 pounds 8 ounces. But he had tremors, stiff muscles, difficulty sleeping and a high-pitched scream.
He was physically dependent on opioids because his mother, Anne Christian, a heroin addict from Madison, took the drugs while pregnant.
Christian used heroin a few times during the middle of the pregnancy, she said. She mostly took buprenorphine or methadone, opioids prescribed in addiction treatment. Taking those drugs is healthier for developing babies than using heroin or detoxing from opioids during pregnancy, doctors say.
As Christian watched her son suffer through withdrawal in the hospital during his first seven weeks, "I felt like the crappiest mom on the planet," she said. "Who am I to put him through this?"
But by sticking to methadone and not using heroin during the last trimester of her pregnancy, "I was trying to better myself and do good for my child," she said. "I want to be a better person."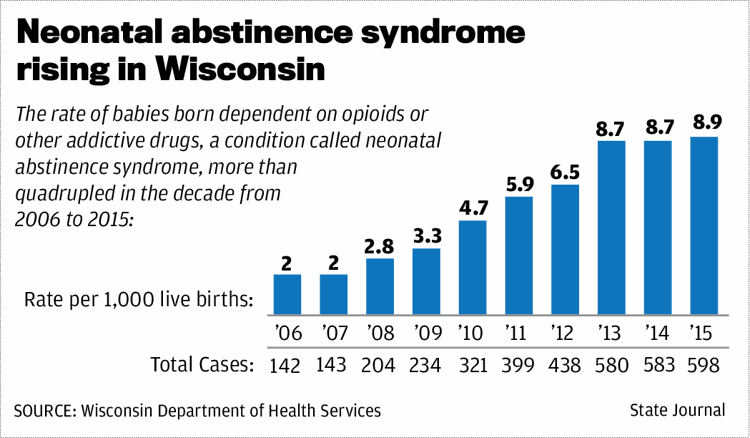 Wisconsin is seeing a surge in babies born dependent on opioids or other addictive drugs, a condition called neonatal abstinence syndrome, or NAS.
The state had 598 babies with NAS in 2015, up from 142 in 2006, according to the state Department of Health Services. The rate more than quadrupled during that time, from 2.0 cases per 1,000 births to 8.9 cases per 1,000 births.
The highest rates are in Ashland, Iron and Vilas counties, in northern Wisconsin. Dane County's rate was lower than the state average in 2012-2014, but rates in neighboring Columbia, Dodge, Green and Sauk counties were higher than average.
The long-term impact on children born with NAS is unclear, but the short-term consequences are significant. As babies struggle through withdrawal, they can have seizures, diarrhea, rapid breathing, difficulty feeding and other problems, which can interfere with mother-baby bonding.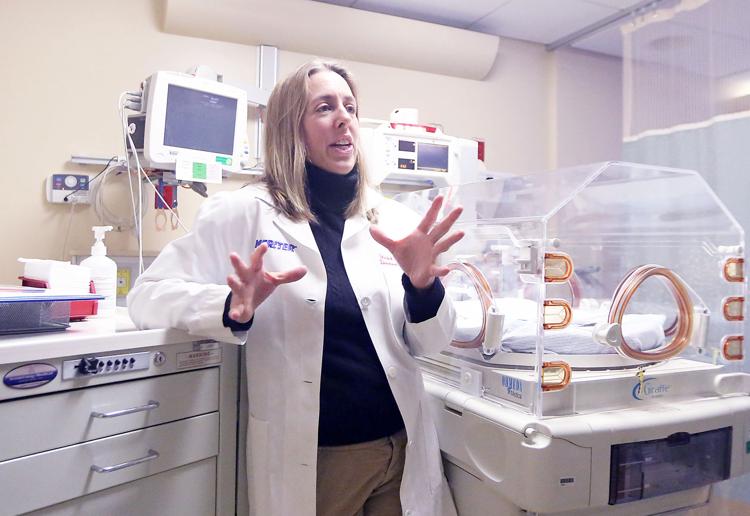 "These are babies who can't settle enough to sleep," said Dr. Elizabeth Goetz, medical director of the newborn nursery at UnityPoint Health-Meriter. "You put them down in the crib and they're just wild. You pick them up and they're stiff."
Babies with NAS spend an average of 16 days in the hospital, resulting in a typical charge of $45,000, according to a study in the December issue of the Wisconsin Medical Journal. The infants are often treated in neonatal intensive care units, where many receive morphine to ease withdrawal and are weaned off the drug.
Nationwide, the NAS rate quadrupled from 1.5 per 1,000 births in 1999 to 6 per 1,000 births in 2013, according to the Centers for Disease Control and Prevention.
Treatment for the condition costs an estimated $1.5 billion per year, $1.2 billion of it through Medicaid, the state-federal health program for the poor.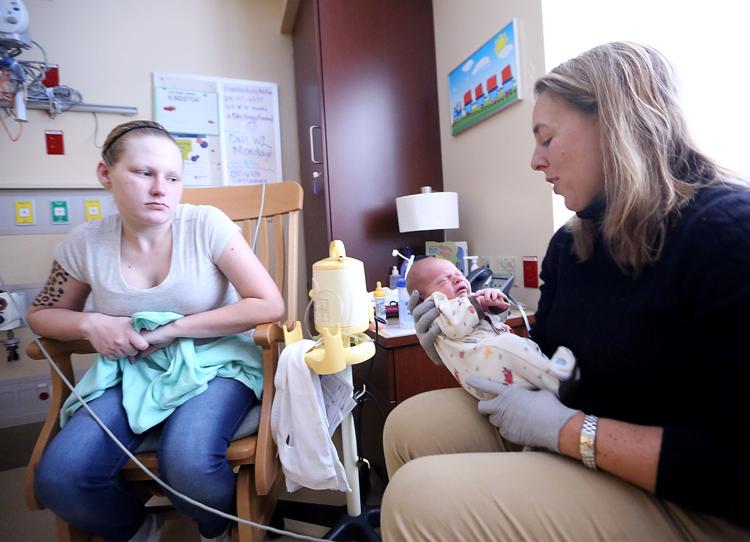 In recent years, the group has focused on connecting addicted women of childbearing age to appropriate mental health care so they and their babies are healthier, Mounts said.
"I see neonatal abstinence syndrome and substance use disorders as indications that there are segments of the population that are not able to live to the kind of potential that we all wish people could," Mounts said.
Rise at Madison hospitals
Meriter and SSM St. Mary's Hospital in Madison, Dane County's birthing hospitals, are seeing a rise in NAS that mirrors the state and national trends.
Meriter had 48 babies with NAS last year, up from 36 in 2015, Goetz said.
You have free articles remaining.
Register for more free articles
Stay logged in to skip the surveys
St. Mary's had 56 newborns with the condition last year, up from 50 in 2015, spokeswoman Kim Sveum said. The figures include babies from its sister hospital in Janesville.
Not all babies of mothers who use opioids during pregnancy are born dependent on the drugs, but the majority are, doctors say. The drugs pass through the placenta, but factors such as the mother's weight, stress and nutrition can influence whether babies go through withdrawal.
Many pregnant women who use heroin or abuse other opioids disclose their situations during prenatal care, doctors say. Doctors encourage the women to switch to buprenorphine or methadone so their drug use is more stable. If the women are already on one of the prescription opioids, doctors encourage them to continue them.
Detoxing from opioids during pregnancy can harm fetuses and increase the risk of miscarriage and preterm birth, health officials say.
"If the baby withdraws inside (the mother), it's a completely uncontrolled environment, and it can lead to fetal loss," Goetz said.
After birth, babies who are dependent on opioids typically show signs of withdrawal within a few days.
If symptoms are relatively mild, infants can be cared for in hospital nurseries, with dim lights, pacifiers, swaddling and rocking.
Babies with serious symptoms generally are treated in the NICU and given morphine, sometimes along with other drugs, Goetz said.
At St. Mary's, some of the babies receive morphine in the regular pediatric ward, said Dr. Paola Fliman, medical director of the hospital's NICU.
Regardless of the severity of a baby's NAS, mothers are encouraged to breastfeed unless they are using illicit drugs. Small amounts of opioids can pass into breast milk, but the benefits of breastfeeding outweigh the risks, doctors say.
Christian, 31, who said she is in recovery from addiction, has been a drug addict for more than 10 years.
Her first son, Liem, 3, who is living with her parents, was born without a dependence on opioids. She was mostly sober during that pregnancy, she said.
Last year, when she was pregnant with James, Christian started abusing buprenorphine so she switched to methadone. But shortly after the switch, she used heroin and landed in jail for a parole violation.
In September, she moved into a home in Monona run by Madison-based ARC Community Services, a nonprofit that helps women involved in substance abuse and criminal activity.
Shortly after James was born, on Oct. 3 at Meriter, he started shaking and screaming. Nurses took him to the NICU, where he started on morphine. He had a hard time getting weaned off the drug, so he spent more than seven weeks in intensive care.
Christian spent every day and night with her son, returning to the ARC house only once a week for dinner. She fed, bathed, changed and swaddled James. Nurses taught her how to carefully massage his muscles, which ached from the withdrawal.
Today, James is healthy and thriving. "Even after all he's been through, he still smiles," Christian said.
She plans to stay with him at the ARC house through next month. Afterward, she might enroll in an employment training program. She is determined to become sober, she said, though she acknowledges heroin's powerful grip.
"It really does just take one weak moment to get you back into that," she said. "But I don't want to be caught in the same rut. I want to do better for my children."