The villages of Cambridge and Cottage Grove had the highest reported rates of falls among older adults in Dane County last year, according to a new analysis of 911 calls that is being used to target falls prevention efforts.
A partnership between Public Health Madison and Dane County, and Dane County Emergency Medical Services has led to a detailed look at where falls resulting in 911 calls occur.
The State Journal series was based on U.S. Centers for Disease Control and Prevention data released last year for 2016, when 1,365 residents 65 or older died from falls, giving the state a rate more than double the national average.
The CDC confirmed last week that Wisconsin continued to have the highest rate of deadly falls among older adults in 2017, when 1,398 such residents died from falls.
Safe Communities Madison and Dane County, a nonprofit that offers Stepping On classes and other activities to help prevent falls, is studying the new county information to decide where to direct programs and to track whether progress can be made.
"We're going to use this data to better target our interventions," said Ashley Hillman, falls prevention manager for Safe Communities. "Hopefully, over a few years, we'll see the (rates) change."
That's the goal of the new partnership between the two county agencies, said Sarah Johnson, a health education specialist with the health department. "The better (groups like Safe Communities) can focus those initiatives, the better the outcomes they're going to get from their work," she said.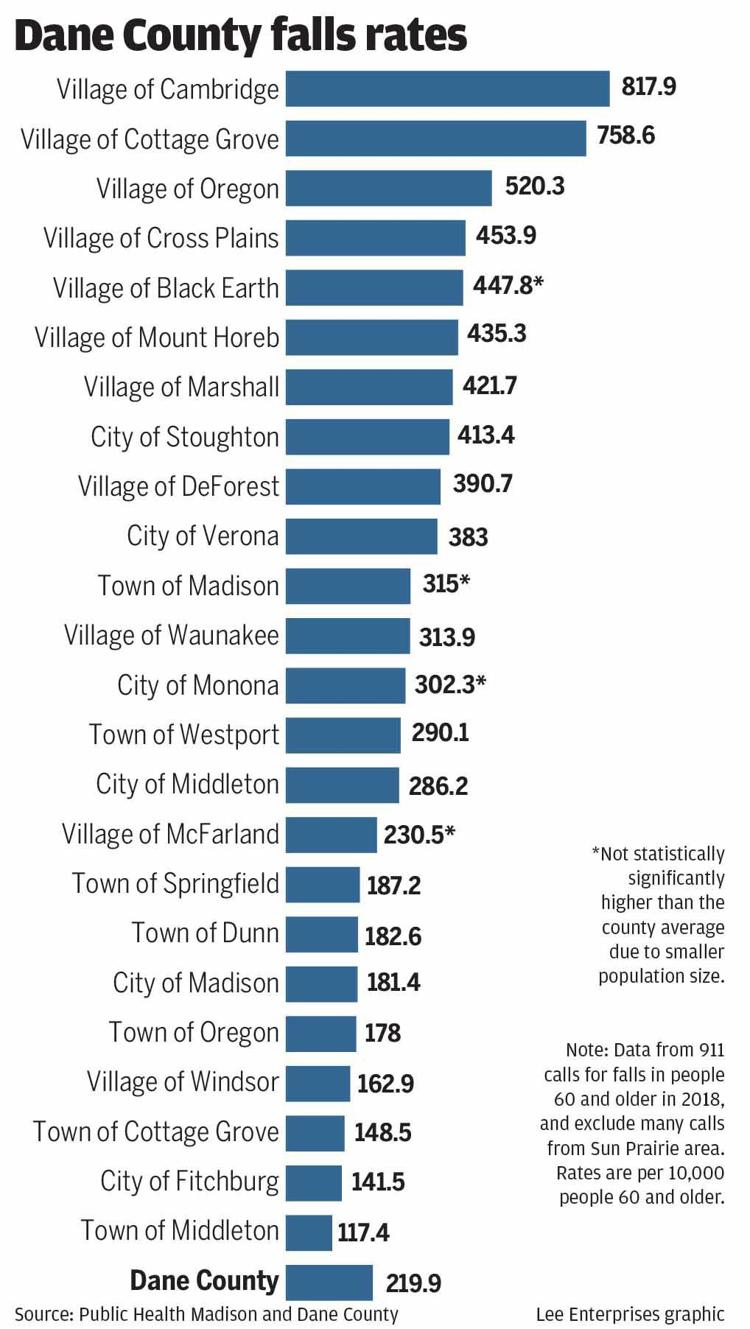 In Cambridge, 31 people 60 and older had a fall involving a 911 call last year, for a rate of 817.9 people that age with 911 calls for falls per 10,000 people in that age group overall, according to the analysis. That's nearly four times the county's rate of 219.9 per 10,000.
Cottage Grove had 66 older adults with 911 calls for falls, for a rate of 758.6. Rates in Oregon and Cross Plains were also more than twice the county average.
Among the two dozen municipalities in the county with enough falls to calculate rates, Fitchburg and the town of Middleton had the lowest rates. Some places had too few falls to determine rates, and many 911 calls from the Sun Prairie area were not able to be included in the analysis, Johnson said.
You have free articles remaining.
Register for more free articles
Stay logged in to skip the surveys
Countywide, 1,961 people 60 and older had a total of 2,240 falls involving 911 calls last year. About 61 percent were women, nearly 90 percent were white and more than a third were 85 or older.
More than 80 percent of the falls occurred in people's residences.
Safe Communities, which last year received partial data about falls from 2017 before getting more complete data for 2018 this month, initiated Stepping On classes in Cottage Grove last year and Cambridge this year, Hillman said.
The seven-week class helps older adults prevent falls through exercises and practical tips. Tai-chi programs and Ballroom Basics for Balance classes are among other ways to try to prevent falls.
Hillman said the new data will help Safe Communities choose where to offer future classes — including which specific sites might be most appropriate in certain communities.
For example, Stoughton has had Stepping On and other activities available for several years at its senior center, but the city had a relatively high rate of 911 calls for falls in 2018.
"Maybe it's not the senior center where we need to be offering this," Hillman said. "Maybe it's the churches. Maybe it's the hospital."
Some senior housing complexes in the county are hot spots for falls, the data shows, so prevention programs also might be brought to those places, she said.
In the Green Bay area, medics who respond to 911 calls for falls ask older adults who have fallen if they would like to be visited by their local Aging and Disability Resource Center.
If the residents say yes, ADRC workers go to the homes and often refer the residents to Stepping On classes, Meals on Wheels, home assessments, medication reviews and other services that can reduce falls.
The program, started in 2016, could soon be expanded to Dane County, said Dan Williams, coordinator of the Madison-based South Central Regional Trauma Advisory Council.