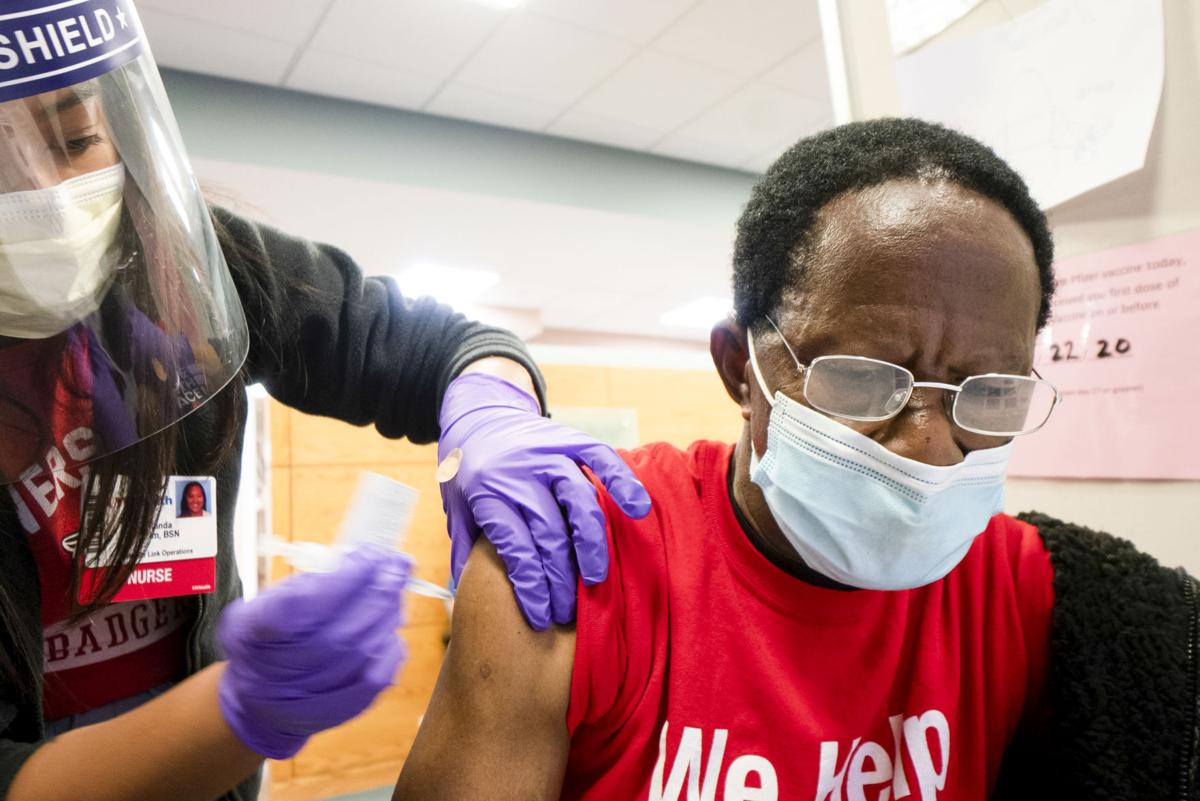 UW Health on Thursday moved back 4,000 COVID-19 vaccine appointments set for next week because of inadequate supply, as the state prepared to make educators and other groups eligible for shots Monday — adding some 700,000 residents to about 1.6 million eligible now.
Despite snags like at UW Health, nearly half of people 65 and older have received injections and supply is increasing, so it's time to expand the opportunity, state officials said. Roughly the same number of doses will keep going to older adults in coming weeks, with additional supply going to educators, they said.
"This increasing supply is why it is important for us to continue to add more people into the eligible populations, to avoid having vaccine wait on shelves," said Julie Willems Van Dijk, deputy secretary of the state Department of Health Services. "We are in a great place to open up eligibility."
Meanwhile, the state reported 52 COVID-19 deaths Thursday, the most since Jan. 26, with the daily average now at 23, up from 12 last week. There were 840 new cases reported, with the daily case average also increasing slightly this week after weeks of declines.
UW Health rescheduled the appointments, which were initially set for next week, after learning Tuesday it would get 2,340 doses of vaccine next week instead of the more than 6,000 doses requested, said Dr. Matt Anderson, senior medical director for primary care. Some of the appointments had been rescheduled before.
"We were hopeful we would get more, and we didn't," Anderson said.
This week, UW Health got 3,510 doses. Weeks ago the organization began scheduling appointments in anticipation of a significantly increased supply, after state officials asked health systems to focus on promptly vaccinating older adults, Anderson said.
Now that he said UW Health realizes weekly supply won't be going up as much as expected, the organization is being more cautious in scheduling appointments and encouraging eligible patients to seek vaccine elsewhere, such as at Walgreens pharmacies.
The state confirmed Thursday that teachers and child care workers will become eligible for vaccination beginning Monday, along with: people in Medicaid long-term care programs, including those with disabilities; workers in public transit, all parts of the food industry and some other sectors; other essential health care workers; and residents in congregate living settings, including group homes, prisons and jails.
Those groups include roughly 700,000 people, some 225,000 of them educators, Willems Van Dijk said.
About 1.6 million people are in the groups currently eligible for vaccine: frontline health care workers, nursing home and assisted-living residents, police officers, firefighters, correctional workers and residents 65 and older.
That means the total eligible next week, roughly 2.3 million people, is about 40% of the state's population, though Willems Van Dijk said there is some overlap among groups.
Among the largest group, about 1 million people 65 and older, 49.4% had received at least one dose of vaccine as of Thursday, the state health department said. In Dane County, it's 59.2%. Though state officials want everyone to be immunized, the realistic goal is 80%, so the state is more than halfway toward reaching that among older adults, Willems Van Dijk said.
About 120,000 doses are coming weekly from the federal government, up from about 70,000 a week a month ago. The state plans to continue allocating about 70,000 doses for older adults and direct additional doses initially to educators and later the other groups, she said.
To older adults, Willems Van Dijk said: "You are still eligible ... We encourage you to get vaccinated. We are adding more groups, but you don't lose eligibility once you have it."
To teachers, she said: "We're going to get you a vaccine. We cannot get everyone of you a vaccine on March 1. But you are all going to get a vaccine in the next 4 to 6 weeks."