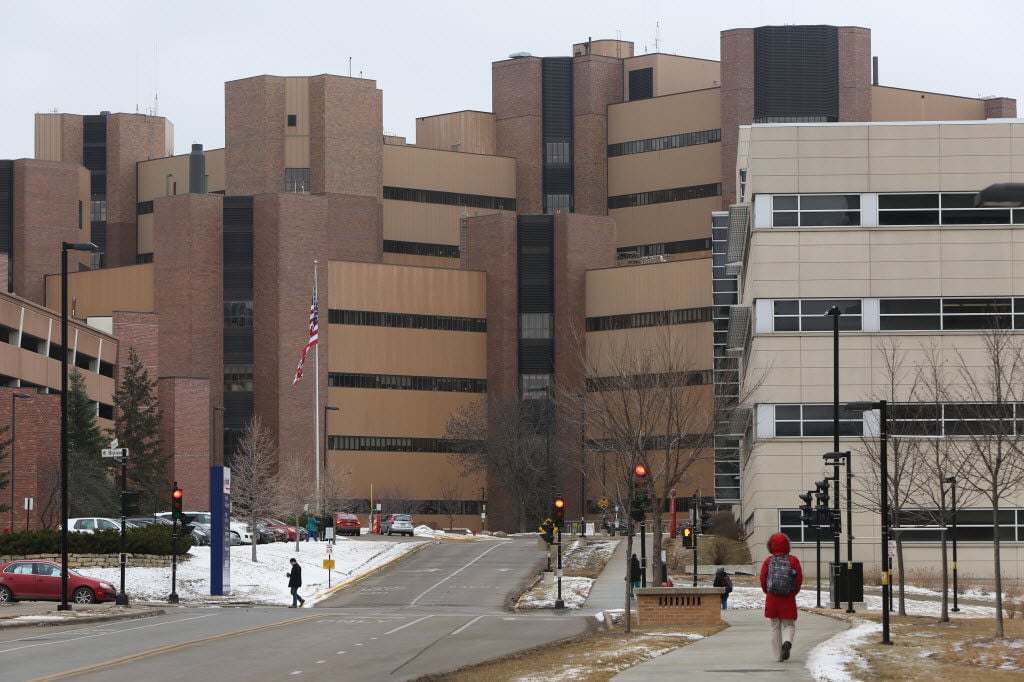 With more COVID-19 patients being treated at Madison hospitals and over 840 confirmed cases statewide, doctors are using the malaria drug chloroquine on some patients and considering an experimental drug and plasma from recovered patients.
Some hospitals are establishing "step-down" units to house patients hospitalized for other conditions, who may have been exposed to COVID-19 in the hospital, before discharging them to nursing homes and other facilities to prevent infections there.
The state on Friday reported 842 cases of COVID-19, including 133 in Dane County. Public Health Madison and Dane County reported 158 cases in the county. Health officials said the peak is likely two to three weeks away, and the actual number of cases is likely much higher than reported because many infected people with mild or no symptoms are not tested.
An alert from Dane County Emergency Management on Friday telling residents to assume they are exposed to COVID-19 if they leave their homes was not triggered by any particular development, said Sarah Mattes, spokeswoman for Public Health Madison and Dane County. It was "just another way of messaging," she said.
President Donald Trump this week asked states to categorize counties as "high-risk, medium-risk or low-risk," with the hope of allowing normal activity in lower-risk areas soon.
But "we're a long way from that," Gov. Tony Evers said Friday, noting that even though some rural counties haven't reported cases, the virus may still be circulating there.

"I would characterize the risk in all Wisconsin counties as high right now," said Dr. Ryan Westergaard, a medical officer for the state Department of Health Services.
Westergaard said that while social distancing is likely reducing spread of the new coronavirus among the public, "I'm fearful that hospitals are going to be one of the 'hot spots' for transmission, particularly asymptomatic transmission."
UW Hospital is treating "a few" patients with COVID-19; SSM Health, which includes St. Mary's Hospital in Madison, also has "a few"; and UnityPoint Health-Meriter has "several," hospital officials said Friday. As recently as a week ago, the hospitals said they weren't treating any such patients, though Meriter said it had discharged one.
"Over the course of the next few days, we would expect to see more," Dr. Nasia Safdar, medical director of infection control at UW Health, said Friday.
UW Health has "an adequate supply" of masks, face shields and other protective equipment for workers but is seeking more to prepare for a potential surge of patients, Safdar said.
Experimental treatments
UW doctors have started using chloroquine, a drug approved for malaria, or hydroxychloroquine, approved for rheumatoid arthritis, on some hospitalized patients with confirmed COVID-19, Safdar said.
It's not clear how well the drugs work for COVID-19 and they can have side-effects, but there are no approved treatments for the new coronavirus, she said. Some health care organizations are using chloroquine more broadly, on patients suspected of having COVID-19, but UW Health is limiting its use to known cases in the hospital.
"We want to be careful when we don't have answers to the question of how well it works," Safdar said.
UW doctors are requesting the experimental drug remdisivir for potential use on COVID-19 patients, she said. The drug, now in clinical studies for COVID-19, is available for the condition through a special access program but takes some time to acquire, she said.
Other trials are studying the use of antibodies from patients who have recovered from COVID-19, or what is known as convalescent plasma. A similar approach has been used for decades for other infections, such as Ebola and influenza.
Safdar said UW Health is considering using convalescent plasma, in which antibodies from recovered patients can help the immune systems of newly infected patients attack the virus.
"The concept behind it is pretty sound," she said. "It's a passive way of tiding them over until their own system is able to recover enough."
Meriter is also looking at using remdesivir and convalescent plasma, spokeswoman Leah Huibregtse said. SSM Health has used chloroquine and remdisivir to treat COVID-19 patients, spokeswoman Lisa Adams said.
'Step-down' units
UW Health plans to set aside an area within UW Hospital and at another facility for patients being discharged from the hospital who don't have confirmed COVID-19 but may have been exposed to it, Safdar said.
Nursing homes and assisted living facilities are understandably worried about receiving residents from hospitals who may be infected but not identified as having COVID-19, she said. Most of the initial deaths from COVID-19 in the U.S. came from a nursing home near Seattle.
"We want to make sure there is no inadvertent, institution-to-institution transfer of something that is unrecognized," Safdar said. "Once even a single case gets into that high-risk setting — older adults with co-morbid conditions — it can have really bad outcomes."
Otis Woods, administrator of the state health department's Division of Quality Assurance, said nursing homes should try to quarantine residents returning from hospitals for two weeks. But many hospitals are trying to identify step-down units for this purpose, he said.
Meanwhile, testing for COVID-19 is becoming more available in Wisconsin but still not appropriate for everyone, Westergaard said.
About 2,000 test results a day are coming from about 40 state, hospital and commercial labs, he said. "It's still not capacity sufficient that every individual with suspicious symptoms or who's interested in knowing whether they have COVID-19" can get tested, he said. "But we're getting there."
Concerned about COVID-19?
Sign up now to get the most recent coronavirus headlines and other important local and national news sent to your email inbox daily.