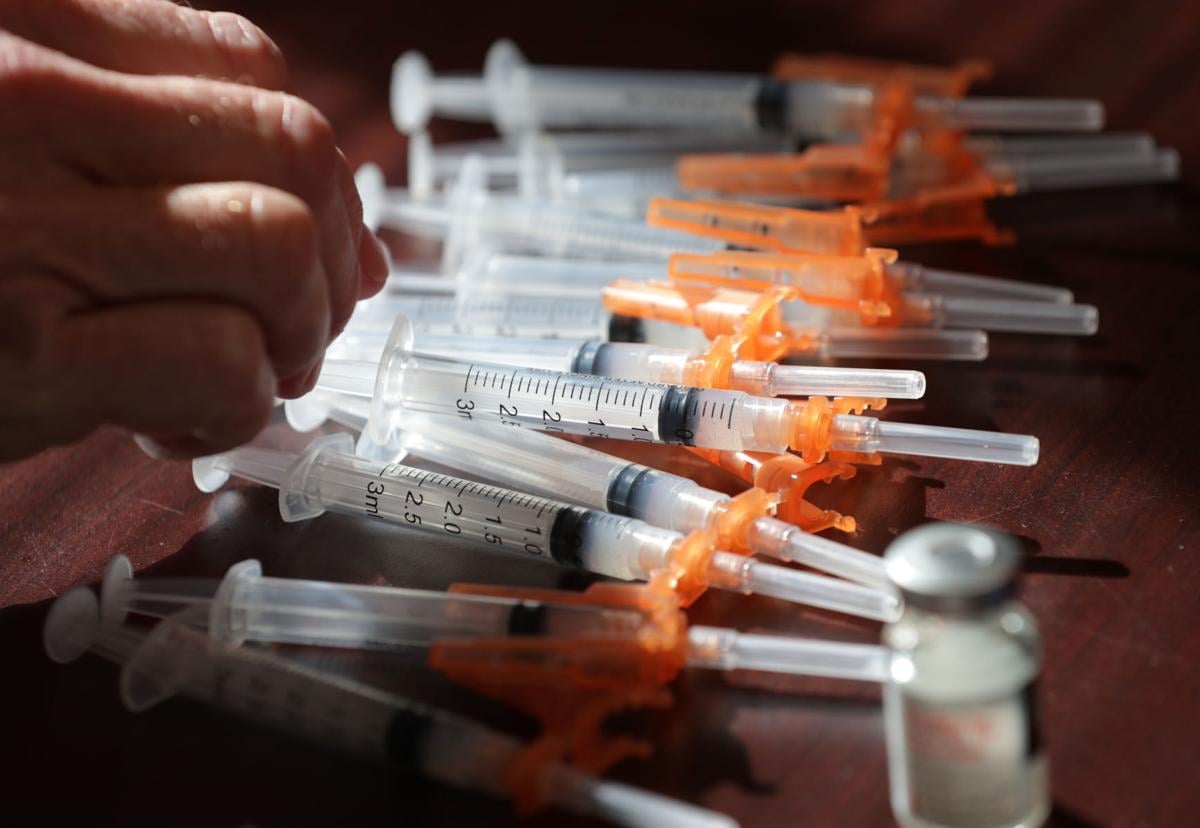 With new COVID-19 cases in Wisconsin 10 times higher than a month ago and hospitalizations six times higher, health officials said Thursday the surge fueled by the delta variant of the coronavirus likely will get worse unless more people are vaccinated.
"What we're seeing happen in Florida could happen here," said Julie Willems Van Dijk, deputy secretary of the state Department of Health Services, noting record COVID-19 hospitalizations in Florida, which has a similar vaccination rate to Wisconsin. "We risk our hospital systems being overwhelmed again."
Gov. Tony Evers suggested he was preparing to require COVID-19 vaccination for state employees, as some public and private sector employers have done.
"We're looking at all alternatives as it relates to our state employees, and we will be making that decision within the next week," Evers said. "As an employer of many thousands of people, we want to make sure we're doing our part to get shots in arms."
As of Thursday, 53% of Wisconsin residents had received at least one dose of COVID-19 vaccine, and 60.5% of adults were fully immunized. That's well below the 80% rate officials have said is needed for herd immunity to prevent outbreaks.
With unusual levels of children hospitalized for other respiratory illnesses — including RSV, normally seen in late fall and winter, and parainfluenza, typically seen in spring — a further increase in COVID-19 infections among children could tax pediatric intensive care units, said Dr. Ryan Westergaard, a chief medical officer for the state health department.
Children younger than 12 are not yet eligible for COVID-19 vaccines. Several Dane County school districts — including DeForest, Madison, McFarland, Monona Grove, Sun Prairie and Verona — have announced mask requirements for students and staff when classes resume.
Willems Van Dijk said a person infected with the delta variant typically causes 30 additional cases, compared to six from the initial pandemic strain of the coronavirus. Vaccinated people are much less likely to get COVID-19 or become seriously ill if they do, but recent studies showed those infected with the delta variant can also spread it.
That led state and federal officials to recommend that all people wear masks again in public indoor places, which Willems Van Dijk likened to putting seat belts on again once an airplane reaches cruising altitude if the air gets rough.
"We have encountered some turbulence … so we need to put our masks back on until we can stabilize disease spread," she said.
Even more worrisome is the possibility of more dangerous new strains, she said.
"Our biggest fear is a new variant that could be resistant to vaccine, resistant to treatment — even more infectious or virulent, causing more serious disease than delta," Willems Van Dijk said.
The more the virus circulates in people, vaccinated and unvaccinated, the more it can evolve, Kristian Andersen, an infectious disease researcher at Scripps Research, recently told Science magazine.
"This fall and winter I am not sure we will be dealing with delta. I think we will probably be dealing with a variant we haven't heard about yet," he said. "From a viral evolution perspective, it would be foolish not to expect that."
Some states are adopting similar mandates for government workers, with California Gov. Gavin Newsom on Wednesday extending the state's vaccine or weekly testing requirement for state employees and health care workers to public and private educators.
Epic Systems Corp. said in late July it would require its 9,400 Verona-based employees to be vaccinated by October. Madison-based Exact Sciences adopted a similar policy for its 5,500 workers, 60% of whom are in the Madison area, requiring immunizations by Sept. 15.
"Some studies show that the risk of dying from COVID-19 is as high as one-in-six for cancer patients infected with the virus," said Scott Larrivee, spokesperson for Exact Sciences, which makes the Cologuard colon cancer screening test. "As a company committed to fighting cancer, we are requiring that all employees be vaccinated."
Dane County has a daily average of 89 cases of COVID-19, up from 36 two weeks ago, with 45 patients hospitalized with the coronavirus. Janel Heinrich, director of Public Health Madison and Dane County, said the situation would be worse without the county's high vaccination rate, with 71% of residents having received one dose. Nearly 80% of adults are fully immunized.