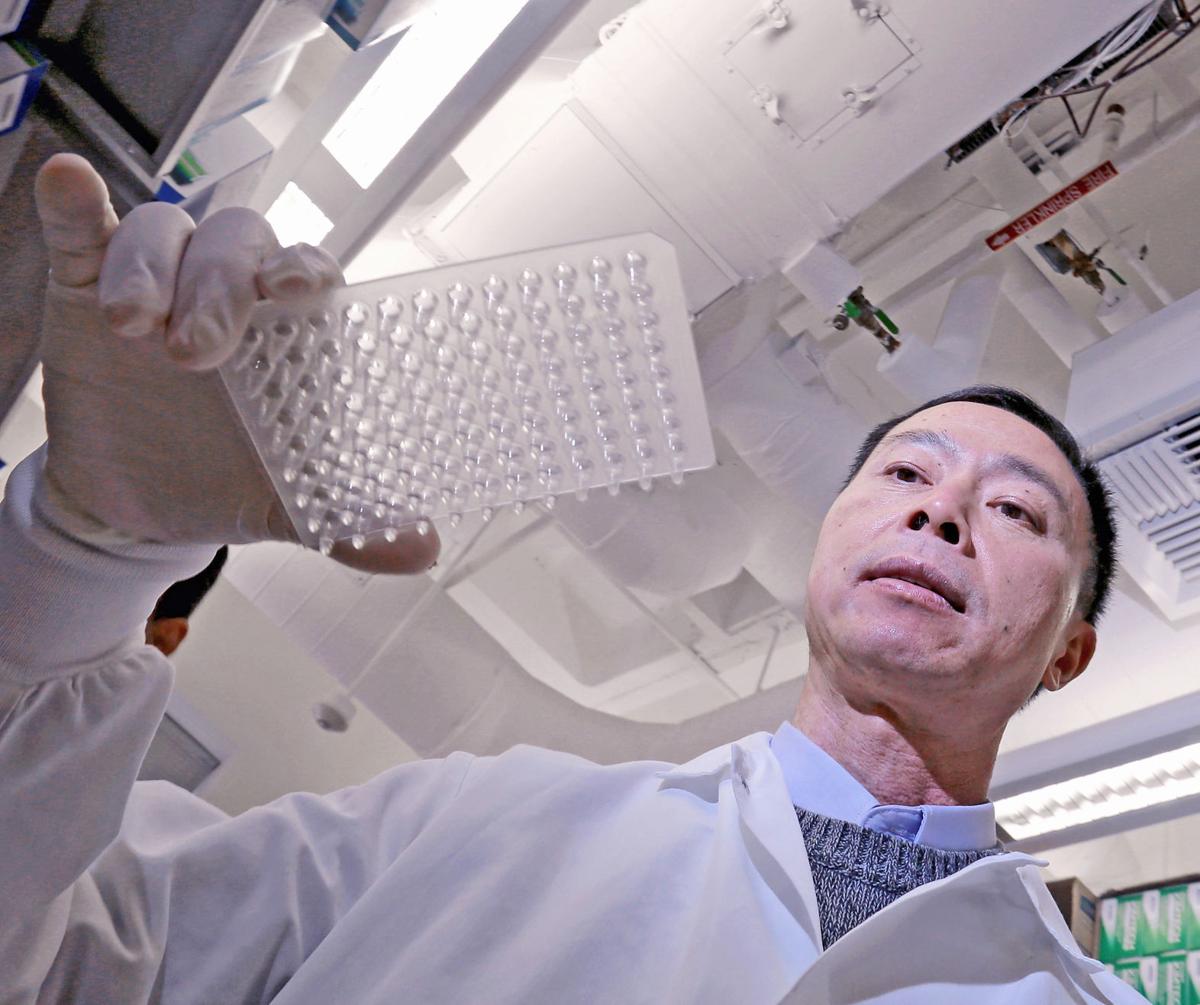 Using stem cells from monkeys with a condition like Parkinson's disease, UW-Madison researchers grew brain cells that produce a chemical depleted by the disease. When they injected the cells into the monkeys' brains, the animals' Parkinson's-like rigid movements were replaced by more fluid walking and climbing.
The results are promising enough that the researchers hope to begin work on applications for human patients soon, said UW–Madison neuroscientist Su-Chun Zhang, whose Waisman Center lab grew the brain cells.
"The idea is very simple," Zhang said. "When you have stem cells, you can generate the right type of target cells in a consistent manner. And when they come from the individual you want to graft them into, the body recognizes and welcomes them as their own."
Zhang's lab has spent years reprogramming adult cells from skin back into multi-purpose stem cells, known as induced pluripotent stem cells, and then growing those cells into brain cells called neurons. For the Parkinson's study, his lab grew neurons that produce dopamine, a brain chemical that transmits signals between nerve cells.
Parkinson's damages dopamine-producing neurons, hindering muscle coordination and causing rigidity, slowness and tremors. Patients are typically treated with drugs like L-DOPA to increase dopamine production. But the effect doesn't last and the drugs can cause side effects, said Marina Emborg, a Parkinson's researcher at UW–Madison's Wisconsin National Primate Research Center who also worked on the study.
Scientists have had some success in treating later-stage Parkinson's in patients by implanting cells from fetal tissue, but research and outcomes were limited by the availability of useful cells and interference from patients' immune systems, the UW-Madison researchers said.
Cell therapy using dopamine-producing neurons derived from induced pluripotent stem cells, or iPS cells, could offer an alternative. James Thomson, the UW-Madison scientist who first grew human embryonic stem cells in the lab, in 1998, co-discovered iPS cells in 2007. They don't involve embryos.
Improved movement
In the new research, UW-Madison scientists studied 10 older rhesus monkeys, administering a neurotoxin to induce Parkinson's-like damage, which the scientists said is a common practice for research. The monkeys developed slow movement, gait imbalances and slight tremors, symptoms of Parkinson's. PET scans — or positron emission tomography, a type of medical imaging — showed a significant decrease in dopamine production.
One to three years later, the monkeys received cell transplants. Guided by real-time MRI, the researchers injected millions of dopamine-producing neurons and supporting cells into each monkey's brain in an area called the striatum, which is depleted of dopamine in Parkinson's. The MRI technique was developed at UW–Madison by biomedical engineer Walter Block.
Half of the monkeys got neurons derived from their own iPS cells, known as autologous transplants. The other half got cells from another monkey, known as allogeneic transplants.
Within six months, the monkeys that got transplants of their own cells were making significant physical improvements, the UW-Madison researchers reported. Within a year, their dopamine levels had doubled or tripled.
"The autologous animals started to move more," Emborg said. "Where before they needed to grab the cage to stand up, they started moving much more fluidly and grabbing food much faster and easier."
The monkeys that received allogeneic cells showed no lasting improvements, presumably because their immune systems rejected the transplants.
Scans of brain tissue showed axons intermingling with surrounding tissues after the autologous transplants, and the allogeneic cells walled off from the rest of the brain.
The autologous cells "could grow freely and extend far out within the striatum," said Yunlong Tao, a scientist in Zhang's lab and first author of the study. "In the allogeneic monkeys, where the grafts are treated as foreign cells by the immune system, they are attacked to stop the spread of the axons."
Depression benefit
Parkinson's disease often involves anxiety and depression. In the monkeys that received autologous transplants, the researchers noted an improvement in symptoms resembling depression and anxiety, such as pacing and disinterest in others and favorite treats.
"In the autologous animals, we saw extension of axons from the graft into areas that have to do with what's called the emotional brain," Emborg said.
One monkey from each group was euthanized several months after the transplants for clinical reasons unrelated to the transplants, the researchers said. The others were euthanized two years later to analyze their brains for the research.