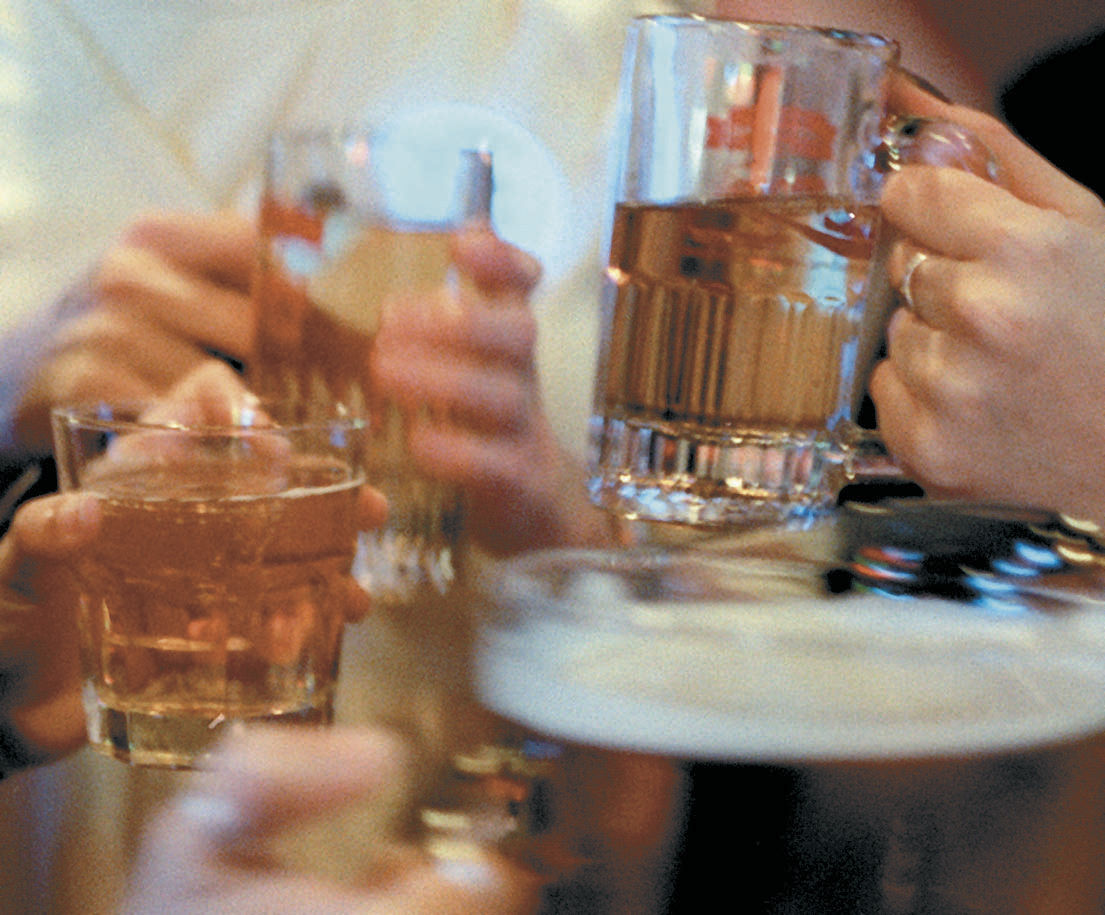 Heavy drinking greatly increases the risk of some cancers, and even moderate drinking boosts the risk of breast and colon cancer, says a report by a national cancer doctor group whose lead author is a UW Health oncologist.
At least three drinks daily or eight weekly for women, and at least four daily or 15 weekly for men, increases the risk of head, neck and throat cancers five-fold, the American Society of Clinical Oncology said. Heavy drinking also more than doubles the chance of getting liver and voice box cancer.
Moderate drinking — up to one drink a day for women and two for men — carries a 23 percent increased risk of breast cancer and 17 percent increased risk of colon cancer, the group said.
Overall, about 3.5 percent of the 600,000 annual cancer deaths in the U.S. are alcohol-related, the doctors said.
"If you drink, try to keep it under the (moderate) amount," said Dr. Noelle LoConte, an associate professor of medicine at UW-Madison and lead author of the report, published this week in the Journal of Clinical Oncology. "If you don't drink, don't start. If you drink more, even cutting back, but not quitting, will reduce your risk."
The oncology society called attention to the long-established link between alcohol and cancer after a survey last month said 70 percent of Americans didn't know drinking was a risk factor for cancer.
The group also encouraged policy changes, such as increasing alcohol taxes, enhancing enforcement of laws banning sales to minors and eliminating "pink washing" — companies using pink ribbons or the color pink, associated with breast cancer awareness, to boost alcohol sales.
"It's sort of like selling cigarettes to raise awareness for lung cancer," LoConte said.
Wisconsin has the highest rate among states for adult binge drinking, one type of heavy drinking, so policy changes could have a big impact, she said.
Alcohol is thought to increase the risk of head, neck, throat and voice box cancers because those tissues come into direct contact with alcohol when people drink, the oncology society said.
Ethanol, a primary component of alcohol, and acetaldehyde, made when the body breaks down alcohol, can damage the DNA of healthy cells. Alcohol may also increase the amount of estrogen in the blood, which could explain the link to breast cancer.
Some studies have suggested that alcohol, notably red wine, can lower the risk of heart disease. But further analysis said the non-drinkers studied often had other health problems, making the drinkers only appear to be healthier, the oncology society said.
Among all cancers, head and neck cancers are somewhat common, with about 50,000 cases and 10,000 deaths expected this year, according to the American Cancer Society. Esophagus, or throat, cancer is more unusual but considerably deadly, with about 17,000 cases and 16,000 deaths this year.
About 255,000 people will be diagnosed this year with breast cancer, and 41,000 will die, and about 96,000 will get colon cancer, with about 50,000 deaths.
If people exercise, eat well and don't drink excessively, they shouldn't worry too much, said LoConte, who said she has about two drinks a month.
"Life as an oncologist is all about teaching people about moderation," she said.
"Life as an oncologist is all about teaching people about moderation." Dr. Noelle LoConte, associate professor of medicine at UW-Madison