A city changed: See photos of Madison before and after COVID-19
As social distancing progressed into an official order to stay in our homes, Madison has started to look more like an empty shell rather than the vibrant city we know. State Journal photographers have been capturing images of a community changed by the COVID-19 pandemic, and we have paired them here with photos from our more communal past.
Mifflin Street before and after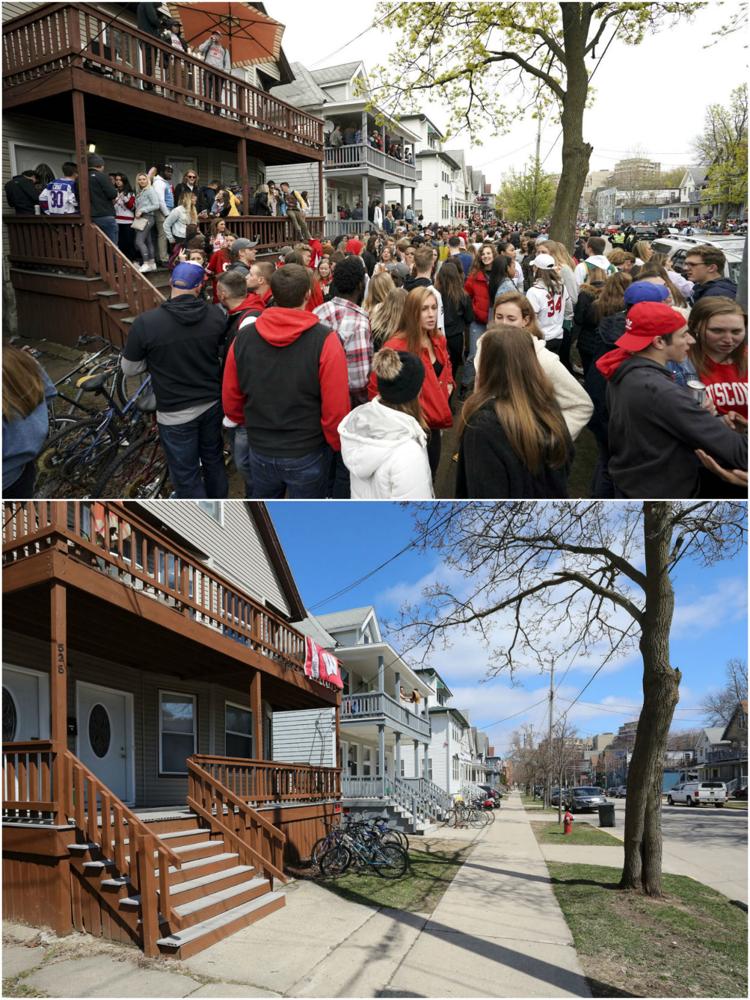 State Street before and after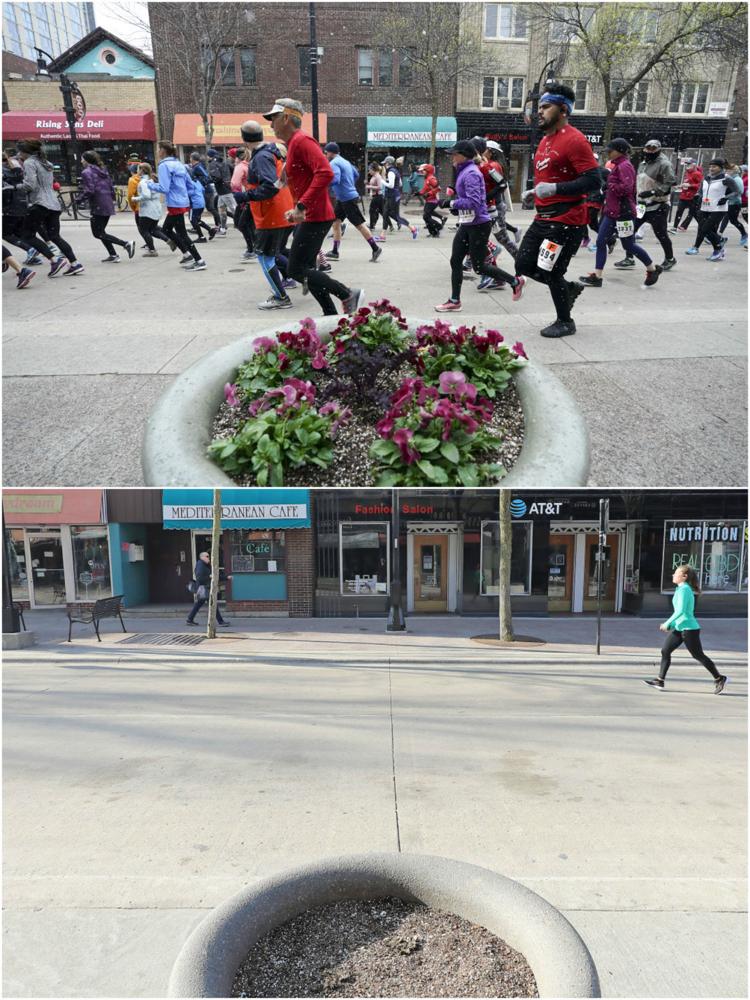 Union Terrace before and after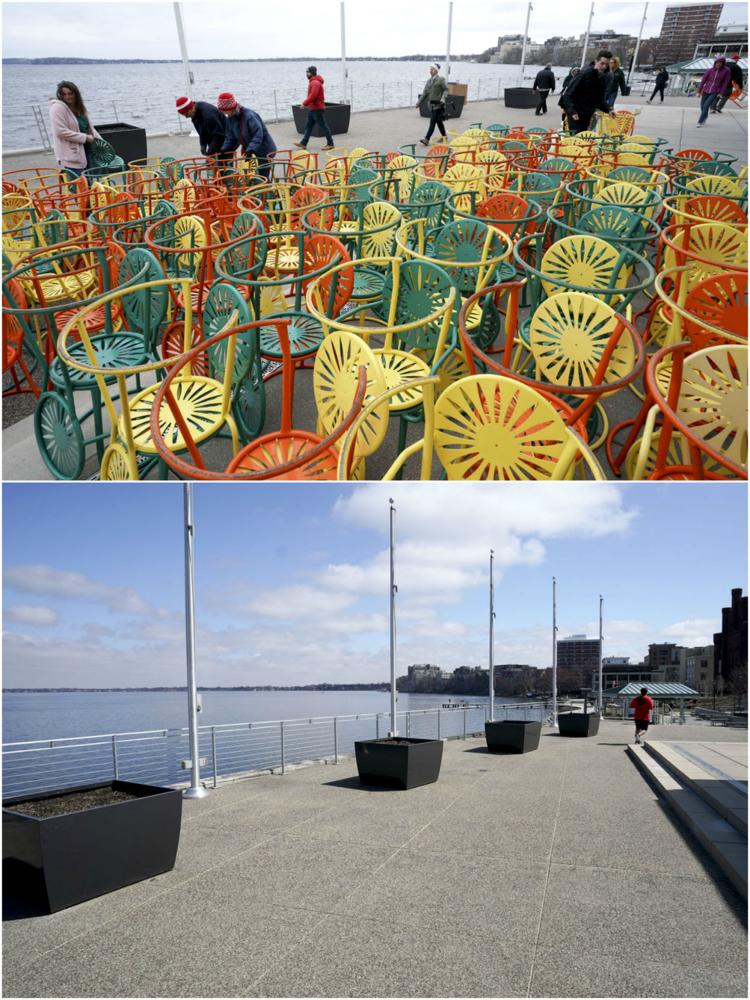 Capitol Square before and after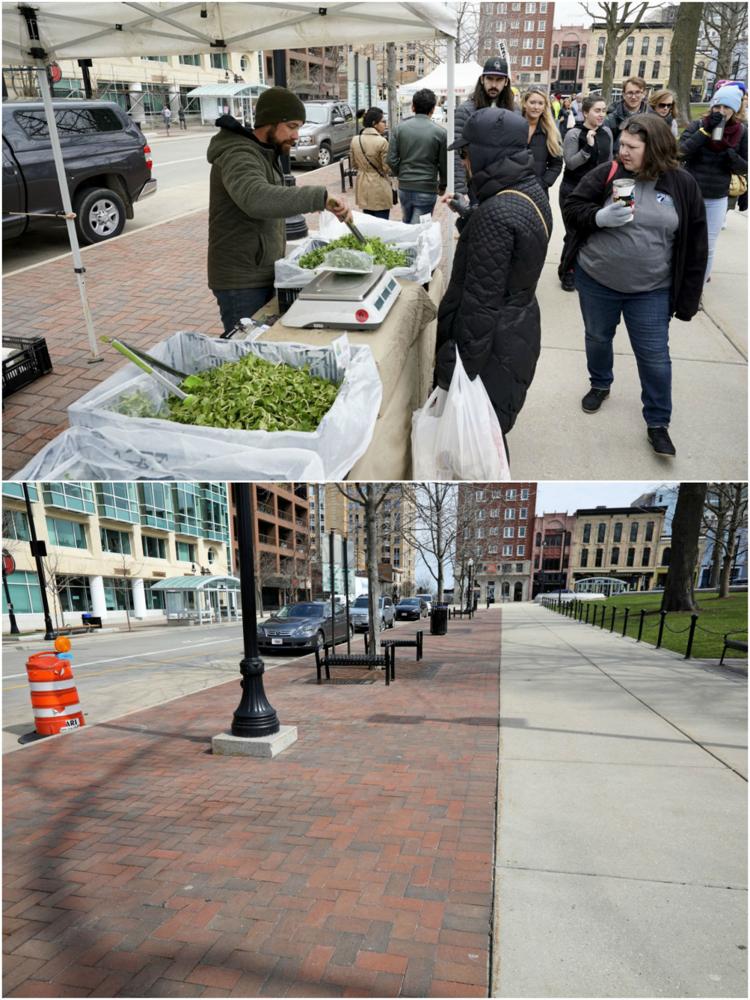 State Capitol before and after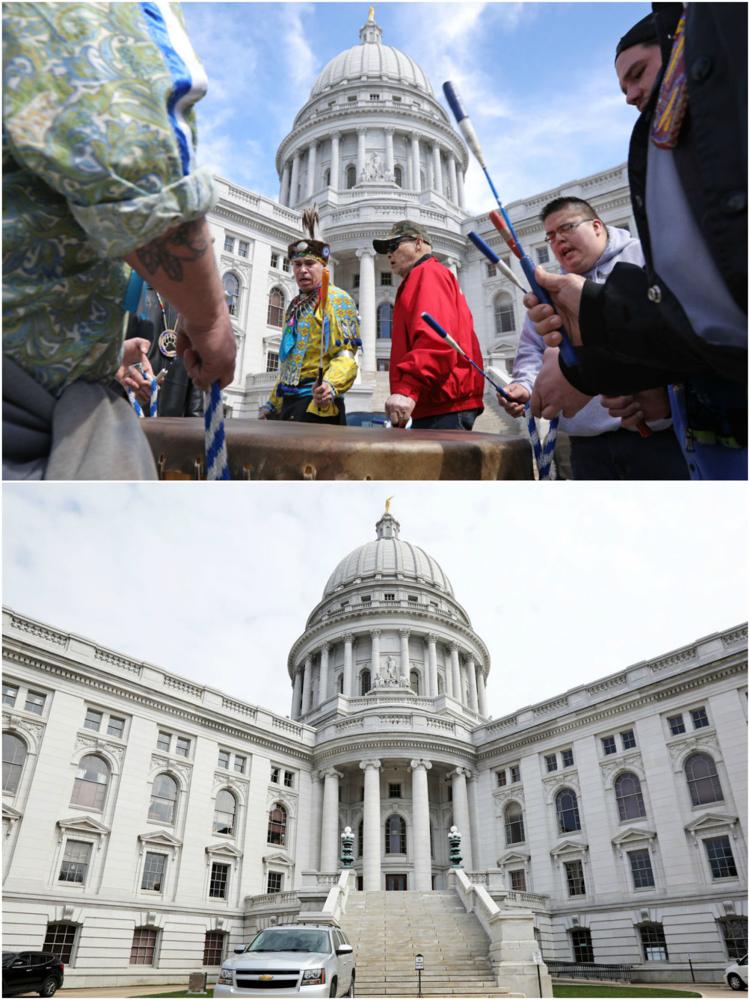 UW-Madison campus before and after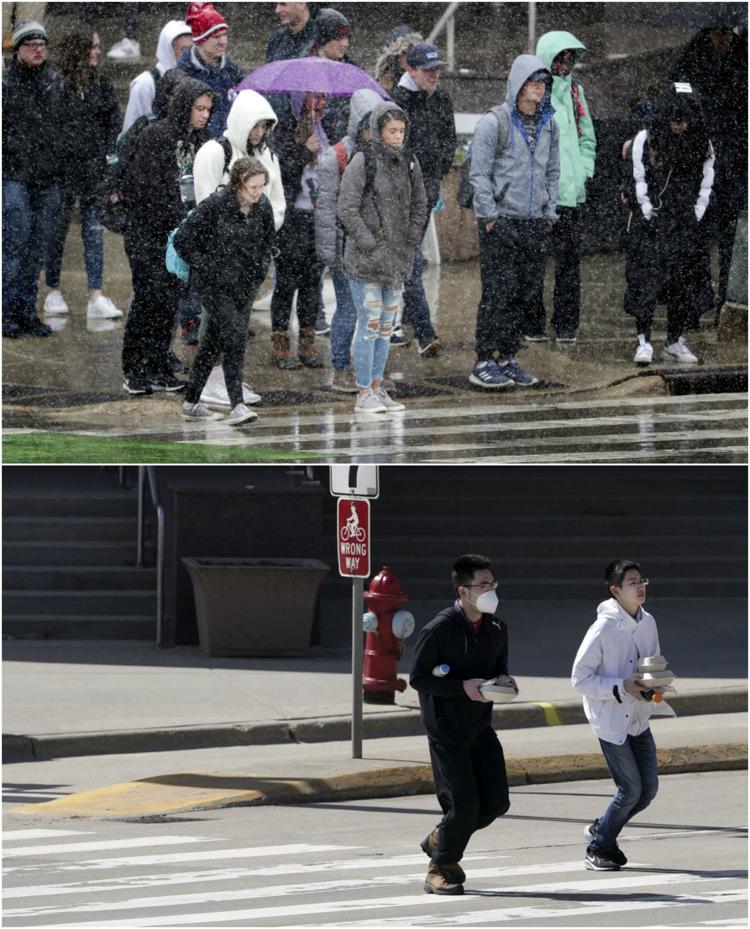 Golf course before and after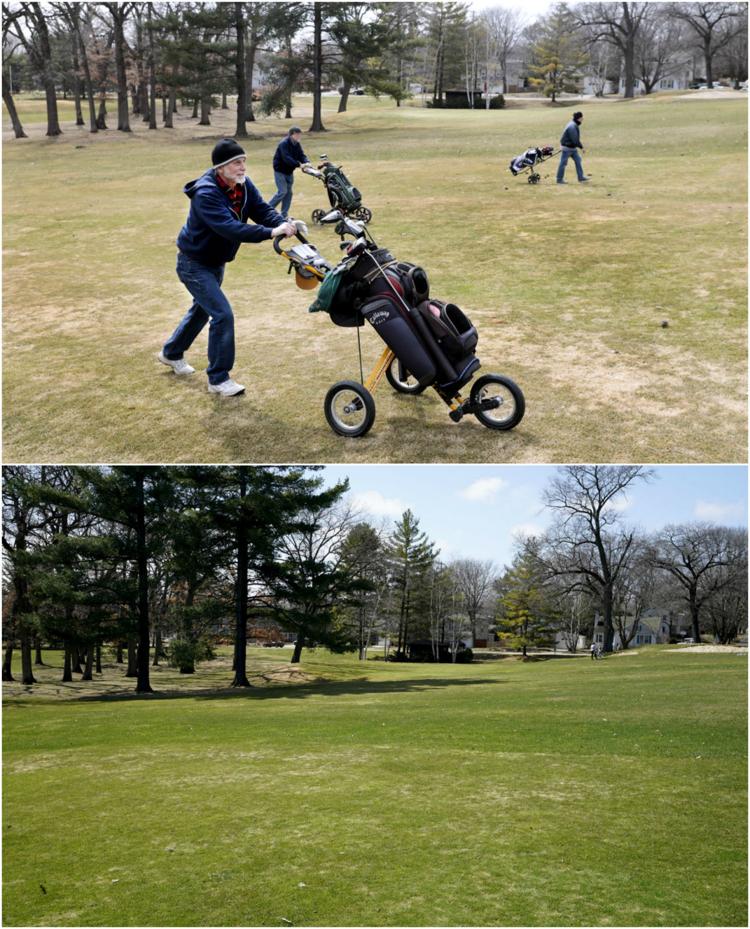 Related to this collection
The growing COVID-19 coronavirus outbreak is changing quickly in Wisconsin, with new closings and case numbers to keep track of. Here's a look…
The fight against COVID-19 has affected all corners of Wisconsin. Here's a look at how it's affecting our lives, in photos.
As social distancing progressed into an official order to stay in our homes, Madison looks more like an empty shell rather than the vibrant city we know. State Journal photographers have been capturing images of a community changed by the COVID-19 pandemic.
So far, the school has spent $39,045 to assist its families with housing, food, child care and other expenses during the COVID-19 coronavirus crisis. 
The Terrace will reopen at 25% capacity with tables spaced six feet apart and reservations required. 
After a single-day record of 128 COVID-19 deaths Saturday, Wisconsin health officials reported just one additional death Sunday. 
For workers on the front lines of the COVID-19 pandemic, the risk isn't theoretical. Despite wearing protective gear, and taking other precautions, they're inches away from patients emitting a new virus that has killed more than 55,000 people.
Faith institutions everywhere are quickly establishing new routines and practices, many of them involving online services and "virtual" gatherings, all prompted by social distancing restrictions and other rules put in place to slow the COVID-19 pandemic.
Symptom-free in recent days, COVID-19 survivor Amy Shircel shared her story on social media, and it has been shared more than 113,000 times. 
Possible challenges to the election results threaten to further undermine the perceived integrity of Tuesday's election.
In closing 40 state parks and recreation areas, Gov. Tony Evers cited "unprecedented crowds, litter, vandalism and out of an abundance of caution to protect public health and safety and help flatten the curve."
The clarification comes after days of confusion for several Dane County churches who reported receiving conflicting information from state and local officials on whether such services are allowed.
Assistant City Attorney Marci Paulsen said her office will wait to be notified of any further violations before taking any other action against those who received letters.
Gov. Tony Evers and state officials provide an update on the Wisconsin response to the COVID-19 coronavirus pandemic. 
Wisconsin's testing capacity for COVID-19 is up nearly six-fold from three weeks ago, but some people with symptoms who want a test say they'r…
Two COVID-19 patients at UW Hospital were treated Sunday with antibodies from at least one local donor who recovered from the disease, the fir…
Local restaurants have had to close their doors for sit-down, dine-in service to meet state social-distancing restrictions during the COVID-19…
More than 40% of respondents said they could not report specific impacts at the time of the survey, meaning the financial impact could be much greater.
Madison-based Exact Sciences on Tuesday announced pay cuts, furloughs and staff reductions to address a large decrease in demand for the company's cancer screening services during the COVID-19 pandemic. 
Madison hospitals, which have postponed nonurgent procedures and surgeries since mid-March because of the COVID-19 pandemic, said Thursday they are "slowly resuming" such procedures as coronavirus activity has leveled off.
State health officials said 19 voters and poll workers in April's spring election tested positive for the COVID-19 coronavirus afterward, but caution they can't say for certain whether election exposure was the cause.
Contact tracing, a little-known but routine function of public health agencies, helps curb outbreaks of measles, tuberculosis, sexually transmitted diseases and other infections.
Even if rules are tightened once the outbreak dies down, some expansion of telehealth appears here to stay, medical experts say.
The state Supreme Court said Friday it will not take up the ACLU of Wisconsin's lawsuit seeking release of more state prison inmates to stem the spread of COVID-19.
Hundreds of protesters gathered Friday at the Capitol to urge Gov. Tony Evers to drop his stay-at-home order, arguing that it's undercutting personal freedom and crippling the state's economy.
Hundreds of protesters turned out Friday to call for an end to Gov. Tony Evers' stay-at-home order.
A beef production plant in Green Bay has become the latest to shut down due to coronavirus infections among employees.
The craft beer event annually draws thousands to Olin Park in Madison.
The new order goes into effect Wednesday and allows all businesses in the state to provide curbside drop-off of goods.
Wilford and Mary Kepler spent their final moments together just feet apart at Froedtert Hospital.
Four state natural areas are to remain closed. 
As the number of coronavirus infections — and COVID-19 deaths — rise, there are some people for whom "safer at home" is not an option. These e…
The Wisconsin Supreme Court on Tuesday swiftly rejected an attempt by employee unions to help defend Gov. Tony Evers' stay-at-home order in court.
Gov. Tony Evers described the cut as a first step to begin addressing anticipated shortfalls in state revenue brought on by an economic recession and the administration's efforts to reduce transmission of COVID-19 by closing nonessential businesses.
UW-Madison will announce their fall semester plans by the end of July. The three plans under discussion include face-to-face classes, all online classes or a mix of both.
UW-Madison is ordering most of its employees to take varying amounts of unpaid time off over the next six months and university leaders will take a 15% pay cut over that same time as COVID-19 costs grow and the campus remains mostly closed.
The Fitchburg-based company is also studying the virus in people who have had COVID-19.
FluGen's coronavirus immunization candidate, CoroFlu, is one of roughly 100 or more competitors in a global race to produce a safe and effective vaccine against COVID-19.
Thousands of small businesses across Wisconsin are struggling and face an uncertain future. But some have seen an uptick in sales when compared to spring 2019. 
Wisconsin cities and counties are embarking on a hodge-podge of strategies for containing the COVID-19 pandemic ranging from continuing the state order at the local level to opening up without restrictions.
Wednesday's Wisconsin Supreme Court ruling tossing out the state's stay-at-home order has thrown the Badger state into chaos. Some areas viewe…
In the absence of statewide regulations on business activity or gatherings, a handful of counties, including Dane, have enacted local orders that essentially mirror Evers' "safer at home" rule.
Gov. Tony Evers and legislative Republicans will need to work quickly to come up with a replacement plan.
With Wisconsin's "Safer at Home" order struck down and Dane County's COVID-19 restrictions set to expire May 26, people will be able to resume more normal activities. But are they safe? Here are doctors' answers to frequently asked questions.
The update comes less than one week after the Wisconsin Supreme Court struck down Evers' statewide "safer-at-home" order. 
The Wisconsin Supreme Court has allowed courts to resume in-person hearings and jury trials if they can come up with plans to protect participants and observers from the coronavirus.
The Wisconsin State Fair, the largest single event in the state with more than 1 million typically attending over 11 days, has been canceled due to the COVID-19 pandemic. 
Madison and Dane County are loosening a public health order to let churches have services up to 25% capacity after the Madison Catholic Diocese challenged the local new coronavirus reopening plan as unconstitutional earlier this week.
Protests erupted across the country, including Wisconsin, to condemn the police-related death of a Minneapolis man, George Floyd, on May 25. H…
The Vision Zero initiative includes lowering speed limits and adding new infrastructure, such as high-visibility crosswalks, to streets with heavy traffic.