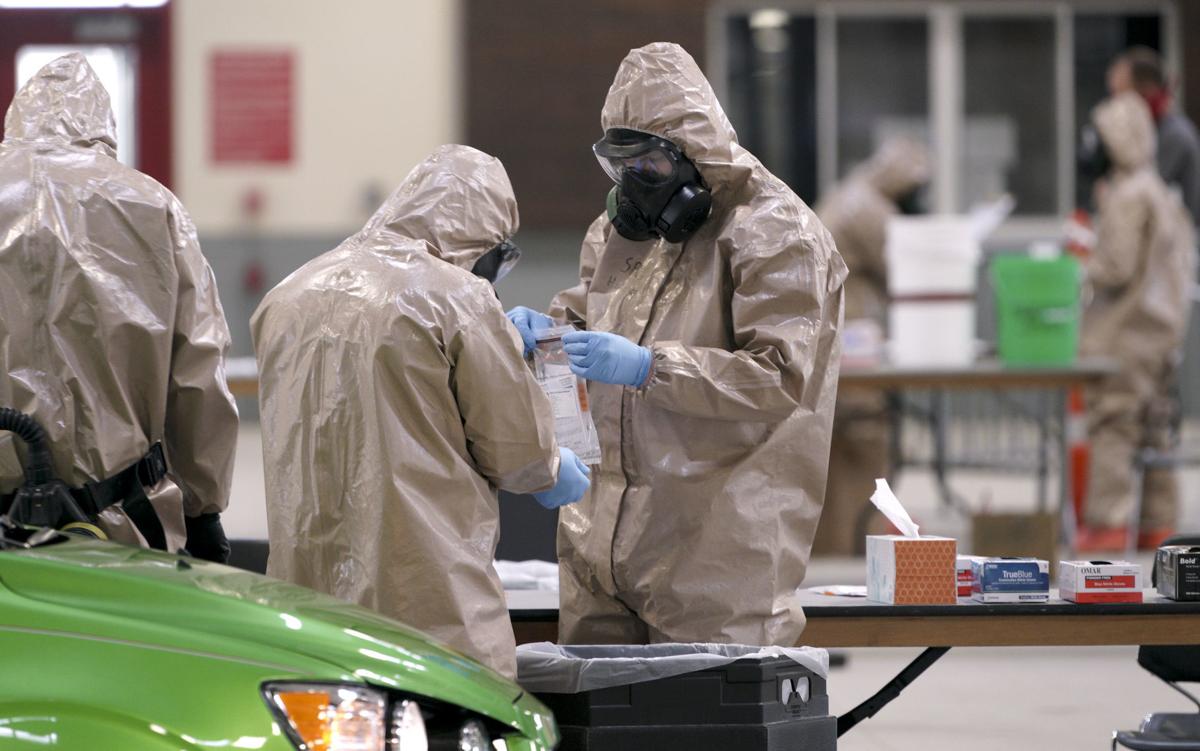 About 2.4% of people who have been tested for antibodies to COVID-19 at Madison-area health systems have been positive, a relatively low rate that may mean measures to stop the coronavirus have worked well but the vast majority of people remain susceptible.
The state Department of Health Services on Wednesday said it will work with UW-Madison to conduct a statewide antibody study and test wastewater samples to better understand how prevalent COVID-19 has been.
Among 17,523 people who have had antibody tests at UW Health, SSM Health in Wisconsin, UnityPoint Health-Meriter and Group Health Cooperative of South Central Wisconsin, 429, or 2.4%, have been positive, according to data provided this week by the health care organizations.
Antibody tests look for immune system proteins in the blood that indicate a previous infection of COVID-19, while the more common nasal or throat swab tests diagnose active infection. Testing positive for antibodies may protect people from being infected again, at least for a while, though that is not proven and false positives can occur. False negatives are less likely, doctors say.
Statewide surveillance
The state health department said it would partner with UW-Madison's Survey of the Health of Wisconsin, or SHOW, to look at the prevalence of COVID-19 antibodies throughout the state. Past SHOW participants, from 10 randomly selected counties and the city of Milwaukee, will receive antibody testing quarterly over the next year.
UW-Madison's Wisconsin State Laboratory of Hygiene will collaborate with UW-Milwaukee and the state Department of Natural Resources to test samples from wastewater treatment facilities in urban and rural portions of the state to determine the concentration levels of coronavirus genetic material found in sewage.
Similar testing of sewage has been done in various locations to track hepatitis, norovirus and polio.
"If the virus is detected or virus quantities are increasing, public health officials can proactively adopt measures to minimize transmission of the virus and prepare for a surge," the state health department said in a statement. "Conversely, wastewater samples may be able to detect areas with low levels of infection."
Wastewater results should begin coming in this summer, with the study running at least through June 2021.
Antibody test results
In the Madison area, the relatively low proportion of patients testing positive for antibodies "means that the measures that we took (against COVID-19 transmission) were probably effective," said Dr. Jeff Pothof, chief quality officer at UW Health, where 289, or 2.2%, of 13,157 antibody tests have been positive.
The overall 2.4% figure "seems relatively in line with what we would expect," said Dr. Ryan Westergaard, a medical officer with the state health department. He noted that a study last month in Spain, which had a major COVID-19 outbreak, showed about 5% of people had antibodies.
It's not clear how much the Madison-area results represent the general population, as they're not part of a research study, Pothof said. Marginalized communities, who may have higher rates of COVID-19 infection, may not be getting antibody tests as much as other groups, he said.
The downside of the low positive rate is that nearly everyone in the Madison area may still be vulnerable to the coronavirus, Pothof said. "Because you were so good early on, you still have a lot of people who are at risk," he said.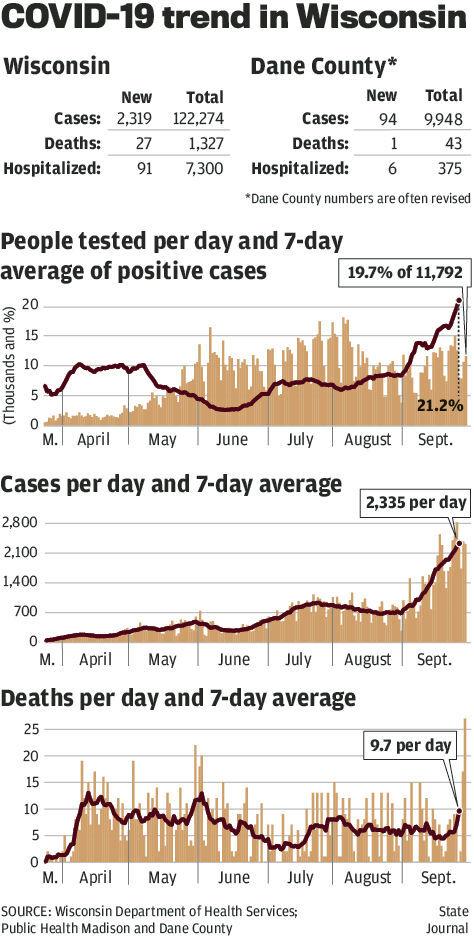 That could make it more important for people to avoid crowds, stay 6 feet away from others, wear masks, wash their hands frequently and continue taking other measures to avoid infection until a vaccine is available. "Until then, we might have to be more careful," he said.
At SSM Health, which includes St. Mary's Hospital in Madison and Dean Medical Group, 96, or 3.5%, of 2,764 patients tested for antibodies have been positive.
Meriter said 26, or 2.7%, of 976 antibody tests have been positive, and Group Health said 18, or 2.9%, of 626 tests were positive.
Hospitalizations down
Hospitalizations for COVID-19 statewide and in Dane County — which increased in May, though not to the peak levels of early April — have gone down in June.
Doctors have talked about "herd immunity" for COVID-19, saying that if at least 50% to 70% of the population was protected from the coronavirus through previous infection or a vaccine, outbreaks could likely be controlled.
Pothof said the New York City situation could suggest lower prevalence of antibodies may also help, as cases and deaths there have dropped dramatically since April, when many people tested positive for antibodies.
"There's probably some protection there," he said. "Could that be one of the reasons that those areas are seeing lower transmission now?"
People in places that have seen many infections and deaths, such as New York City, also may be more vigilant in taking precautions against the coronavirus, Pothof said.
"They're probably much more likely to take social distancing seriously, and they're probably much more likely to wear face coverings because it probably impacted people more personally," he said. "The closer you get to it, the more likely you are to take precautions."