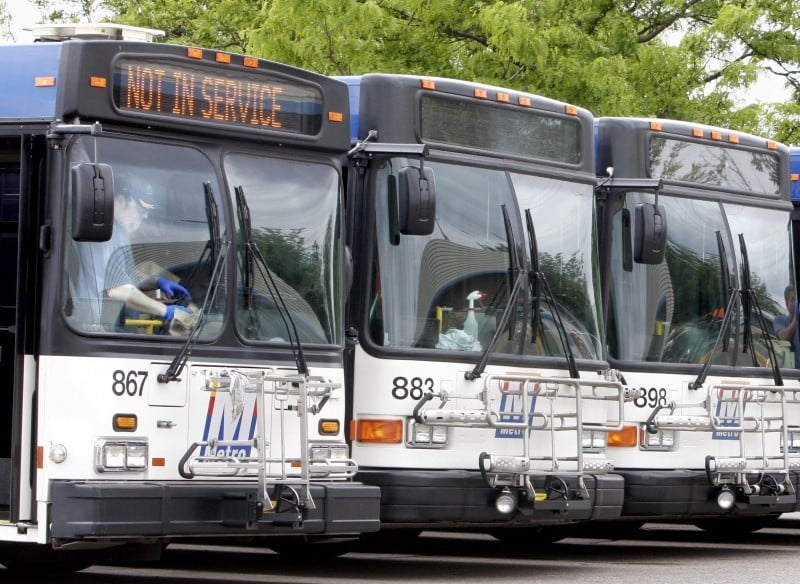 After rejecting a tentative contract that would have changed rules allowing senior Metro Transit drivers to make tens of thousands of dollars in extra pay, drivers are now shopping for a new union.
Many drivers want to change unions because Teamsters Local 695 leaders don't communicate with rank and file and recently tried to push through the tentative contract, which had too many concessions, driver Robert Lear said.
A required 30 percent of Teamsters members on Monday petitioned the Wisconsin Employment Relations Commission for an election to join the Wisconsin Professional Police Association, which represents officers and non-law enforcement workers.
The police union would welcome the drivers, state executive director Jim Palmer said.
Teamsters leader Gene Gowey did not return phone calls.
Switching unions soon may be hard because the city would have to withdraw a recent request to WERC for contract arbitration with the Teamsters. The Teamsters, however, could allow a vote for a union change.
Metro's contract, which expired in 2009, lets senior drivers with the highest base salaries get first crack at overtime and "spread time" — when a work day, regardless of hours worked, spans more than 11.5 hours. Metro employees amassed the most overtime among city workers in 2009 with seven drivers earning more than $100,000.
Mayor Dave Cieslewicz, who has vowed to end six-figure driver salaries, declined comment until learning more about the drivers' request, spokeswoman Rachel Strauch-Nelson said.
In May, drivers overwhelmingly rejected a tentative agreement between the city and union leaders that would have capped overtime at 24 hours a week, changed rules for spread time, and allowed more flexibility for using part-time workers.
This month, Lear filed a complaint with the WERC alleging Metro officials tried to coerce him into backing the tentative agreement and retaliated — issuing infractions for wearing the wrong uniform pants — because he advocated against the tentative deal.
Drivers oppose proposed language that would let the city increase hours for part-time employees without giving them full-time protection and benefits, change suspensions without pay to working suspensions with pay and cost a vacation day, Lear said.
Overtime is "the least of our concerns," he said, adding that a hiring freeze contributed to high overtime last year. "We're not willing to accept 30 changes to the contract."
Many drivers would take the old contract with pay increases given to other unions — 0 percent for 2010 and 2011 and a 3 percent hike at the end of 2011, he said. On overtime and extra pay, "we are absolutely receptive to working with the city," he said.
Over the weekend, when most drivers aren't working, 137 of 427 union members signed the petition asking for a vote to join the police union, which has about 11,000 members, including 3,000 workers outside law enforcement, Lear said, adding that he was confident a majority of Teamsters would favor a change within their union going to another one.
Refusing a vote is only "delaying the inevitable," Palmer said, adding, "I think we can do a better job."
Be the first to know
Get local news delivered to your inbox!