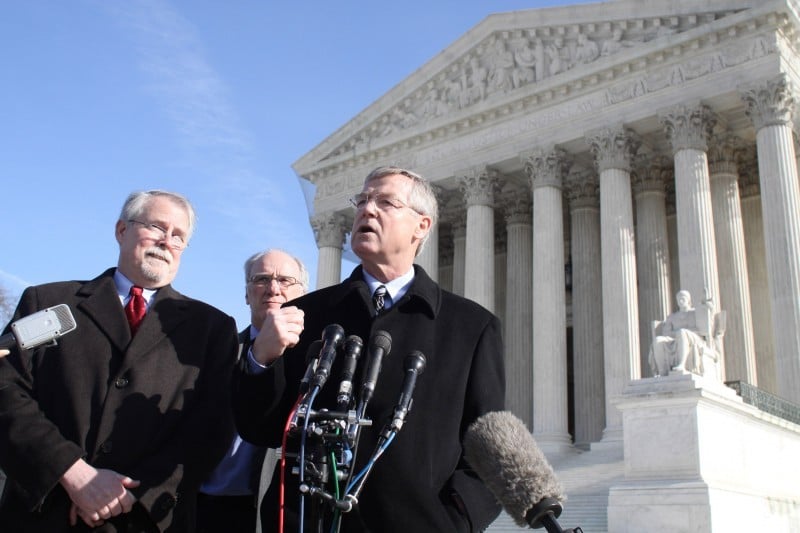 Thursday's U.S. Supreme Court decision will strike down a more than century-old state ban on corporations tapping their treasuries to try to elect or defeat candidates, legal experts said.
"The status quo can't continue," Mike Wittenwyler, a Madison campaign finance lawyer, said of the state law. "I think the ban has already come down for this (2010) election cycle. What we need to see is how."
Wittenwyler said the Supreme Court decision overturning a similar federal ban effectively invalidates Wisconsin's statue, which has Progressive Era roots going back to 1905.
While proponents celebrated the decision as a victory for free speech, critics said it will lead to increasingly expensive campaigns and the corrupting influence of more special interest spending.
"We're going to see much more money in Wisconsin politics," said Jay Heck, executive director of Common Cause in Wisconsin, who predicted the ruling could double the money spent on this year's governor's race, from $40 million to about $80 million.
Wittenwyler said state authorities would likely be prevented from enforcing the state law, which remains on the books because the federal decision didn't deal explicitly with such state laws. He said the Legislature or a lawsuit by a private group could remove or strike down the law.
Kevin Kennedy, director of the state Government Accountability Board, which oversees state elections, signaled that some action on the Wisconsin law would have to be taken.
"We're vulnerable," Kennedy said. "Now is the time to look at this and say, 'How can we protect the state?'"
State Republican Party chairman Reince Priebus praised the ruling for upholding free speech. He said he wasn't sure it would cause campaign spending to rise, noting that had already been happening and added it may also lead to more openness about who is spending money in elections.
"It may lift some chains of restraint," Priebus said. "I think it may even open up some of the transparency."
Wittenwyler said corporations would likely spend a similar amount on influencing public policy as they do now, but they might shift money they currently spend on lobbying to influencing voters. The corporations still could not give money directly to candidates and would have to act independently of their campaigns.
Kennedy said his office would continue to analyze the decision but predicted it would not interfere with a bill passed by the state Senate on Tuesday to require disclosure of who pays for so-called "issue ads," thinly veiled campaign ads that don't explicitly urge voters to vote for or against a particular candidate.
Sen. Jon Erpenbach, D-Waunakee, a sponsor of that bill, called the ruling "a takeover of democracy." But he noted that the Supreme Court ruling did uphold laws requiring disclosure of the sources of money for political spending.
Wittenwyler agreed, but said the Senate bill would likely still have to be rewritten to withstand a court challenge. That's because the bill goes beyond merely requiring disclosure of the sources of money for the ads and effectively puts limits on what corporations can spend, he said.
Be the first to know
Get local news delivered to your inbox!