The closure of Yahara Hills Golf Course is emerging as an option to address the financial struggles of Madison's municipal golf operation.
While no formal recommendation has been made, the Madison Golf Subcommittee on Wednesday talked about shuttering the 36-hole course on the Southeast Side to shore up the city's four-course golf operation, said Charlie Romines, assistant parks superintendent. The city's Golf Enterprise Fund has run a deficit eight of the past nine years and needs millions of dollars for repairs, particularly at the waterlogged and underperforming Yahara Hills.
While the closing of Yahara Hills is being "strongly considered," subcommittee member Joni Dye said it's seen as an option equal to shutting down the nine-hole Monona Golf Course and selling some of its land along Monona Drive for private development.
Mayor Paul Soglin said he sees a closure as the only option to make the system viable as he opposes subsidizing the golf operation, which is supposed to be self-sustaining.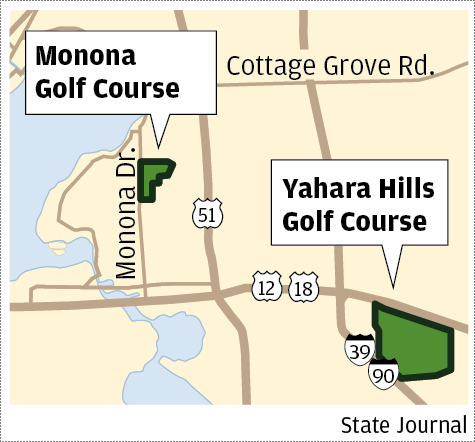 "There's an A and a B. It's either close and sell Monona or close Yahara," Soglin said.
The Golf Subcommittee intends to meet in early November to make an advisory recommendation on the golf operation's future, Dye said. The Parks Commission and City Council, though, will be free to go their own way.
Odana Hills and Glenway golf courses are not in consideration to be closed.
The loss of Yahara Hills would cut the number of municipal golf holes in half from 72 to 36.
Yahara Hills, the only 36-hole course in Dane County, generated 39 percent of the system's rounds played in 2016, according to a city report. But swampy conditions caused by poor drainage have caused events and outings to be canceled.
The course could generate an additional $500,000 of revenue if the drainage is improved, according to the report.
Improvements, such as installing better drainage, fixing soggy bunkers and building cart paths, could run up to $3 million at Yahara Hills, the report said. All four courses have estimated capital needs of $5.9 million to $8.6 million.
Dye said she's on the fence between closing Monona or Yahara, but her preferred solution would be city subsidization. She said she worries that if the Monona Golf Course is closed and Yahara Hills continues to lose money "the whole east side is gone."
"We're grappling about whether leaving 63 holes and closing nine or ending up with 36 holes that take care of themselves," Dye said.
The city would likely get more money for capital repairs by selling land off Monona Drive rather than selling the more than 400 acres of Yahara Hills near the interchange of the Beltline and Interstate 39-90, Soglin said.
"If we close Yahara, we solve an expensive problem, but the land really has no other use, and so we will not derive capital," he said.
Parks Commission chairman David Wallner, who also sits on the golf subcommittee, said he prefers keeping Yahara Hills, calling the sale of Monona Golf Course a "potential gold mine for the golf system."
As city officials weigh the merits of a course closure, a recent report suggests that Madison and Ho-Chunk Gaming Madison could partner to construct a $38.3 million sports complex on the land right next to the Yahara Hills Golf Course. The study suggests creating outdoor multi-use fields on 67.5 city-owned acres abutting the golf course and two indoor sports facilities on six acres of Ho-Chunk land.
The Golf Subcommittee also voted Wednesday to raise green fees next year by about 10 percent for most daily rates and 15 percent for season passes, said Romines, the parks assistant superintendent. The increase, which needs approval from the Parks Commission, would be the first bump for most rates in years, he said.
Money generated from higher green fees, though, would not be adequate to meet capital needs, Romines said.
While revenue from the four courses has grown $1.1 million from 2010 to 2016, the expenses in that time frame have risen by $1.4 million, according to the city's report.
Officials largely agreed that if a solution aside from closing a course can be found, that is the preferred path.
"Selling land is always difficult," Wallner said. "It's time to make some decisions."