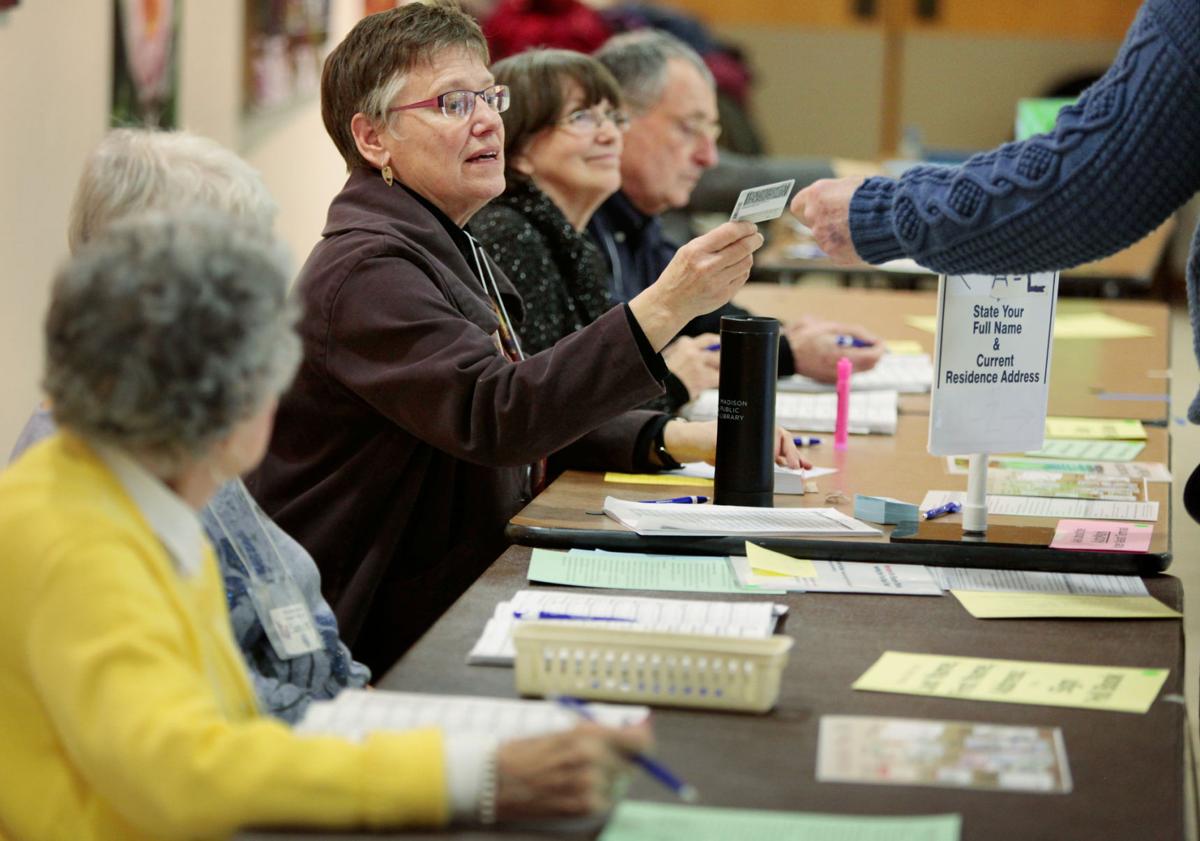 All voters must meet two requirements when they head to the polls to vote Tuesday: be registered to vote and show a photo ID.
The voter ID requirement took effect this year, and the state elections board has created a "Bring It To The Ballot" website as a resource for the public to learn more about voter ID.
Why do I need to show a photo ID at the polls to vote?
Republican lawmakers and Gov. Scott Walker enacted it into law in 2011. But the law has been on hold, with a few brief exceptions, while legal challenges to it filtered through the courts. Last year, the U.S. Supreme Court declined to hear a challenge to the law, paving the way for voter ID to be implemented.
What kinds
of IDs qualify?
You must bring one of a list of IDs sanctioned under state law. The following are acceptable if they're current or recently expired — meaning they expired after Nov. 4, 2014:
• Photo IDs issued by the state Department of Transportation, including driver licenses, state ID cards and learner permits.
• Military IDs issued by a U.S. uniformed service.
• U.S. passports and passport cards.
• An ID issued by a federally recognized Indian tribe in Wisconsin (acceptable even if expired before Nov. 4, 2014).
The following IDs also are acceptable:
• Certificates of naturalization issued not earlier than two years before the date of the election.
• A driving receipt or ID card receipt issued by the state no more than 45 days ago.
• A citation or notice of intent to revoke or suspend a state driver license dated within 60 days of the election.
• Any veterans photo ID issued by the U.S. Department of Veterans Affairs.
You also may use some student IDs, though in addition to the student ID, you also must provide a separate document, such as a tuition statement, that proves your current enrollment at the applicable college or university. Also, the student ID must expire no later than two years after it was issued.
IDs issued by some public colleges and universities don't comply. For example, UW-Madison student IDs don't include a required signature. UW-Madison will issue a different, voter-ID-compliant ID to students who want one, but they must request it.
What if the address on my ID is out of date?
It does not matter if the address on your ID isn't the same as where you're registered to vote. You're using your ID to prove your identity, not where you live.
What if I don't have one of these IDs, or I forget it?
You can vote without your ID by casting a provisional ballot. But your vote won't count unless you return to your polling place on Election Day with your ID before the polls close at 8 p.m. If you can't return to your polling place the same day, you have until 4 p.m. Friday to visit your local municipal clerk's office to show your ID.
If you don't have the required ID on Election Day, you may seek a free ID from the DMV. Do so in time to return to the clerk's office to show it by Friday. You won't get the ID on the spot, but you'll get a temporary document you can take to your local clerk right away.
When you go to your local DMV, you'll need to bring original documents that prove your name, date of birth, identity, citizenship or legal status, and Wisconsin residency.
How do I know if I'm registered to vote?
If you previously registered and you haven't moved, you should be ready to go. If you're not sure, visit myvote.wi.gov to check if your registration info is current.
What if I'm not registered or my registration information is not current?
You can register or update your registration information at the polls on Election Day. To do either, you must come to the polls with proof of your current residence.
How do I give
proof of residence?
The following IDs or documents containing your current address will work, according to the Government Accountability Board:
• A current and valid State of Wisconsin Driver License or State ID card.
• Any other official identification card or license issued by a Wisconsin governmental body or unit.
• Any identification card issued by an employer in the normal course of business and bearing a photo of the card holder, but not including a business card.
• A real estate tax bill or receipt for the current year or the year preceding the date of the election.
• A university, college, or technical college identification card (must include photo) ONLY if the voter provides a fee receipt dated within the last 9 months or the institution provides a certified housing list, that indicates citizenship, to the municipal clerk.
• A gas, electric, or telephone service statement (utility bill) for the period commencing no earlier than 90 days before registration.
• A check or other document issued by a unit of government.
• A letter on public or private social service agency letterhead identifying a homeless voter and describing the individual's residence for voting purposes.
• Residential lease that is effective on date of registration.