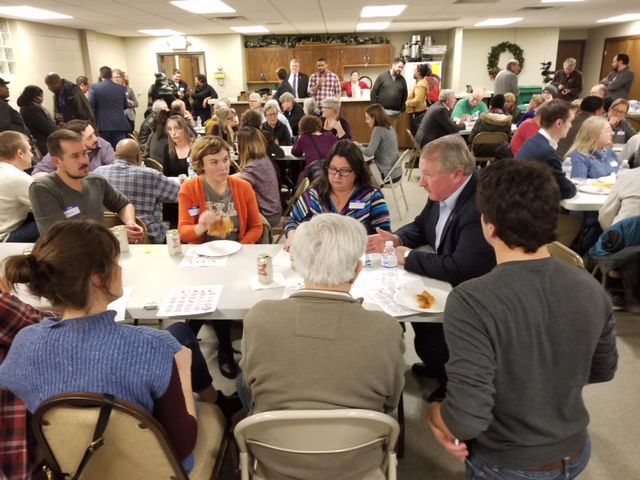 This year's Democratic gubernatorial primary is shaping up to be a drawn-out process with no clear front-runner, though many candidates are already trying to distinguish themselves.
There are 17 people who have either registered a campaign with the state or, in the case of Madison Mayor Paul Soglin, are about to do so. And while almost all of them have websites, only nine have hired staff.
U.S. Rep. Mark Pocan, D-town of Vermont, said at this point there is no front-runner and it's conceivable more candidates could emerge, though that's not because of weaknesses in the current field so much as the opportunity to ride what could be a Democratic wave election year.
The sprawling field is a reversal from four years ago when Madison School Board member Mary Burke faced nominal Democratic primary opposition before losing to Republican Gov. Scott Walker in the general election.
The dynamic makes it harder for the candidates to quickly raise large sums of money, which remains an important factor in elections. In 2014, Burke's campaign spent $15.4 million and Walker's spent $29.7 million.
"The challenge is in a field of 17, how do you raise money?" said Pocan, who does not plan to endorse a candidate. "How do you reach out and make a case to voters?"
Illustrating the challenge: At a forum in Eau Claire last month, the 12 Democratic candidates in attendance seated two deep on a crowded dais got to answer only three questions each.
Republicans have characterized the field as lacking a major Democratic figure — top state Democrats such as Reps. Ron Kind of La Crosse, U.S. Rep. Gwen Moore of Milwaukee and Pocan and legislative leaders Jennifer Shilling, the state Senate minority leader from La Crosse, and Gordon Hintz, the Assembly minority leader from Oshkosh, have ruled out a run. State Superintendent of Public Instruction Tony Evers has won three statewide elections, though in nonpartisan spring elections.
Democratic Party of Wisconsin chairwoman Martha Laning said the large field is an indicator that voters are fed up with Walker and the Republican-controlled Legislature. She said the party won't be endorsing a candidate, though it might host a candidate forum. She said it's unclear whether every candidate would be able to participate or if there would be some qualifying criteria.
"Who knows what's going to happen? A year ago people were saying you don't have any candidates," Laning said. "It's important for us to watch how the candidates run their campaigns and see how the public is responding to their messaging."
She added the advantage of having so many candidates is there are "more people talking to their neighbors. When you have one person, only one person can get to so many people."
Fundraising an indicator
The first major indicator of viability will come later this month when the campaigns report their 2017 fundraising totals. Joe Zepecki, a Democratic strategist who worked on Burke's campaign and is not now working for any candidate, said with the exception of those who announced late in the year campaigns should have at least $100,000 cash on hand if they want to remain competitive.
"The strongest candidates are going to be the ones who have been able to establish that fundraising base, have cash on hand and have been around the state multiple times to build the relationships they can leverage going forward," Zepecki said.
Without any publicly available polling on the race so far, there are other indicators that could help clarify the field, Zepecki said, including whether campaigns have hired paid staff and established a following on social media. Endorsements will become increasingly important as well.
Candidates might also distinguish themselves by developing a message that appeals to grassroots voters, said Marina Dimitrijevic, executive director of the Wisconsin Working Families Party, a liberal group that has endorsed Democratic candidates.
Dimitrijevic's Milwaukee-based group is working with the Bernie Sanders-affiliated Our Wisconsin Revolution to hold a series of 20 candidate forums around the state leading up to a joint endorsement.
She said the first one last month in Milwaukee resembled a speed-dating event: Candidates moved between tables to answer voters' questions while attendees could keep score for each candidate on a bingo card listing various issues such as marijuana legalization and increasing the minimum wage.
"Honestly at this point nobody really wants to sit through a 15-person debate or forum," Dimitrijevic said. "This next three- to six-month period is an interesting incubation period. … This is less about the candidates right now and how people are trying to get excited and build a movement around someone."
More candidates possible
The current field could grow or shrink by June 1, when candidates have to file 2,000 nominating signatures and other paperwork.
Some who have registered campaigns, including former Rep. Brett Hulsey and Sheboygan businessman Kurt Kober, said they no longer plan to run for governor. Kober said he is interested in running for lieutenant governor.
So far, nine candidates have paid campaign staff — Evers (6), former state Democratic Party chairman Matt Flynn (4), Milwaukee-area businessman Andy Gronik (7), former Wisconsin Democracy Campaign executive director Mike McCabe (3), Professional Firefighters of Wisconsin president Mahlon Mitchell (4), former Rep. Kelda Roys of Madison (2), Sen. Kathleen Vinehout of Alma (4) and Rep. Dana Wachs of Eau Claire, who didn't disclose the number of staff he has hired. Soglin also has hired a campaign manager.
Evers, Wachs and Roys have endorsements from Democratic legislators, with Evers also landing support from former U.S. Sen. Herb Kohl and Wachs endorsed by former U.S. Rep. Dave Obey. Mitchell was endorsed by Moore, Dane County Sheriff Dave Mahoney and two unions. Flynn was endorsed by Milwaukee County District Attorney John Chisholm. Gronik said he hasn't sought endorsements and Vinehout and McCabe said their endorsements are from the people of Wisconsin who encouraged them to run.
McCabe was the only candidate with paid staff who disclosed his fundraising total to the Wisconsin State Journal, saying he expects to report more than $100,000 raised from more than 1,000 donors. Others said they will reveal their totals in an upcoming filing with the state.
Other registered candidates Michele Doolan, Bob Harlow, Dave Heaster, Andrew Lust, Jeffrey Rumbaugh and Ramona Whiteaker reported hiring no staff so far.
Nicholas De Leon and Jared Landry have registered campaigns, but didn't respond to a request for comment.
In terms of social media presence among those with paid staff, Gronik has the most combined Twitter and Facebook followers with more than 25,000 as of Jan. 2, followed by Evers (14,865), Vinehout (8,492), Roys (8,312), Wachs (6,706), Flynn (3,962) and McCabe (3,724). Soglin has 11,174 followers combined on Twitter and for his mayoral campaign Facebook page. Among those without staff, Harlow has the most followers (24,750), including the most Twitter followers of any Democrat currently running (20,922).
Walker's combined Twitter and Facebook followers total more than 640,000.
"I do think with this many folks in the field and this early, social media is maybe a more important indicator right now than in the past we might have thought of it being," said Charles Franklin, director of the Marquette Law School Poll, which will likely be in the field in February asking about the Democratic candidates. "We're looking at a wide range of things that individually are fallible measures of how strong a candidate's campaign is, but taken together — endorsements, getting to events, staff, social media presence — these are all tea leaves, and that might be the way to think about it."
GOP narrows focus
The Republican Party of Wisconsin provided an additional indicator of which candidates are making the biggest splash so far, offering specific critiques of eight of them.
GOP spokesman Alec Zimmerman knocked Wachs' opposition to the $10 billion Foxconn plant being built in Racine County with $3 billion in state tax credits, noting 450 companies in the state have applied to be suppliers.
He noted Flynn represented the Archdiocese of Milwaukee during the priest abuse scandal, Gronik was sued by a business partner, and McCabe's group was funded by an organization backed by liberal billionaire George Soros.
He hammered Evers for not doing more to revoke the license of a Middleton teacher who viewed pornography at school and Vinehout for writing a character letter defending a man found guilty of possessing child pornography.
He also criticized Mitchell for quoting a poem about the Holocaust in describing the struggles of public sector workers during Act 10 and noted Roys lost a 2012 Congressional primary to Pocan by 50 points.
Walker himself called out Soglin last week for honoring then-Cuban prime minister Fidel Castro with a key to the city in 1975, calling the act "extremism even by Madison standards."