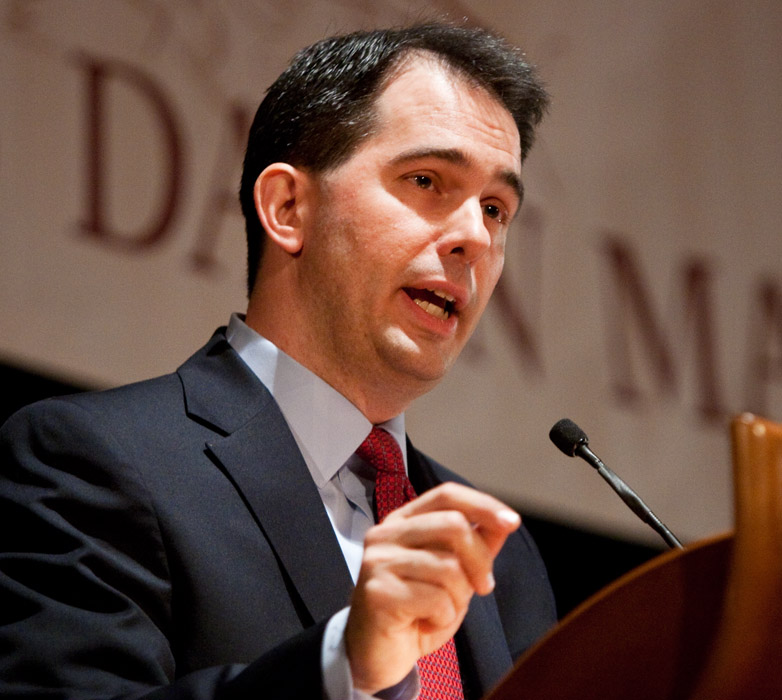 Gov. Scott Walker has collected more than three times the cash of his recall opponents — about half of it from out of state — giving the embattled governor a substantial head start in what looks to be a long and bitter election. 
According to campaign finance documents released Thursday, Walker raised $5.1 million since July 2011. Much of that has come during the past month, a period in which the governor has been able to take advantage of a state law that allows him to raise unlimited funds. He has received more than 18,000 donations since Nov. 1.
"We have seen an outpouring of support for the governor and the steps he has taken during his first year in office to lay the foundation for a more successful Wisconsin," said Ciara Matthews, Walker campaign spokeswoman.
Meanwhile, the Democratic Party of Wisconsin and the recall organization, United Wisconsin, have raised about $1.48 million: nearly $1.2 million by the party and about $300,000 by United Wisconsin. United Wisconsin said 88 percent of its donations came from in-state.
State law allows officials targeted for recall to raise unlimited amounts of cash from the time paperwork is filed, up until the Government Accountability Board declares the recall officially on. Signatures are due Jan. 17.
Matthews said more than 37,000 donors contributed $50 or less to Walker. That helped raise the governor's fundraising total year-to-date to $7.6 million. The governor has spent $3.97 million, leaving him just over $3 million cash on hand.
"Wisconsin voters are readily contributing to our campaign to help us fight back against the baseless recall efforts lead by big-government union bosses," she said.
But a breakdown of Walker's numbers show that almost half of his money is coming from out of state, $2.4 million of the total. In fact, in just two states — Texas and Illinois — Walker raised more than half as much money as his opponents raised in total.
The governor already has a series of TV commercials touting his record.
Some of the largest donations include:
• $250,000 by Bob Perry of Houston, famous for the "Swift Boat" ads against John Kerry during the 2004 presidential campaign.
• $205,500 by Richard and Elizabeth Uihlein of Illinois, who run Uline Shipping Supply Specialists. Walker is scheduled to deliver a jobs announcement Friday from a Uline plant in Hudson, Wis. 
• $100,000 by Foster Friess of Wyoming, a philanthropist and Wisconsin native.
• $50,000 by Roger Hertog, co-founder of The New York Sun and current chairman of the Manhattan Institute. 
• $20,000 by H.R. Perot of Plano, Texas, chairman of Perot Systems and son of the two-time third-party candidate for president, Ross Perot.
"In all our years of analysis, we have never seen a politician try to win a Wisconsin race with so much non-Wisconsin money," said Scot Ross, One Wisconsin Now executive director. 
Some of the bigger in-state contributors were the Schuettes, the family that runs Wausau Homes Inc. They gave $150,000 in total.
United Wisconsin filed paperwork on Nov. 15 to begin the process of collecting signatures to trigger a recall of the governor. The organization announced Thursday that they have collected more than 500,000 of the 540,208 needed.
But GAB has to review the signatures to make sure they are valid and deal with challenges before it can officially call for an election, the earliest of which is expected to be March. Then there is a likelihood of court challenges.
All of that prolongs the period during which Walker can raise unlimited amounts of money. GAB spokesman Reid Magney has said it is possible that period could stretch well into spring of 2012. And even then, state law allows Walker to continue collecting unlimited cash to pay off any campaign debt incurred during the accepted period. 
The governor already has a series of TV commercials touting his record. 
— State Journal data reporter Nick Heynen contributed to this report.
Campaign donations to Gov. Scott Walker since July 1.
| Origin | No. of donations | Percent |
| --- | --- | --- |
| Wisconsin | 22,238 | 47.36% |
| Out of state | 24,649 | 52.50% |
| No address | 61 | 0.13% |
| Total | 46,951 | |
| Origin | Total dollars | Percent |
| Wisconsin | $2,527,402.29 | 49.45% |
| Out of state | $2,422,661.48 | 47.40% |
| No address | $161,414.28 | 3.16% |
| Total | $5,111,478.05 | |
SOURCE: Government Accountability Board