Tony Evers became Wisconsin's 46th governor Monday with a call to bridge the state's political fault lines, urging leaders to stop "governing by retribution" and to "dare to transcend divisiveness."
Evers, a Democrat, took the oath of office at the state Capitol with outgoing Republican Gov. Scott Walker and four other former governors watching nearby.
Others sworn in were Lt. Gov. Mandela Barnes, the first African-American to hold the state's No. 2 post, Attorney General Josh Kaul, State Treasurer Sarah Godlewski and Secretary of State Doug La Follette.
That puts all five statewide constitutional offices under Democratic control for the first time since January 1987. The Legislature, however, remains firmly controlled by Republicans.
In his inaugural address, Evers, who had been state superintendent, called on the state to fully fund schools at every level, including all-day pre-kindergarten. Evers also said the state must do more to ensure health care is affordable and accessible. And he said Wisconsin "cannot wait any longer" for a funding fix to its transportation network.
In one of the biggest applause lines of his speech, Evers said young people expect leaders to "take gun violence and global warming seriously."
The event also returned repeatedly to a theme of bridging divisions, including those created by race and party.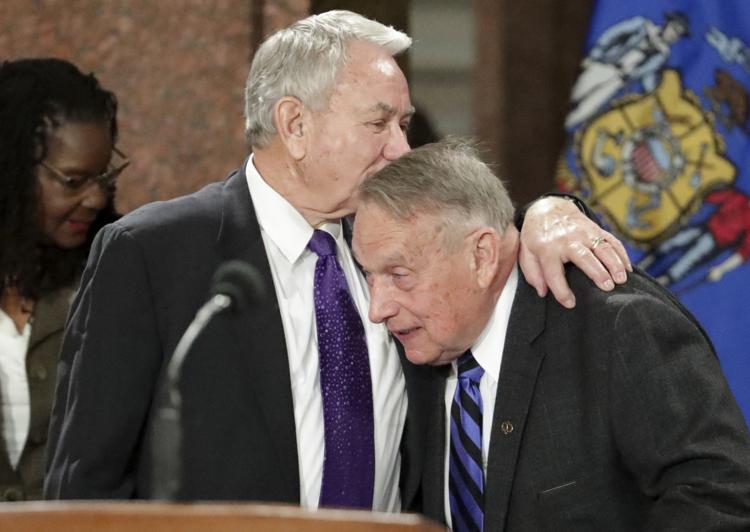 "As elected officials, we are reminded that our obligation and our allegiance are to the people of this state, not any political leader or party. That is the promise and the spirit of our service," Evers said.
Evers also proclaimed that "we must turn the page on the tired politics of the past."
"It's time to remake and repair our state and to reclaim our better history," he said.
Kaul, who's succeeding Republican Brad Schimel, set a more pugnacious tone with a forceful message to Republican lawmakers who curtailed the powers of his office and the governor's office in a lame-duck session last month.
Kaul described the move as unprecedented, saying it is "designed to hinder our ability to do the jobs that the voters elected us to do."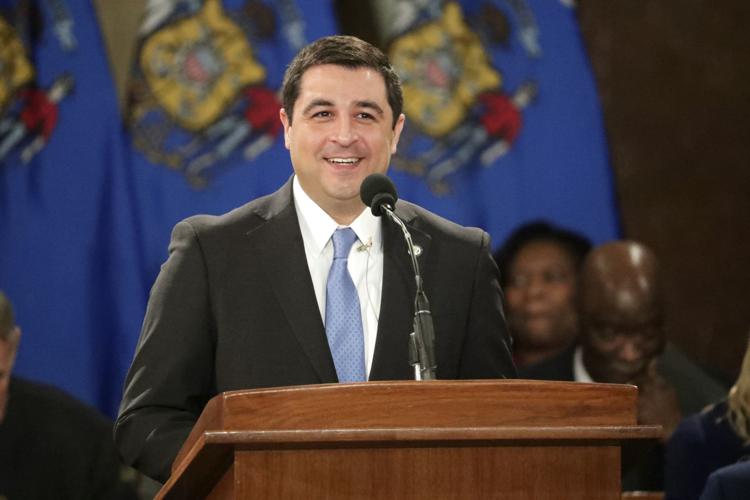 "But I want to make clear that, irrespective of the action taken by the lame-duck legislature, the priorities of the Wisconsin Department of Justice are changing," Kaul said.
Environment and consumer protection
Kaul pledged to "revitalize" his department's environmental protection unit and consumer protection efforts. He also called for universal background checks on firearm purchases and a so-called red-flag law that would allow judges to disarm people deemed a threat to themselves or others.
Evers' inauguration, meanwhile, marks a historic change of the guard in the state Capitol, bringing divided government to the Wisconsin statehouse for the first time in more than a decade.
It ends eight years of unified Republican control that began with historic rollbacks of collective bargaining rights and included a conservative wish list of tax cuts, relaxed regulations, education privatization, abortion restrictions and gun rights. It also saw one of the largest tax credit business-subsidy packages in U.S. history, given to electronics manufacturer Foxconn.
Evers got to work Monday afternoon, signing two executive orders. One directs incoming department secretaries to evaluate turnover and staff morale and, if needed, "develop strategies to recruit and retain the best and brightest Wisconsin workers."
The other directs state agencies to craft policies to ensure everyone served by the agency is "afforded equal opportunity, without discrimination."
The second order mentions several protected categories, including gender identity. Human Rights Campaign, a national LGBTQ rights advocacy group, said Wisconsin is one of 28 states without explicit anti-discrimination protections based on gender identity.
The order instructs the state Department of Administration to prepare, for all state agencies under the governor's jurisdiction, a policy barring discrimination or harassment. It instructs the department to craft nondiscrimination clauses to include in all state contracts and grants.
You have free articles remaining.
Register for more free articles
Stay logged in to skip the surveys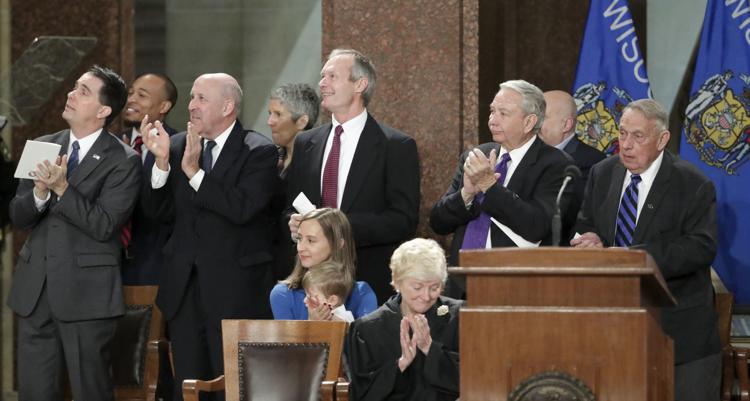 New lawmakers, different priorities
Meanwhile, state lawmakers also took their oaths of office in separate ceremonies in the state Assembly and state Senate chambers Monday afternoon.
The only new Dane County lawmaker is Rep. Shelia Stubbs, D-Madison, who succeeds former Rep. Terese Berceau in representing part of Madison's West Side, Shorewood Hills and part of Middleton. Stubbs is the first African-American to represent Dane County in the Legislature.
Senate Majority Leader Scott Fitzgerald, R-Juneau, speaking after newly elected senators were sworn in, said he's trying to ready fellow lawmakers for the slower pace of divided government, as many have not experienced it.
Assembly Speaker Robin Vos, R-Rochester, addressing reporters after his chamber swore in its new members, said he's hopeful that GOP lawmakers can work with Evers. But Vos said Evers must stay in the "center lane" to find common ground.
Vos said he's open to building the next state budget from what Evers proposes. That's a shift from Fitzgerald, who said last month he expects GOP lawmakers to craft their own separate budget.
But Vos said bipartisan compromise hinges on whether Evers offers a centrist or a "hard-left" budget. One provision Evers has said he will include in his budget — a pathway to increase the state's $7.25 minimum wage — will not be part of a budget passed by the GOP Assembly, Vos said.
"I don't know where you'd get the votes for an increase in the minimum wage," Fitzgerald said. "It doesn't seem to be necessary right now with the economy we have."
Vos, meanwhile, took issue with one passage from Evers' inaugural remarks.
"I did think it was a little bit untoward to basically say he's turning the page on the politics of retribution," Vos said. "That's not how we govern, and name-calling right away doesn't do any good."
'The people are back'
Monday's inaugural ceremony was a moment to celebrate for Wisconsin's beleaguered Democrats, who suffered a series of election defeats in recent years against Walker and other Republicans. With Evers taking office, they relished a return to having some influence over state government.
One of the attendees at the inaugural ceremony, Karl Rohlich, a 71-year-old retired public defender, said Evers' inaugural address stood out for its simplicity.
"The kind of basic things you'd expect from a leader that we haven't had in eight years," he said of Evers' call for civility and integrity.
The ceremony continued a departure from tradition that was initiated by Walker.
Evers took the oath, and gave his address, at a podium and stage set up at the entrance of the North Wing of the Capitol near the state constitution. That's where Walker moved the ceremony starting with his first inaugural in 2011.
Previously, inaugurals were conducted in front of the bust of progressive icon Robert La Follette by the East Wing, which houses the governor's office. Walker said he made the move as a political statement.
Some of those in attendance Monday considered the inauguration ceremony a bookend to their protests sparked by Walker's policies. Valerie Hodgson, a 65-year-old Madison artist, stood in line to greet the new governor in the Capitol's East Wing after Monday's ceremony.
Hodgson remembered her first protest back in February 2011 against the law stripping most public-sector unions of collective bargaining rights.
"The people," Hodgson said, "are back."
State Journal reporter Kelly Meyerhofer contributed to this report.