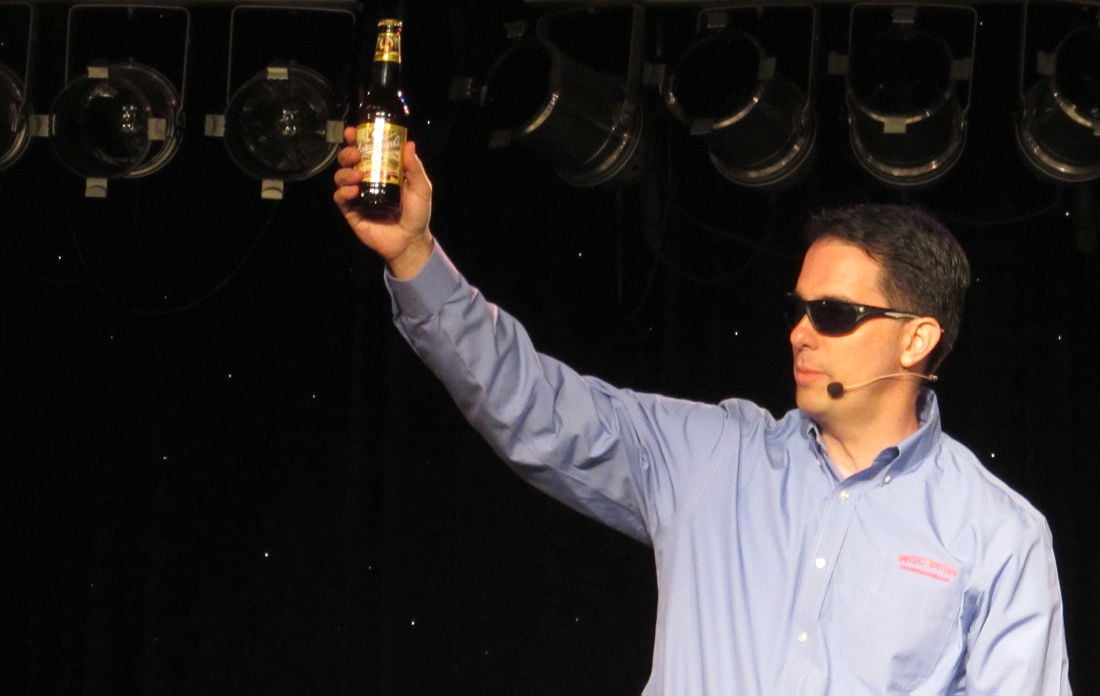 As early as this month, Wisconsin's unemployment rate could reach or surpass its record low of 3 percent.
That number presents a limited picture of the state's employment landscape, yet it provides Republicans in control of state government since 2010 with a clear-cut defense of their record heading into what could be a difficult midterm election year.
Gov. Scott Walker has highlighted the state's unemployment rate, which was 8 percent when he took office, as he shifts attention away from an unfulfilled promise to help create 250,000 jobs in his first term. In a recent radio address he said "we're going to party like it's 1999," when unemployment hit a record low.
"Our common-sense, conservative reforms are working," Walker said. "And more people are working in Wisconsin than ever before."
Yet while unemployment has fallen, wages in many low-skill jobs have not kept pace with inflation, something Democrats highlight in response to the low unemployment figure.
Senate Minority Leader Jennifer Shilling, D-La Crosse, said when constituents approach her they tell her about how the roads are in poor condition, how schools need more funding or how a spouse was recently laid off.
"No one has ever come up to me and said great job on our unemployment numbers," Shilling said. "It does not mean a lot when working families know at the end of the month that they're struggling to make ends meet."
Todd Berry, president of the Wisconsin Taxpayers Alliance, cautioned that national unemployment rates historically have bottomed out just before or just as an economic recession begins.
He said while he's not necessarily predicting a recession, there aren't many indicators that economic growth is accelerating. Tax growth remains sluggish and manufacturing employment, "a very significant sector of the Wisconsin economy," is contracting, he noted.
"Unemployment is not the metric to end all metrics," Berry said. "There are many things to look at other than unemployment, and unemployment doesn't tell you much about the current or future state of the economy."
Easily politicized
As the recent presidential election illustrated, the unemployment rate can be both complicated to understand but also easily politicized regardless of what's happening in the broader economy.
Last year, then-candidate Donald Trump claimed the actual unemployment rate of about 5 percent was a hoax and that the real number might be as high as 42 percent. The claim was widely dismissed for including part-time workers, students, retirees and nonworking spouses. However, when the rate fell to 4.7 percent after he took office Trump said: "They may have been phony in the past, but it's very real now."
Republican strategist Brian Fraley said for many voters trying to gauge how the broader economy is doing, the unemployment rate provides an easily understood statistic similar to the Dow Jones industrial average: "No one really knows what it is, but if the Dow Jones is high, that's good, right?"
The latest Marquette Law School Poll gauged public awareness of the unemployment rate in Wisconsin and found 37 percent correctly said it is in the 2 to 4 percent range. Another 35 percent thought it was in the 4 to 6 percent range, 12 percent thought it was higher than 6 percent and 14 percent didn't know.
Fraley said he expects Republican incumbents next year to play up the state reaching the lowest unemployment level in Wisconsin's history should it reach that milestone.
"It's definitely something they will champion," Fraley said.
The U.S. Department of Labor tracks several different unemployment measures. The official measurement includes those without a job who have actively sought work in the past four weeks, which means it doesn't include discouraged workers who have stopped looking for work and the so-called "underemployed" who might have a part-time or low-paying job.
The national unemployment rate, at 4.3 percent in May, has fallen from a peak of 10 percent in October 2009 during the Great Recession.
Wisconsin's 3.1 percent unemployment rate in May was the lowest monthly rate since October 1999, according to the Bureau of Labor Statistics. The lowest monthly rate since 1976, when consistent figures were first collected, was 3 percent in May, June and July 1999.
UW-Madison economist Bruce Hansen published a report last week predicting the unemployment rate would dip to 3 percent in June (the actual figure will be reported in the third week of July) and then level out at 2.9 percent in July before rising up to 3.4 percent by May 2018.
"This isn't really Wisconsin per se," Hansen said. "Unemployment rates have been dropping continuously since the Great Recession. What we're seeing in Wisconsin is mirroring what's going on elsewhere."
Brian Riedl, an economist with the Manhattan Institute, a conservative think tank, said the normal churn of people moving in and out of jobs — what economists consider "full employment" — is an unemployment rate at 4 percent, so Wisconsin's low rate "means that nearly everybody who wants a job can find one."
"Reducing the unemployment (rate) from 9 percent to 3 percent is an amazing accomplishment even if wages haven't grown significantly yet," Riedl said. "Now that Wisconsin has a lower unemployment rate than the national average, wages will likely begin growing faster than the national average over the next couple years as employers compete for workers."
Wage growth debated
In scores of speeches around the state over the past year, Walker has touted the state's low unemployment rate, as well as record high employment — 3.06 million in May — and the state having one of the highest labor participation rates in the country.
What he doesn't mention is that record employment is partly attributable to population growth, while Wisconsin's labor force participation rate has declined slightly since he took office.
The state's labor force participation rate has typically been higher than the national average, ranking among the top 15 states since 1986. When Walker took office in January 2011 it was 69.1 percent, ranking 12th. At the beginning of this year it was 68.1 percent, ranking eighth, and has nosed up to 68.8 percent in May, ranking fifth.
The unemployment rate doesn't count workers who have given up finding a job and dropped out of the labor force, said Tamarine Cornelius, an analyst for the liberal Wisconsin Budget Project. She noted that if the labor force participation rate were as high as it was a decade ago, the state would have 92,000 additional workers and potentially higher unemployment.
Wages also have not kept up with inflation over the past decade in many non-managerial jobs, according to a Wisconsin State Journal review of federal wage data. In inflation-adjusted terms, those with the biggest decline in wages were teaching assistants, maintenance and repair workers, stock clerks, retail salespeople and administrative assistants. Office clerks, waiters and movers saw the biggest gains.
Since 2010, Wisconsin has ranked 15th in the nation in wage growth, but only 31st in job growth, according to the Quarterly Census of Employment and Wages, a comprehensive survey of nearly all businesses. The state created 201,123 jobs in Walker's first six years in office, though for the first time manufacturing jobs declined last year despite huge tax breaks.
"We have created a lot of jobs," said Marquette University economist Abdur Chowdhury. "However, most of these jobs we've created are in low-paying, low-skill areas. We've seen increases in hospitality, leisure, those kind of areas. In the high-skill areas we haven't seen much creation."
The state has ranked last in business start-up activity for the past three years, according to the Kauffman Foundation. Chowdhury said Wisconsin hasn't done as well at attracting business investment as neighboring states such as Iowa and Minnesota, which have made major investments in broadband internet. Although that could change with the possibility of Taiwanese manufacturer Foxconn looking to locate production facilities in Midwestern states, including Wisconsin.
"The good thing is the unemployment is low, so now people might start hiring at the higher end, higher skill areas," Chowdhury said. "In the coming months we might see wages increase."
Dennis Winters, an economist for the Department of Workforce Development, said one of the perplexing aspects of the national economic recovery is that low unemployment typically means high inflation brought on by rising wages, but wage growth, particularly among low-skilled jobs, continues to be sluggish.
Still, Wisconsin is faring better than the majority of states in wage growth, ranking 15th in growth since 2010 and 12th since 2014. Winters said low unemployment should continue to help wages improve.
"We're at (unemployment) levels we haven't seen in a long time and we don't expect them to really turn around from here because everything we see is an economy continuing to grow," Winters said.