Local officials expressed relief but were still scrambling Monday to figure out how to spend some $2.3 billion expected to be delivered in the next two years as part of the federal COVID relief bill.
"I think overall there's a need and communities are welcoming this latest, greatest and probably final COVID relief package," said Curt Witynski, deputy executive director of the League of Wisconsin Municipalities, which represents about 600 cities and villages.
On Monday, Madison Mayor Satya Rhodes-Conway called off furloughs for some 1,700 city workers, a measure that had been expected to save about $1.2 million.
"With federal aid on the way, my top priority is to make sure there are no further reductions in the critical services our residents depend on," Rhodes-Conway said.
Witynski noted that cities like Madison took multiple hits to their finances, losing revenue from things such as lodging taxes and parking fees, as well as the interest they typically earn from cash on hand.
According to the bill, local government aid may be used to respond to the public health emergency or its negative economic impacts, including aid to households, small businesses and industries, to boost pay for essential workers or to replace lost revenues resulting from the pandemic.
Funds cannot be used to directly or indirectly offset tax reductions or delay a tax increase, nor can they be deposited into pension funds.
But the money can be used to fund water, sewer and broadband infrastructure, which Witynski said could be a boon to cities like Madison, where almost 40% of the water mains are more than 50 years old.
"There's tremendous need out there," Witynski said.
Wisconsin is expected to take in about as much revenue this year than officials predicted before the COVID-19 pandemic.
The $1.9 trillion American Rescue Plan, signed into law last week, includes more than $5.7 billion in total aid for Wisconsin. While the largest chunk will go into state coffers, Wisconsin's 1,906 cities, villages and towns are in line to receive almost $1.2 billion in payments expected to be delivered later this spring and in 2022.
Much of the money will flow to the state's most populous and poorest areas, according to data from the House oversight committee.
For cities with more than 50,000 residents, funding is determined using a formula that measures population, poverty and housing instability, which is why Milwaukee, with a population of about 594,500, is in line to receive nearly $406 million, more than half of the funding set aside for the state's 18 metro cities.
Madison, with about 255,000 residents, is next with about $49 million.
For smaller cities, the funding is allocated by population size, though they can't receive more than 75% of their pre-pandemic budget.
City's priorities
Madison officials said they were still evaluating how they can spend the money and identifying ways to help residents and businesses rebuild, a process begun nearly a year ago, said city finance director David Schmiedicke.
In a memo to the City Council on Monday, Rhodes-Conway said priorities are: ensuring health care access and rapid protection from COVID-19; maintaining housing and food stability; supporting broad-based business recovery and job creation; expanding affordable housing; and protecting, restoring and expanding transit access.
Madison's finances have been battered by the pandemic, with a $48 million shortfall in the general fund, hotel room tax fund, Parking Utility, Monona Terrace and Metro Transit, plus an $8.6 million reduction in general fund support for Metro in 2020 and a $25.3 million shortfall in the general fund, Parking Utility and Metro in the 2021 budget, Schmiedicke said.
The city has been able to close the shortfalls with funds from the federal CARES Act, spending reductions, and dipping into savings, Schmiedicke said. At least $60.7 million from federal initiatives has been used to address COVID-related costs and to support transit, entertainment venues, housing stability, elections and law enforcement.
"The ARP funding will be fundamental to ensuring income, food and housing security for Madison residents," Schmiedicke said. "These funds will help businesses most impacted by the economic effects with recovery."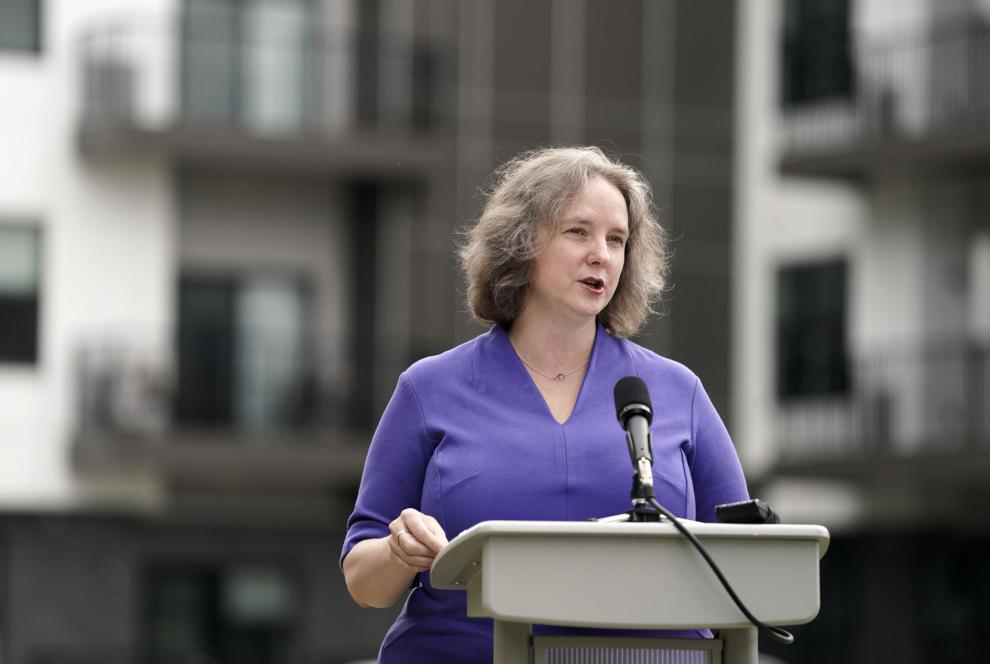 While the city has several years to spend the money, Rhodes-Conway said she does not want it used for ongoing expenditures.
"These funds are intended to replace lost revenue and help our community recover from COVID-19," she said. "We, as policy makers, will have to be mindful that our use of this federal money sets us up for long term fiscal success."
For the counties
The package also includes about $1.13 billion for the state's 72 counties.
Milwaukee County is expected to receive about $183 million, while Dane County would get about $106 million.
Dane County has lost revenue from sales taxes, interest, Alliant Energy Center events and parking fees, among other things, said Josh Wescott, chief of staff to County Executive Joe Parisi.
Wescott said federal relief has helped the county to respond to the pandemic over the past year and expects it will continue to fund basic needs like food and housing throughout the recovery.
"First and foremost is the additional capacity in the emergency food supply network, which we anticipate will continue to be needed for many months to come," Wescott said.
For example, Second Harvest is working to supply local food pantries with produce, meat and cheese from Dane County farmers.
In 2020, the county received $95.4 million and an additional $9.6 million from the state of Wisconsin, funds that went to food security, assisting small businesses, housing vulnerable populations, preventing evictions, assistance to child care centers, COVID-19 testing and contact tracing, enhancing public health staffing, and investments in remote work technology.
Some of the funds were also used to mitigate revenue shortfalls in the county's 2020 budget, Wescott said.
In the towns
While rural residents and businesses have suffered from the economic fallout, the pandemic has not hit town budgets as hard as it has city, county and state revenues.
Wisconsin Towns Association executive director Mike Koles said he's hoping the U.S. Treasury will allow towns to use their share of the money to improve aging roads and bridges, which would help farmers who often have to drive miles out of their way because of weight restrictions.
Koles said he hopes the state will use some of its aid to help with the biggest need for rural Wisconsin: broadband internet access.
"You're not, with individual towns, going to make that big a dent on broadband," Koles said. "I'm hoping that the state could be a game changer for bridging the digital divide."
Gov. Tony Evers told reporters Thursday that he hopes to distribute the state's share of the funds as quickly as possible, though his office is awaiting guidance from the U.S. Treasury on how they can be spent.
"We want to get it out the door as quickly as possible to deal with the issues that are a direct result of the pandemic, and that's getting it out to small businesses, people in the child care industry, tourism industry and obviously to make sure that our public health system is working appropriately," Evers said.