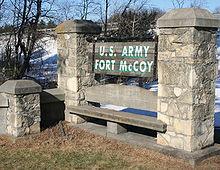 Fort McCoy, a U.S. Army installation near Sparta, is preparing to accept an unknown number of refugees from Afghanistan who are fleeing in the wake of the collapse of the Afghanistan government to the Taliban.
"We have been notified that we will be receiving these special immigrant visa applicants," Fort McCoy spokesperson Tonya Townsell told the Journal Sentinel. "I don't know when these guests of ours will be arriving exactly, but anytime it can turn."
A McCoy spokesperson later declined a request for comment and referred the Wisconsin State Journal to the U.S. Department of Defense.
A DOD spokesperson confirmed that Fort McCoy is under consideration as a site to provide temporary housing for Afghan special immigration visa applicants and their families.
"On Sunday, August 15th, Defense Secretary Austin approved two requests for assistance from the State Department to transport and temporarily house Afghan Special Immigration Visa applicants, their families, and other individuals at risk," Pentagon press secretary John Kirby said in a statement.
Kirby said the U.S. is planning to provide support for up to 22,000 at-risk individuals within three to four weeks at Fort Lee in Virginia and two other military installations. Kirby declined to name the institutions as the Pentagon works through the notification process.
Under the arrangement, the U.S. would provide temporary housing and other support. A DOD spokesperson added that while final locations haven't been chosen, assessment teams are currently on the ground at Fort Bliss in Texas and Fort McCoy to determine whether the facilities meet requirements.
Kirby said the U.S. also plans to provide air transportation for about 8,000 other at-risk individuals to facilities located in a third partner nation.
About 2,500 civilians and 450 military personnel work at Fort McCoy, which is located on about 60,000 acres between Sparta and Tomah, in Monroe County. 
The U.S. in recent weeks has been working to evacuate Afghan translators, interpreters and others who worked for the U.S. during its 20-year war there.
Jewish Social Services of Madison, which is part of the U.S. refugee resettlement network, is preparing to aid with resettlement efforts of refugees who may be coming to the Madison area.
Jewish Social Services executive director Dawn Berney said she's waiting on more information about when refugees would arrive at Fort McCoy. She said some refugees at Fort McCoy who have connections to the area may be moved here, but many may be settled elsewhere across the country.
Berney said her agency has helped resettle 61 Afghan refugees, most of whom worked for the U.S. government or military, or an associated contractor, since 2017.  
---
Your letters to the Wisconsin State Journal: Peace is possible in Afghanistan
Peace is possible in Afghanistan -- Frances Wiedenhoeft
Sixteen years ago, I returned from my stint as a nurse anesthetist with the 452nd Combat Support Hospital in Bagram, Afghanistan. The harsh education of a terror war on civilians was permanently burned into my soul. It is a world of blood and bony shrapnel fragments protruding through skin and I was often steeped in it around the clock for days or weeks at a time.
When I got to Afghanistan, we were liberators -- freeing the Afghan people from the brutality of Taliban rule. By the time I left, the Afghans I spoke with weren't so sure, and neither was I.
We owed it to the Afghan people to free them from the Taliban. Between 1979 and 1989 we had used Afghanistan and her people in our Cold War with the Soviet Union. We abandoned them to a political vacuum which allowed the Taliban to flourish. How can we, in good conscience abandon them to the Taliban again?
But my ambivalence mirrors that of the American people. Are the only choices truly those presented by the current administration: complete withdrawal of troops and secret negotiations with a terrorist organization or endless war?
There are many tools in the global toolbox that recognize Afghanistan's ethnic and cultural diversity. What we really owe to the Afghan people is the moral fortitude to believe peace is possible and to demand that our representatives implement diplomatic strategies by working with the legitimate Afghan government.
Lt. Col. Frances Wiedenhoeft, retired, Veterans for Peace, with service in Iraq, Afghanistan and Desert Storm.
System allows for minority tyranny -- Myrna Sokolinsky
The Sept. 5 letter to the editor "Electoral College plays a vital role" argued the Electoral College prevents small states from being politically dominated by potentially tyrannical majorities in big states like California, Illinois and New York. But thanks to the Electoral College, it's the big states which are politically dominated by potentially tyrannical minorities in small states like Montana, Wyoming and Idaho.
The Founders didn't regard the Constitution as perfect. Article V provides for amending the Constitution. Amendment XVII changed Article 1, Section 3, to allow the direct election of U.S. senators. (They had previously been chosen by state legislatures).
Amendments also assured the right to vote to all citizens, which was not the case in the Founders' time.
Myrna Sokolinsky, Madison
Noise pollution hits poor hardest -- Kimberley Neuschel
I appreciate State Journal's coverage of the proposal to bring F-35 fighter jets to Truax Field. I am a nurse serving a neighborhood adjacent to the airport and am deeply concerned about the public health implications of this program.
We know from the draft environmental impact statement that the frequency and intensity of noise pollution would significantly increase. What is not being discussed, however, are the serious health risks associated with persistent noise pollution, including: poor quality sleep, negative impacts on mood and mental health, decreased school performance, and increases in stress hormones, blood pressure and heart disease.
The environmental impact study acknowledges there will be "significant disproportionate impacts to low-income and minority populations as well as children." But what the report does not consider is how poverty compounds these risks. Families living around the airport do not have the power to simply move and oftentimes rely on open windows for cooling. And some of the lowest income communities may not qualify for mitigation.
As a nurse and concerned citizen, I call upon U.S. Sens. Tammy Baldwin, D-Madison, Ron Johnson, R-Oshkosh, and Rep. Mark Pocan, D-Black Earth, to oppose the F-35 program at Truax. This is not anti-military. This is pro-health. Alternate sites have significantly fewer public health impacts.
Kimberley Neuschel, Madison
Jets are here to protect nation -- Nancy L. Wild
I grew up in Madison under the path of the jets which helped protect our country during the Korean War. I experienced the noise of afterburners kicking in right over our house. This shook our windows and was very loud. It was a wonderful sound -- the sound of freedom.
Our family moved from rural Dane County into an area with an existing, active military base. Love for our country was high and no one would have thought to question the minor inconvenience of some occasional noise made necessary so that our military could do their job and protect our country.
To those protesting against the F-35s, I understand your concerns. But I would ask that you consider this. Of course you have a right to express your opinion -- but this is not just about you. It's about Truax Field, the 115th Fighter Wing and protecting of all the citizens of the United States and our neighbors to the north and south. Strategically, we are in an optimum location to do this.