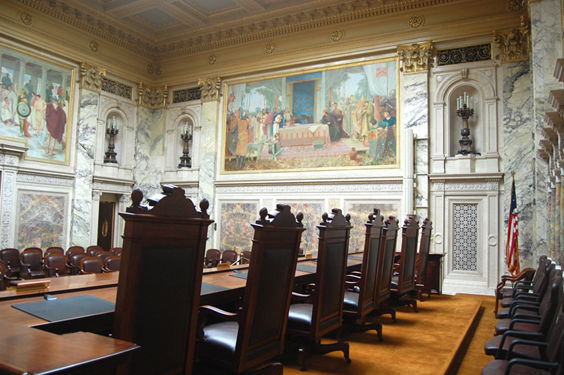 Roughly one month out from the November presidential election, the Wisconsin Supreme Court on Tuesday heard oral arguments in a case that could purge about 130,000 people from voter rolls.
While the Supreme Court isn't expected to make a decision in the case before Election Day, it could still have major implications for elections down the road.
The court also heard another important elections case asking it to provide clarification on whether any voter can claim to be "indefinitely confined" due to the COVID-19 pandemic and therefore exempt from the state's photo ID requirement for voting.
The case also comes as other major lawsuits threaten to make changes to the administration of the state's elections before Election Day. A federal appeals court on Tuesday extended the absentee ballot deadline so that any ballots postmarked by Election Day and received by Nov. 9 will still count.
The controversial voter rolls case has worked its way through the court system since late last year, with the Supreme Court deciding to take it up in June, before liberal-backed Justice Jill Karofsky took her seat on the court in August, reducing the court's conservative majority from 5-2 to 4-3.
The case was brought by plaintiffs represented by the conservative Wisconsin Institute for Law and Liberty (WILL). Republicans want the Supreme Court to purge voters suspected of moving in order to maintain clean voter rolls. WILL says that the state should keep its voter rolls orderly by removing voters who may no longer reside at the addresses indicated on their voter registrations.
With conservative-backed Justice Brian Hagedorn sometimes siding with liberals, there's a chance Hagedorn could join a 4-3 coalition to halt an immediate voter purge. During oral arguments Tuesday, Hagedorn wasn't explicit about where he stood on the case, and generally asked questions about the authority of the Wisconsin Elections Commission to be able to purge voters at all — whether immediately, as Republicans want, or several months from now, as Democrats want.
"I'd like to know what the commission thinks its authority is to actually remove people from the rolls, since it seems to still think it still had authority to do that," Hagedorn asked Democratic Attorney General Josh Kaul, who argued on behalf of the Elections Commission.
Kaul maintained that the commission was under no duty to treat as reliable the information it received about voters who may have moved. Kaul said the commission's only responsibility under the multistate Electronic Registration Information Center agreement was to notify flagged voters that they may need to update their address.
WILL attorney Rick Esenberg argued that state law clearly gives the Elections Commission the responsibility to maintain the voter list. When presented with the information about those who had moved, the commission had a duty to remove those who did not respond to its mailing, Esenberg said.
Democrats are against such a move because the system used to identify registered voters suspected of moving hasn't always been accurate. They also say it would make it more difficult for their voters to cast ballots because voters suspected of moving are more heavily concentrated in Democratic areas of the state.
Republicans counter that even if a voter is mistakenly identified as a mover and taken off the rolls, it would not impede his or her right to vote because Wisconsin offers same-day voter registration, which requires ID and proof of residence.
The court's decision to hear the case on appeal comes after it declined to hear the matter immediately in January. Justices deadlocked on that decision 3-3, with conservative Justice Brian Hagedorn joining the court's two liberals. Former Justice Daniel Kelly had recused himself from the case.
Ozaukee County Judge Paul Malloy in December ordered voters suspected of moving to be purged from the rolls, but after the Supreme Court declined to immediately take up the case, his order was overturned by the Wisconsin Court of Appeals in February, a decision that WILL appealed.
In Tuesday's oral argument, the court's three liberal-backed members largely critiqued Esenberg's argument of equating the Wisconsin Elections Commission with a "board of election commissioners" that is responsible for maintaining the state's voter list and therefore must deactivate voters who may have moved.
The court's most staunchly conservative members largely tore into Kaul, and asked whether municipal clerks would have the authority to deactivate voters if the Elections Commission doesn't. No voter registrations have been deactivated yet.
Indefinitely confined
The court on Tuesday also heard oral arguments in a case asking for the court to provide guidance on whether voters can designate themselves "indefinitely confined" due to the COVID-19 pandemic and evade the state's photo ID requirement to vote.
State law allows voters to certify themselves as indefinitely confined due to age, physical illness, infirmity or disability, and in doing so are allowed to vote without a photo ID.
The case stems from the lead-up to the April 7 statewide election, when Dane County Clerk Scott McDonell and Milwaukee County Clerk George Christenson issued statements that all voters could self-certify as "indefinitely confined" and vote absentee without providing a photo ID.
The Republican Party of Wisconsin brought the case against McDonell in March, arguing McDonell was applying the "indefinitely confined" definition too broadly. The court at that time ordered McDonell to stop issuing guidance different from that provided by the Elections Commission.
Almost 200,000 Wisconsin voters self-certified as indefinitely confined in the April election.
The case is important because it could determine whether thousands of voters without proper photo ID are allowed to evade that requirement.
Eric McLeod, who is representing the Republican Party, said Supreme Court guidance on the issue will help stem chaos after Election Day.
"We saw a presidential election four years ago in which the margin between the two candidates was about 22,000 votes," McLeod said. "We could see an outcome this November that could be quite similar. … We could see all sorts of additional challenges made that could throw the election into crisis."
The Associated Press contributed to this report.



Election 2020: A guide to winners and losers in Wisconsin's spring contests



Election 2020: A guide to winners and losers in Wisconsin's spring contests
Wisconsin voters went to the polls April 7 but waited until Monday to find out who won, thanks to uncertainty introduced by the COVID-19 pandemic. Here's a look at who won in key races.