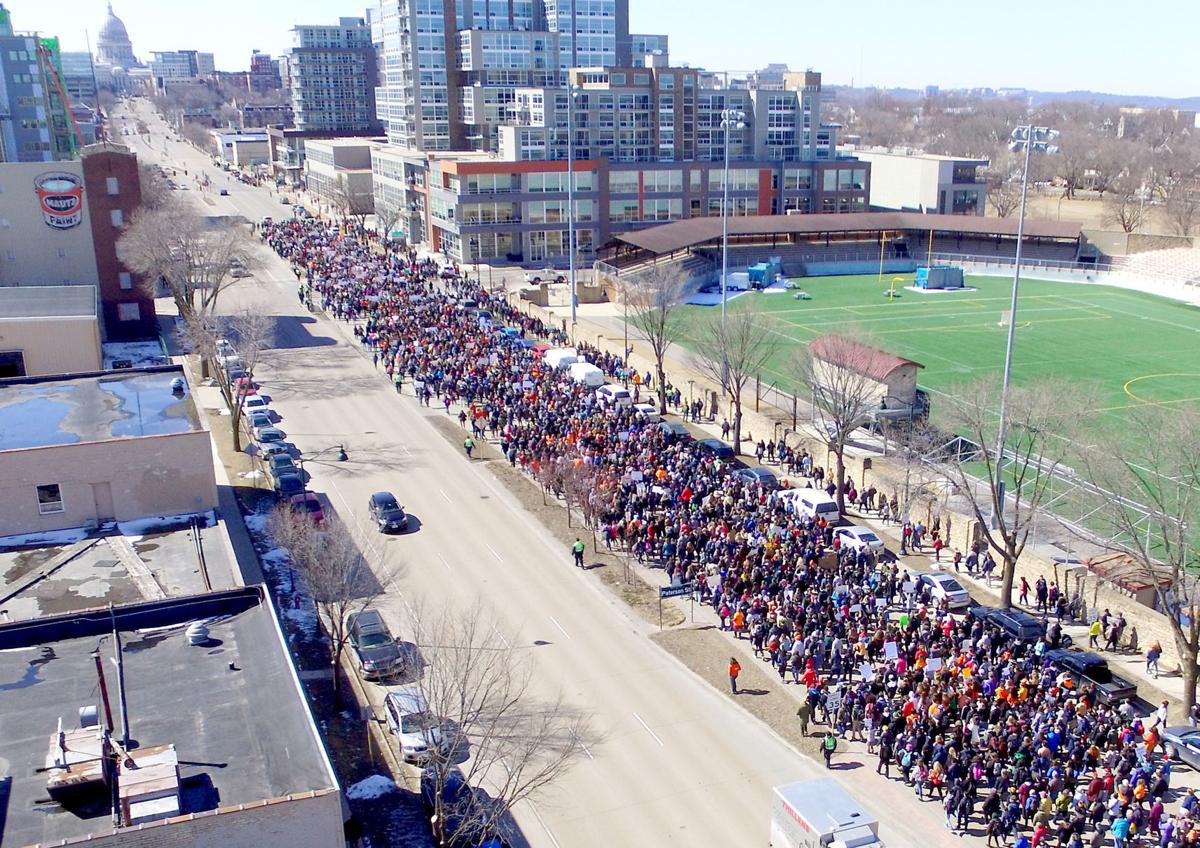 The Senate passed a $100 million school safety bill Tuesday that ducked calls by Democrats, students and advocacy groups for gun regulations in the wake of last month's Florida school shooting.
The bill passed 28-4 with Democratic Sens. Dave Hansen of Green Bay, Mark Miller of Monona, Fred Risser of Madison and Lena Taylor of Milwaukee voting against it.
Miller called the bill a "fig leaf" and said he voted against it in protest "for what we could have accomplished and failed."
Sen. Kathleen Vinehout, D-Alma, a gubernatorial candidate and the only Democrat in the Legislature since 2000 who has received a campaign donation from the National Rifle Association, emphasized that guns are tools to farmers across the state and that lawmakers from cities need to remember that.
"Maybe this looks like a fig leaf to some of you, but for schools that need (the money) it's a start," Vinehout said. "We have to recognize there is a whole world outside of the big cities and that world is also called Wisconsin."
Senate Majority Leader Scott Fitzgerald, R-Juneau, was the only Republican who spoke in favor of the bill, highlighting that it puts $100 million into both public and private schools throughout Wisconsin to improve their physical security.
"I can't believe there would be anybody in this body who would vote against this bill at the end of the day," Fitzgerald said just before the vote was taken at about 10 p.m.
The vote came as the Assembly announced it planned to take votes Thursday in an "extraordinary" session that would allow several key measures to advance to Gov. Scott Walker's desk for signature into law. The exact agenda remained unclear Tuesday.
Walker offered his proposal last week aimed at securing schools in the wake of recent school shootings. It would give $100 million in state grants to school districts and establish a new Office of School Safety under the state Department of Justice.
You have free articles remaining.
The bill the Senate voted on Tuesday is similar to Walker's proposal, but with what Fitzgerald called a few "tweaks." The Senate school safety plan omits several provisions sought by Walker and Assembly Republicans:
Their call for legislation to allow schools to share surveillance video footage with law enforcement if it "serves a legitimate safety interest." Fitzgerald said schools already are doing that and it's unclear why a change to state law is needed.
A 48-hour notice requirement deadline for schools to notify parents or guardians of students that the child was involved in a bullying incident. The 48-hour requirement would apply after the incident was reported to a school district employee.
The stipulation that schools may use the safety grants to "employ armed school safety officers." Walker's proposal didn't include arming teachers.
Democratic lawmakers, meanwhile, have derided the proposals for ignoring gun-control measures such as requiring universal background checks for all types of gun purchases.
Much of the debate Tuesday revolved around three Democratic amendments dealing with gun control, two of which were ruled not relevant to the bill by Senate President Roger Roth, R-Appleton.
Those amendments would have provided categorical aid to school districts instead of grants, which will phase out over three years; ban the sale of bump stocks; put in place universal background checks; increase school mental health grants; and prevent those convicted of domestic violence from possessing a gun.
A third amendment would have reinstated a 48-hour waiting period for gun purchases that Republicans eliminated. Vinehout joined all 18 Republicans in voting against adding that provision to the bill.
Sen. Jon Erpenbach, D-Middleton, objected to the amendments being deemed not relevant, saying the school shootings that prompted the legislation were not mass stabbings.
"This is a step, but if you really want to protect school kids and protect your constituents as well as respect the Second Amendment, we should be talking about bump stocks, we should be talking about bullets, we should be talking about background checks," Erpenbach said. "If you think the walkouts (last week in Wisconsin and this weekend in Washington, D.C. are) about school safety, I don't know if you can be any more tone deaf. This is a revolution that's coming."
Earlier in the day Fitzgerald emphasized that the proposal has bipartisan support.
"You can move into that other area which is gun control and suddenly you see that it's very hard to build consensus," Fitzgerald said. "We're all overwhelmed by kind of what's been going on nationwide, and we're searching for answers."
"If you think the walkouts … (are) about school safety, I don't know if you can be any more tone deaf. This is a revolution that's coming." State Sen. Jon Erpenbach, D-Middleton