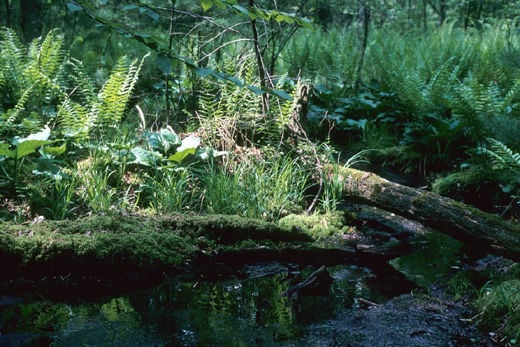 Wisconsin Republicans employed unusual stealth to revive a controversial bill aimed at allowing an out-of-state mining company to destroy a swath of rare hardwood wetland.
The legislation shielding Meteor Timber of Atlanta from wetland regulations may have a better chance of reaching Gov. Scott Walker's desk than it did last time.
In February, the Assembly passed a bill to prevent tougher restrictions from being added to Meteor's controversial state wetland permit, but the state Senate declined to consider it, with one senator complaining that it would "obliterate" the existing permit appeal process.
But on Thursday, the Assembly gave it another try, attaching nearly identical legislation to an unrelated jobs bill that a senior member of the state Senate wants to see passed. The Senate leader has said it could pass.
Conservation groups and Democrats are blasting Republicans for quietly slipping the latest Meteor legislation onto the state Assembly agenda scant minutes before votes were called.
"With last-minute, deliberately shady attempts for giveaways like that, they are opening the door to any kind of special interest that doesn't like what's in its environmental permit to go to the Legislature and get an exemption," said Amber Meyer Smith, a lobbyist for Clean Wisconsin.
Assembly Minority Leader Gordon Hintz said the Assembly vote was a new low for Republicans who have controlled state government since 2011.
"It's become pretty commonplace that if you give enough money to Republicans, you'll get what you want," said Hintz, D-Oshkosh.
"Meteor Timber is seeking special treatment under the law and to deprive the citizens of Wisconsin, including the Ho-Chunk Nation, of their due process rights," said Carolyn Garnett, attorney for the tribe's Legislature.
Last month a state administrative law judge heard five days of testimony on the tribe's appeal. The DNR permit would allow Meteor to fill and build on 16 acres of wetlands — enough to cover 21 football fields — in Monroe County. A decision is pending.
About 13 acres of the land are white pine-red maple swamp. The unusual growth of hardwood trees in marshland is home to rare and imperiled species. Such swamps are hard to find, and practically impossible to replace, according to state and federal officials.
Meteor wants to build a $70 million facility to process industrial sand and ship it to Texas. Company spokesman Nathan Conrad has maintained that opponents of the project are being unreasonable. Conrad, who has worked for a Walker re-election campaign and for the state Republican Party, has been urging lawmakers to help the company.
The Meteor amendment's lead sponsor, Rep. Ron Tusler, R-Harrison, didn't respond to requests for comment. Neither did Assembly Speaker Robin Vos, R-Rochester, or Majority Leader Jim Steineke, R-Kaukauna.
On Thursday in the waning moments of the Assembly's six-hour floor session, a Steineke staff member submitted Tusler's amendment, said chief clerk Patrick Fuller.
"There was not a lot of time from (the) amendment being out on InSession (the Legislature's internal internet system) and the Assembly taking action on the amendment," Fuller said. While minority Democrats often submit last-minute amendments that Republicans routinely reject, Fuller conceded that he couldn't recall another time when the majority unveiled legislation so close to the vote.
The Meteor provision was added to a bill authored by state Sen. Alberta Darling, R-River Hills, to help ex-convicts get jobs if they aren't a threat to public safety.
Darling, an influential senator who co-chairs the Legislature's budget committee, sees the jobs bill as important and wants it to be enacted, but she hasn't said if she will support it with the Meteor provisions attached, said her spokesman, Bob Delaporte.
"It's going to be something we have to talk about with the caucus (of GOP senators)," Delaporte said.
Before the Assembly vote on Thursday, Delaporte said, he had heard that an amendment had been written to help Meteor, but he wasn't aware until later that it would be attached to Darling's bill.
In February, Tusler submitted his first Meteor amendment as a last-minute addition to a bill he authored to change where artificial wetlands should be located when they are mandated to replace natural wetlands destroyed by developers.
However, on Friday after the second version passed the Assembly, Senate Majority Leader Scott Fitzgerald said senators might vote on it. Cowles and Fitzgerald didn't return requests for comment Tuesday.