The public will have a chance to weigh in Thursday on plans to build one of the largest solar farms in the nation, in Iowa County.
Wisconsin utility regulators will hold two public hearings in Dodgeville on the proposed 300-megawatt solar farm known as Badger Hollow. Written comments on the project can be submitted through Wednesday.
The Wisconsin Public Service Commission is considering whether to allow Chicago-based developer Invenergy to construct the $360 million project, which would be more than 100 times larger than any solar farm now in Wisconsin, occupying a space about twice the size of the UW Arboretum.
Madison Gas & Electric and Wisconsin Public Service Corp. are also seeking permission from regulators to buy half of the project, along with another 150-megawatt solar farm proposed for northeast Wisconsin, for a combined $390 million.
The utilities say the cheap electricity will help them fight climate change while saving customers a combined $180 million compared to investing in fossil fuel generation.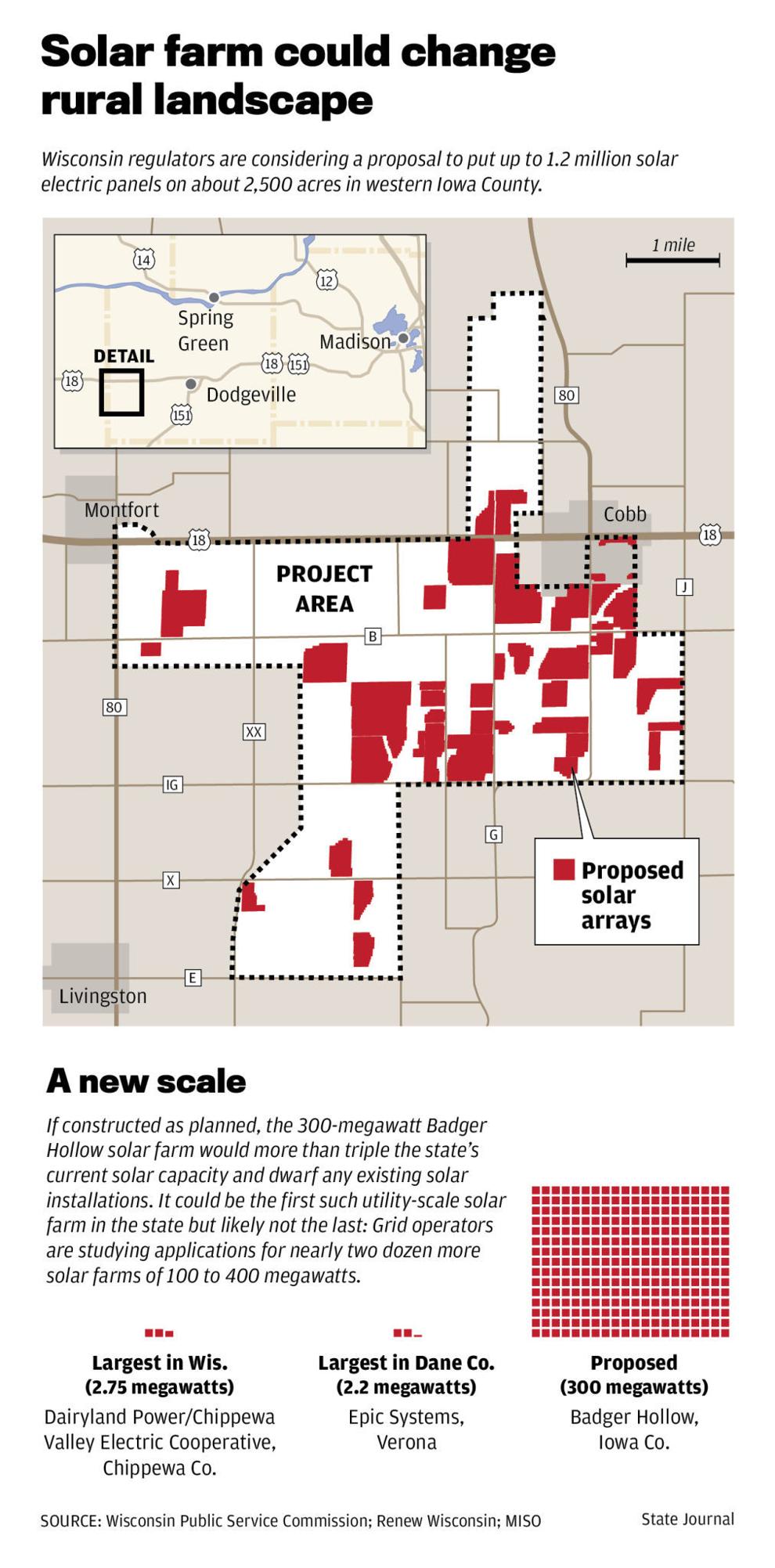 Consumer advocates have also raised concerns about the two-step permitting process, which is less rigorous than if the utilities proposed building the farms themselves.
Proponents say it represents an investment in the community that will benefit landowners as well as local governments. The county and host towns would receive an estimated $1.2 million a year in payments.
In a state that still relies on coal for more than half its power, Badger Hollow could displace up to 629,000 tons of carbon dioxide and more than 1,000 tons of sulfur dioxide emissions per year.
That helped earn an endorsement from a coalition of health groups, including the American Lung Association.
"We support the Badger Hollow Solar Farm as an essential step forward on the path to lower energy costs and a clean energy future, which we believe will result in a healthier and stronger Wisconsin," the groups wrote this week in a letter to regulators.
The three-member PSC has until August to decide whether to allow the project to go forward. Commissioners are scheduled to hear oral arguments on March 6 from utilities seeking to purchase part of the solar farm and other interested parties.
[Editor's note: This story has been updated to reflect a correction. The original version incorrectly characterized the March 6 hearing on the project. The PSC will hear oral arguments from utilities and other interested parties in a case to determine whether Madison Gas & Electric and Wisconsin Public Service Corp. should be allowed to purchase 300 megawatts of solar panels. The project developer is not a participant in that case.]