Four of Wisconsin's largest for-profit utilities will refund more than $25 million to ratepayers this fall as a result of lower-than-expected energy prices in 2018.
Lower natural gas prices, the addition of renewable generation, and a stronger wholesale electricity market were among the reasons cited for the savings.
Madison Gas & Electric customers should see the largest of the refunds, which should range from about $3 to $20 for most households, based on the rates approved Thursday by the Public Service Commission.
The PSC sets electricity rates one to two years in advance based on fixed expenses — such as power plants and wires — as well as the estimated cost of fuel.
State law says if the projections are more than 2% more than the actual costs, utilities must refund the difference, with interest. And in the event actual costs exceed the estimates by more than 2%, utilities can pass those costs on to ratepayers.
Madison Gas & Electric collected about $9.5 million more than its actual costs and will issue refunds of about 3.8 cents per kilowatt-hour of electricity in October.
That works out to about $19 for MGE's average residential customer.
MGE spokesman Steve Schultz said the savings resulted from lower gas prices and the utility's acquisition of a portion of the Forward Energy wind farm.
Alliant over-collected about $4.9 million, which will result in refunds of about half a cent per kilowatt hour for some 471,499 customers.
But the Madison-based utility anticipates greater fuel savings in 2020, when a $700 million natural gas plant in Beloit and a $225 million wind farm in Iowa are expected to come online, reducing annual fuel costs by an estimated $24.7 million.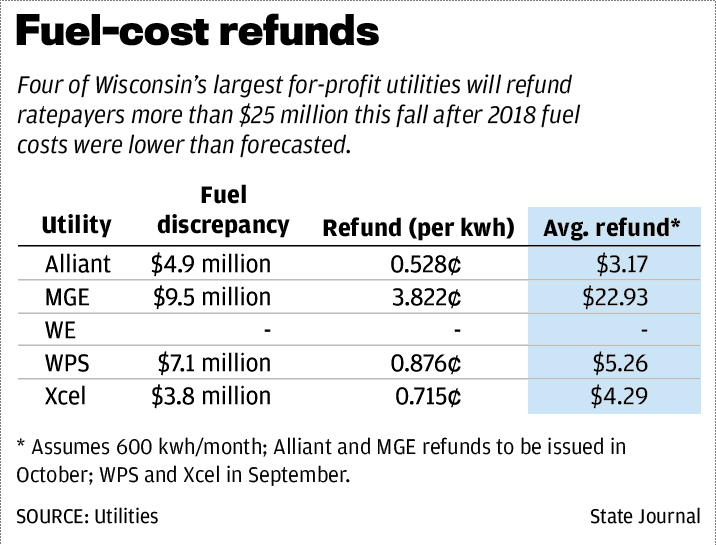 Alliant spokeswoman Annemarie Newman said if the plan is approved, the average residential customer could see refunds totaling about $20 next year, while small businesses could save up to $90.
"Our strategy of retiring older coal plants and investing in new natural gas and wind power is bearing fruit," Newman said.
WPS and Xcel reported over-collections of $7.1 million and $3.7 million and will issue refunds of about 0.9 cents and 0.7 cents per kilowatt-hour.
We Energies, the state's largest utility, reported fuel costs were within the 2% margin.
This marks the second straight year most ratepayers have received refunds.
Last year, the commission ordered for-profit utilities to return about $129 million in savings that resulted from a federal law that lowered corporate tax rates.
MGE over-collected about $4.2 million in 2017, which was also refunded last year. Alliant's costs were about $5.4 million over budget in that year, resulting in customer surcharges.
"The relief continues," said Tom Content, executive director of the Citizens Utility Board. "Rates came down for the first time in more than a decade, and now we're seeing more savings."
[Editor's note: This story has been updated to clarify that four of the state's largest utilities are offering the refunds. The state's largest utility, We Energies, reported fuel costs were within the 2% margin.]