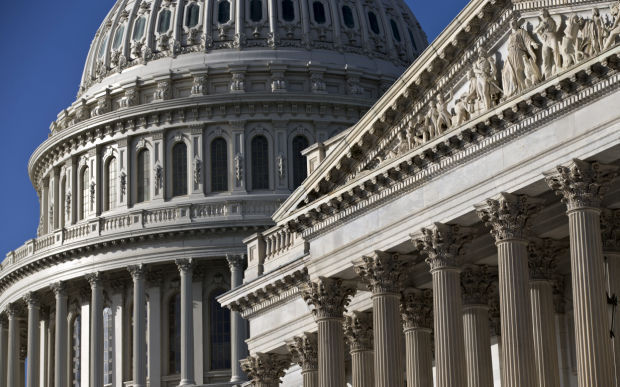 The share of federal dollars Wisconsin uses to balance its budget has declined in recent years and once again ranks among the lowest in the nation, driven in part by Republican opposition to Medicaid expansion.
According to new research from The Pew Charitable Trusts, 26.3% of the state's budget came from federal dollars, ranking Wisconsin 45th among states in its ability to harness dollars from Uncle Sam.
In 2007, just before the Great Recession, about 24.7% of the state budget came from the federal government, ranking 38th among the states. In the aftermath of the Great Recession, that number swelled to 33.2% in 2010, ranking 33rd.
The percentage gradually declined to 26.3% in 2016 and 2017, ranking 45th in both years, the most recent for which Pew compiled state-by-state comparisons.
Jon Peacock, director of the liberal Wisconsin Budget Project, said Wisconsin's decision not to expand Medicaid led to the state losing out on increased federal revenue.
Between 2013 — the year before Medicaid expansion was allowed — and 2017, states on average experienced a 2 percentage point increase in their share of federal revenue. Over that same time period, Wisconsin's share decreased by 1.4 percentage points.
"There are 14 non-expansion states," Peacock said. "The choice they've made is really holding the states back in comparison to the rest of the nation."
Peacock said Minnesota, with its lower poverty rate and higher household income, should receive a far lower share than Wisconsin in terms of federal dollars received, but doesn't. Between 2013 and 2017, Minnesota's percentage of its state revenue coming from federal funds increased 2.3 percentage points, to 26%.
The percentages account for the total amount of federal revenue to the state, most in the form of federal grants, divided by the total amount of state revenue. Federal revenue goes toward services such as health care, education, transportation and infrastructure.
In 2017, the states receiving the highest percentage of their revenue from the federal government were concentrated in the South and West, with Montana, Wyoming, Louisiana, Mississippi and Arizona taking the cake.
Montana received about 46% of its budget from federal funds, with the other top states receiving north of 43%.
Wisconsin has consistently ranked in the bottom half of states with regard to the share of federal dollars it receives, due in part to its middle ranking in household income compared to other states. The amount of federal spending in a given state depends on several factors, including demography, industry mix and presence of major universities.
Some opposed
Not everyone agrees it's better to have the federal government picking up a greater share of the state's tab.
"It may seem counterintuitive, but the lower the amount of federal money in the state budget, the better it is for the people of this state," said Michael Jahr, senior vice president at the conservative Badger Institute.
Jahr said federal grants and other funding sources typically require extensive time and resources for the state to comply, expanding the bureaucracy and stifling innovation. He also argued that taking federal grant money often leads states to pursue projects they otherwise would not, creating new levels of bureaucracy and driving up costs.
Additionally, Jahr said the restrictions associated with federal grants can prevent state governments from adequately responding to their constituents.
"What people perceive as free money really comes at a very high cost," Jahr said.
Jahr pointed to the Oostburg School District in Sheboygan County spending $60,000 to install a rarely used elevator to avoid losing out on federal funding. Full, ongoing federal funding for special education programs occurs only if local and state funding remains constant or increases from year to year, he said.
Jahr also said millions of dollars are spent annually by the Department of Public Instruction to comply with federal grant requirements.
Medicaid tussle
Republicans relied on similar arguments to reject expanding Wisconsin's Medicaid program over the past several years. They've said expanding the program, which provides health care coverage to low-income individuals and others, would lead to increased reliance on a federal program whose long-term existence is not guaranteed.
Democrats flatly rejected that thinking, arguing Medicaid expansion would allow for an additional 80,000 people to be covered by Medicaid while freeing up additional state money to spend elsewhere
"Wisconsinites voted for a governor who wanted to fix our health care system, and part of that was taking the Medicaid money, which would have brought hundreds of millions of federal dollars, which would have made health care more accessible for us," said Analiese Eicher, executive director of the liberal advocacy group One Wisconsin Now.
"This current (group) of Republicans has a pattern of behavior of making bad financial and fiscal decisions for political reasons, and the Medicaid money is the latest, most egregious example of their reckless partisanship."
[Editor's note: This story has been corrected to note the research was conducted by The Pew Charitable Trusts.]