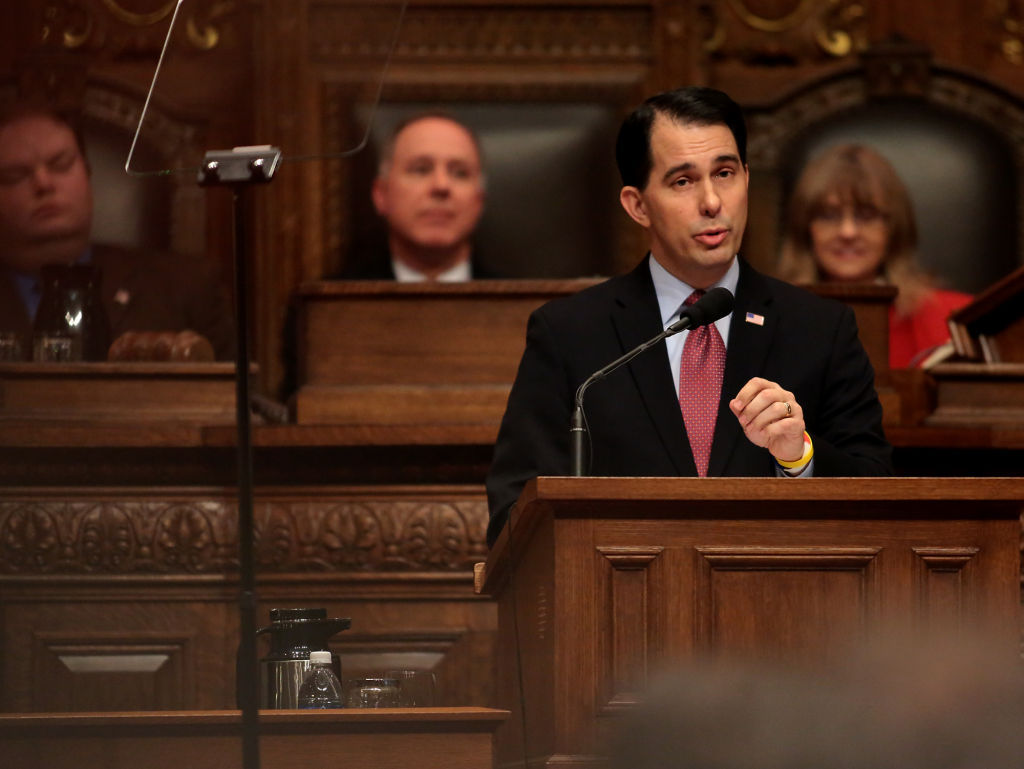 The head of the board that oversees Wisconsin Public Radio and Wisconsin Public Television says he has "a lot of work" ahead of him as he fights a $5 million state funding cut that Gov. Scott Walker proposed Tuesday when he unveiled his two-year budget plan.
Walker's proposed cuts would effectively end state funding of public radio and public television in Wisconsin.
"It was unexpected, and it means we have a lot of work ahead of us," said Gene Purcell, executive director for the Educational Communications Board. "We need to get a sense of what the Legislature thinks about it."
He said he will work to explain to state lawmakers that the proposed cuts would be "quite substantial and quite serious," and should be removed before the plan heads back to Walker's desk for his signature.
Purcell said it's too early to say whether the proposed cuts that would take effect July 1 would lead to job losses or program changes.
Walker administration officials didn't respond to requests for comment Wednesday. But Walker spokeswoman Laurel Patrick said Tuesday night that the budget would continue state funding for Amber Alert and the communications board's other emergency functions. And she said the administration estimates the board will be able to make up the difference in program revenue through grants, gifts and private donations.
But Purcell said the board already devotes a substantial amount of time to raising money.
"We do a very good job of fundraising," Purcell said.
This isn't the first time Walker has proposed cuts to WPT and WPR. In 2011, the board faced cuts of about $600,000 a year. Purcell said the board dropped six full-time equivalent positions, from 62 to 56, in that 2011-13 budget.
Democrats slammed the proposal as an effort to silence public broadcasting, which has for years been in the crosshairs of the so-called "culture wars." It was about two decades ago that Newt Gingrich tried to end federal government funding for public broadcasting over Republican concerns about perceived bias in programming.
And public broadcasting entered the 2012 presidential race between President Barack Obama and GOP challenger Mitt Romney, after Romney pledged to cut government funding for public broadcasting.
"He'll get rid of regulations on Wall Street but he's going to crack down on Sesame Street," Obama told a massive crowd gathered on Bascom Hill in Madison in October 2012. "Thank goodness somebody is finally cracking down on Big Bird. ... Elmo has got to watch out."
Walker did not mention his proposed public broadcasting cuts in his Tuesday night budget address, but the 34 percent funding reduction for the board was included in budget documents. The cuts would amount to about $2.5 million for each year of the 2015-17 budget period.
U.S. Rep. Mark Pocan, D-Madison, called the latest proposed cuts an attempt to silence public broadcasting.
"Apparently nothing Wisconsinites hold dear is safe from Governor Walker's red pen," Pocan wrote in an email. "I'm disappointed Gov. Walker is using the guise of saving taxpayer dollars to silence Wisconsin Public Radio and Wisconsin Public Television."
Assembly Speaker Robin Vos, R-Rochester, in an interview on Wisconsin Public Radio on Wednesday evening said "the cut will probably happen — I can't see how it won't," but he expects donations will increase to support current programming levels.
"I know listeners will make up for it and there won't be any change in the service," Vos said.
State Journal reporter Matthew DeFour contributed to this report.