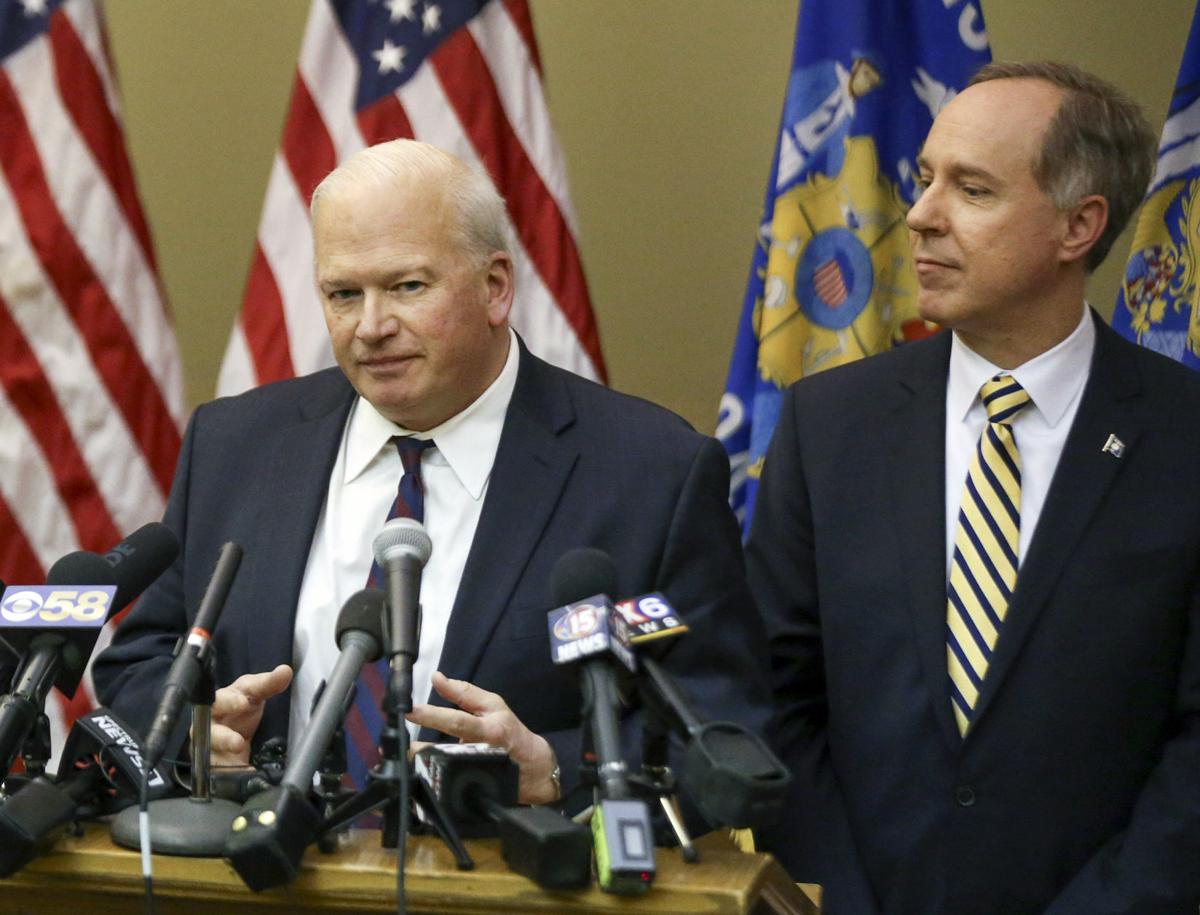 The Wisconsin Legislature will pass a COVID-19 coronavirus pandemic response bill with bipartisan support this week in first-of-its-kind virtual sessions that many lawmakers will attend remotely, Republican leaders said Monday.
Democratic Gov. Tony Evers said he hasn't reviewed the final version of the bill, which is intended to complement more than $2 billion in federal aid coming to the state, but that he's optimistic that bipartisan agreement could be reached.
"Hopefully, this will not be a one-shot answer to the crisis here in Wisconsin but an opportunity to establish a dialogue," Evers said on a conference call with reporters. Evers said he was particularly interested in getting aid to struggling Wisconsin farmers and businesses.
Evers had objected to an earlier version that would have given the Legislature's GOP-controlled budget committee the power to make any cuts in spending it wanted. That provision was removed from the latest plan.
The budget committee would be allowed to allocate up to $75 million in emergency funding during the public health emergency and up to 90 days after it's over.
The Assembly was expected to vote on the bill Tuesday, followed by the Senate on Wednesday. Some lawmakers will be physically present in Madison, while the others will attend via video- and teleconference for the first time in the Wisconsin Legislature's 172-year history. About half of the Assembly's 99 members will be in the chamber in the state Capitol, while the rest will dial in remotely, Majority Leader Jim Steineke, R-Kaukauna, tweeted.
"We crafted this bill taking into consideration the governor's proposals, reacting to legislation passed by Congress, and receiving input from both parties in the Legislature," Senate Majority Leader Scott Fitzgerald, R-Juneau, said in a statement. "There is no such thing as a perfect piece of legislation, but action is desperately needed right now."
Democratic legislative leaders did not immediately return messages seeking comment.
Assembly Speaker Robin Vos, R-Rochester, and Steineke said the bill would give Evers the flexibility he needs to respond to the pandemic.
"We applaud the bipartisan work that went into the creation of this important bill," Vos and Steineke said.
Much of what the Legislature intends to do is clear the path for spending more than $2 billion coming to Wisconsin as part of the federal stimulus bill. Key provisions would clear the way for Wisconsin to receive more money for Medicaid, unemployment benefits and more.
The bill would suspend the one-week waiting period for people to receive unemployment benefits. It would be waived for anyone who applied between March 12 and Feb. 7, 2021. That was a provision Evers pushed to include, given that Wisconsin's unemployment rate was projected to reach record-high levels due to the widespread closures caused by the pandemic.
Prohibits certain insurers from prohibiting coverage based on a COVID-19 diagnosis;
Attempts to ease the licensing and credentialing process for health care workers, including allowing former providers and those from outside Wisconsin to get temporary credentials;
Reduces nurse training hour requirements;
Makes health care providers immune from civil liability from services provided during the pandemic.
The bill would also require the state's chief economic development agency to create a plan by June 30 to support the major industries adversely affected by the pandemic, including tourism, manufacturing, agriculture, construction, retail, and services.
Medicaid rules
The bill includes a provision that makes the state eligible for an additional $150 million in federal Medicaid funding for each quarter for the duration of the pandemic.
Wisconsin was initially set to miss out on the 6.2% increase in federal Medicaid funding because the state was not compliant with conditions laid out in a COVID-19-related relief bill passed by Congress last month. The bill states, among other things, that premiums for Medicaid members could not have increased after Jan. 1 in order for states to be eligible for the funding.
Wisconsin made a series of changes to its Medicaid program for childless adults on Feb. 1, such as adding premiums and co-payments, making it ineligible for the increased funding. The GOP legislation would allow the Wisconsin Department of Health Services to suspend compliance with those Feb. 1 changes for the duration of the pandemic, making the state eligible for the additional funds.
Jim Jones, the state's Medicaid director, said in an interview the increased funding will be focused on two areas: covering increased costs as Medicaid members require more intense care at hospitals and covering costs associated with an expected increase in demand for services.
Jones said there has not been an increase in Medicaid applications so far. However, he said the state has seen "a large increase in the number of people" who are applying to FoodShare Wisconsin, the state's program that provides food benefits to low-income households. Jones said this is an indicator that health care applications will likely increase in coming months.
"We're going to start seeing a lot more people who are going to need health coverage through the Medicaid program," Jones said.
Medill News Service reporter Jack Kelly contributed to this report.
Concerned about COVID-19?
Sign up now to get the most recent coronavirus headlines and other important local and national news sent to your email inbox daily.