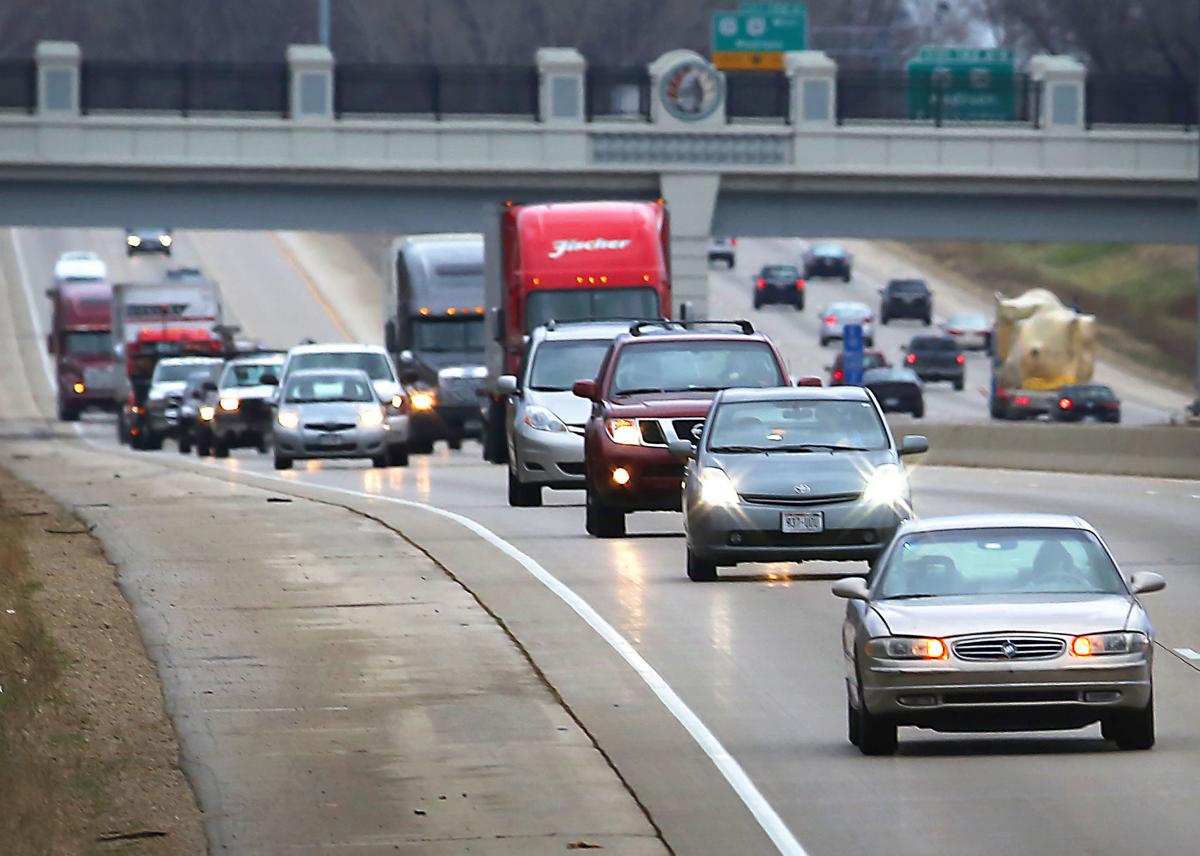 On the heels of Minnesota passing a law forcing drivers to put down their cell phones, Wisconsin could join the growing number of states going "hands free."
Rep. John Spiros, R-Marshfield, said he's drafting legislation that would expand the state's hands-free law — which currently only applies to work zones — to include all roadways. He said the bill could be finalized this month.
If passed, the law would be a considerable tightening from the state's current ban on texting while driving. Legislation would only allow a driver to touch their phone once for hands-free use. Holding the phone to talk, text, send emails or for any other use would be prohibited.
"Really what it comes back to is you should be attentive all the time," Spiros said.
State law has prohibited texting while driving since 2010. As a primary offense, officers can stop someone if they suspect them of texting, messaging or emailing while behind the wheel. An inattentive driving citation can cost a driver about $188.
In 2016, state law expanded to prohibit the use of any handheld mobile device within a road work zone. Citations are doubled for work zone violations.
All told, there were close to 8,500 inattentive driving convictions last year, down from about 9,000 in 2017, according to Wisconsin Department of Transportation data.
Eighty-seven of last year's 426 roadway fatalities in Wisconsin listed inattentive driving as a possible circumstance.
Nationwide, 3,166 people died in 2017 as a result of distracted driving, according to National Highway Traffic Safety Administration's most recent data.
"It's one thing to throw numbers and percentages around," said Michael Schwendau, program and policy chief with the Bureau of Transportation Safety. "But every one of these is a person and we keep throwing around numbers. … Each one of those fatalities is a family's tragic story. They grieve that loss of a loved one."
As of 2017, 15 states and DC had statewide hands-free laws, according to NHTSA data compiled by the Georgia House of Representatives Study Committee on Distracted Driving.
Twelve of those states saw a decrease in fatalities within two years after the passage of hands-free legislation. Six of those states saw a more than 20% decrease in fatalities. New Hampshire and Oregon did not have sufficient data.
However, the National Safety Council, which reports that nine people are killed and 1,000 injured every day as a result of a distracted driver, notes that both handheld and hands-free cell phone use can be distracting while driving.
A 2015 AAA Foundation for Traffic Safety report notes that hands-free phone use is "very cognitively demanding."
"This high level of workload should serve as a caution that these 'hands-free' voice-based interactions can be very mentally demanding and ought not to be used indiscriminately while operating a motor vehicle," according to the report.
Spiros acknowledged the bill won't eliminate distracted driving, but said it's a step in the right direction.
Distractions come in all forms, he said. Reaching for a bag of pretzels, turning around for a noisy child in the backseat or simply having a conversation — whether during a hands-free call or with a passenger — all can distract a driver.
"What we want is people to be concentrating on what's going on in front of them. Now, is this a catch-all? Does this take care of it? It doesn't take care of everything," Spiros said.
A new bill
Spiros is no stranger to hands-free regulation.
About a decade ago, the then-Marshfield City Council member helped pass an ordinance to ban any use of a device while driving that wasn't hands-free.
Last year, he and former Rep. Peter Barca, D-Kenosha, who is now Secretary of the Department of Revenue, drafted similar hands-free legislation. Offered up later in the session, the bill failed to gain much traction, Spiros said.
Now he's drafting a bill with Sen. Van Wanggaard, R-Racine.
Spiros said penalties still are being considered, but the rule likely would include escalating fines for subsequent violations.
"The importance is making sure that there's a deterrent there," Spiros said. "We want to prohibit and change behaviors."
Schwendau said he couldn't weigh in on the specific bill, but said enforcing hands-free laws can be challenging. It often takes an increased presence by law enforcement and sometimes two officers — one to spot and one to pull over — to effectively catch offenders. All that adds to labor expenses, he said.
"It can be challenging, but it can be done. But it's done at a cost," he said, adding that educating motorists on the new rules and dangers of distracted driving also will be a key component.
Currently, the Wisconsin bill doesn't include any additional funding allocations for enforcement, a spokeswoman for Spiros said.
Working with Spiros on the bill is Tom Goeltz, who advocated for close to three years on Minnesota's hands-free bill. Goeltz, a 30-year safety consultant and resident of Hudson, hopes to be a catalyst in the push for a hands-free law in Wisconsin.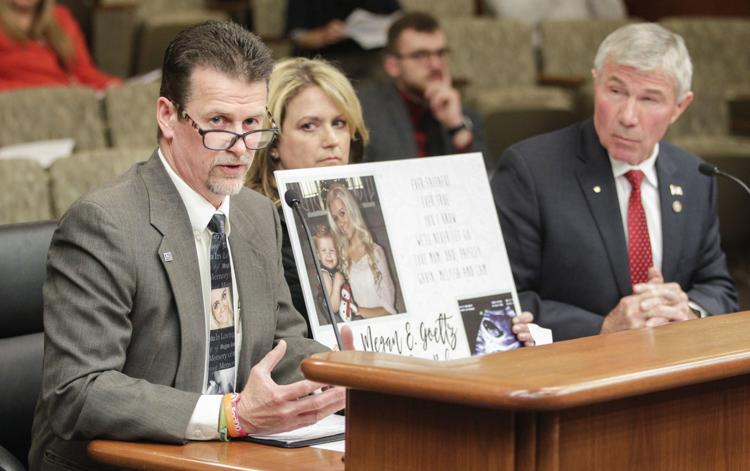 Three years ago in February, Goeltz's 22-year-old daughter Megan, pregnant with her son, was killed when a vehicle struck her car near Stillwater, Minnesota. The driver was believed to have been distracted by his phone.
"I'm trying to advocate for Megan and her baby, who can't speak anymore, and for all the other victims' families and victims out there that have been impacted by distracted driving," Goeltz, 53, said. "We need to get this done because it's going to save some lives here in Wisconsin. We'll never know who they are, but we'll see it in the statistics at the end of the year."
In Minnesota, opponents of a hands-free law were split. Some said the bill didn't go far enough, as hands-free phone use still provides a distraction, while others argued the rule infringed on civil liberties.
Goeltz said the biggest roadblock he faced in Minnesota was getting the attention of lawmakers.
"With most legislators, distracted driving legislation is not on their priority list, it's not on the top ten, and that's where it needs to be," he said, adding that he gives a hands-free bill a 50-50 chance of passing this session.
If the bill fails, Goeltz said he'll be back next year with a list of any distracted driving fatalities that take place in the meantime.
"I'm going to keep track of every one," he said.
Other hands-free laws
In Hudson, the city council last month passed its own hands-free ordinance.
Police Chief Geoff Willems, who worked with the council in drafting the ordinance, acknowledged it's a difficult rule to enforce. Cell phones are a part of many peoples' daily lives, he said.
"It's become such a habitual problem that I think it really is time for the state to step in and say it's not acceptable anymore," Willems said. "These types of things — that get us closer to zero deaths in Wisconsin — should be a priority."
Willems said his hope is a local ordinance like Hudson's — as with new laws in neighboring states — will help send a message to Wisconsin lawmakers on the need for a hands-free law.
"If it's so dangerous that you don't want people on their phones in work zones, how is it any different if they're driving 70 mph on a freeway or through a school zone with kids around or any other time," Willems said.
Neighboring states also have been implementing hands-free rules.
In addition to Minnesota's hands-free law, which went into effect Aug. 1, Illinois has prohibited any use of a cell phone that isn't hands-free since 2014.
Illinois' law gained more teeth this summer as lawmakers shifted the offense to be defined as a moving violation, which appears on a driver's record. Three moving violations in a year can result in a suspended license.
Goeltz said he hopes new laws in neighboring states could help drive a hands-free push here.
"It seems to have some momentum now," he said.
Get Government & Politics updates in your inbox!
Stay up-to-date on the latest in local and national government and political topics with our newsletter.