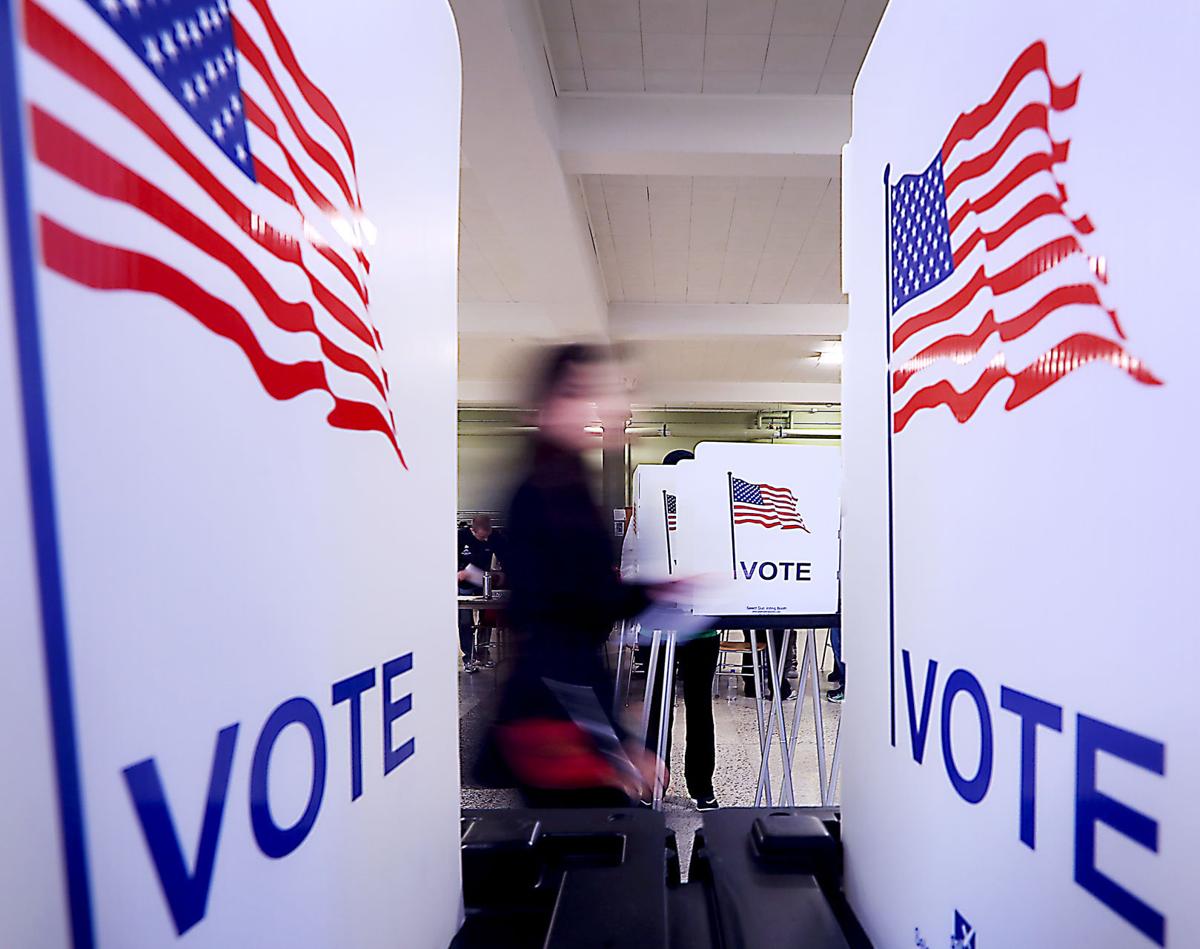 Wisconsin's voter turnout in the November presidential election ranked fifth in the nation, the state's worst showing in 20 years, and declined the second-most from 2012, according to a new report by Nonprofit VOTE and the U.S. Elections Project.
The report doesn't mention the potential effect of Wisconsin's voter ID requirement, but in an interview, report author George Pillsbury noted Wisconsin and Mississippi, which introduced a voter ID requirement in 2014, had the biggest decline in turnout since the previous presidential election, even as national turnout increased.
"I think that says something," Pillsbury said. "When you're among the two states with the biggest drop in voter turnout, there's something behind that."
Another reason for Wisconsin's reduced turnout was distaste for both presidential candidates, particularly among Milwaukee's African-American voters, Pillsbury said. Republican Donald Trump received about 2,700 fewer votes than 2012 GOP nominee Mitt Romney, while Democrat Hillary Clinton received almost 239,000 fewer votes than President Barack Obama, with much of the decline coming in Milwaukee.
UW-Madison political science professor Barry Burden noted that while Wisconsin turned out to be a close contest, it received less attention from the presidential candidates than in previous elections — Clinton didn't visit the state at all — which could be another factor.
"High turnout has been maintained by a combination of three factors: a strong culture of civic participation, supportive election laws and competitive elections," said Burden. "The participatory culture probably did not change substantially since the last election. The more likely culprits are changes in election laws and the competitiveness of the 2016 campaign."
The study focused on other factors that could be driving increased voter turnout, such as same-day voter registration, all voters receiving a mail-in ballot, nonpartisan redistricting and ranked-choice voting. Pillsbury said it didn't look at voter ID because there are conflicting studies on its impact on voting, something that could clear up over time, and also because Nonprofit VOTE tries to stick to less-partisan issues.
Wisconsin's 2011 voter ID law was put on hold until last year due to legal challenges. The U.S. Supreme Court declined to hear a challenge to the law, leaving an appellate court's ruling upholding the law in place. Republicans supported the law as a safeguard against voter fraud, while Democrats said it discouraged minorities, students and seniors from voting.
Lowest since 2000 election
Wisconsin's 70.5 percent turnout among eligible voters was the lowest since the 2000 election, when a 67.6 percent turnout ranked third in the nation. In each of the next three presidential elections the state ranked second nationally as turnout ranged from 74.8 percent in 2004 to 72.4 percent in 2008.
In 1996, the state's 58.4 percent turnout ranked 13th. Last year's turnout was still higher than presidential contests between 1980 and 1992, when participation ranked between third and fifth nationally.
While Wisconsin's participation dipped last year, the national turnout of 60.2 percent was up from 58 percent in 2012, though down from 61.6 percent in 2008. It was the third highest national turnout since the voting age was lowered to 18 in 1971, according to the report.
Minnesota, with 74.8 percent turnout, continued its streak of having the highest participation in the country dating back to 1992. Hawaii, with 43 percent turnout, ranked worst in the country for the fifth straight presidential election.
The report found the 14 states, including Wisconsin, and the District of Columbia that have same-day voter registration had turnout rates seven points higher than states that don't offer that option. Oregon, the first state to implement automatic voter registration when residents renew their driver's licenses, saw the biggest improvement in voter participation since 2012.
The report also found battleground states such as Wisconsin continued to have higher turnout than non-battleground states.
The states with the lowest turnout — Hawaii, West Virginia, Texas, Tennessee and Arkansas — weren't battleground states and ended voter registration three to four weeks before Election Day.
The report recommended ranked-choice voting, in which voters can express support for multiple candidates, as a way to improve voter turnout after Maine became the first state to implement the system. Its turnout improved the second-most from 68.2 percent in 2012 to 72.8 percent last year.
Turnout, as calculated by the U.S. Elections Project, measures the number of ballots divided by the voter-eligible population, a figure that excludes non-citizens and convicted felons in states that prohibit them from voting.