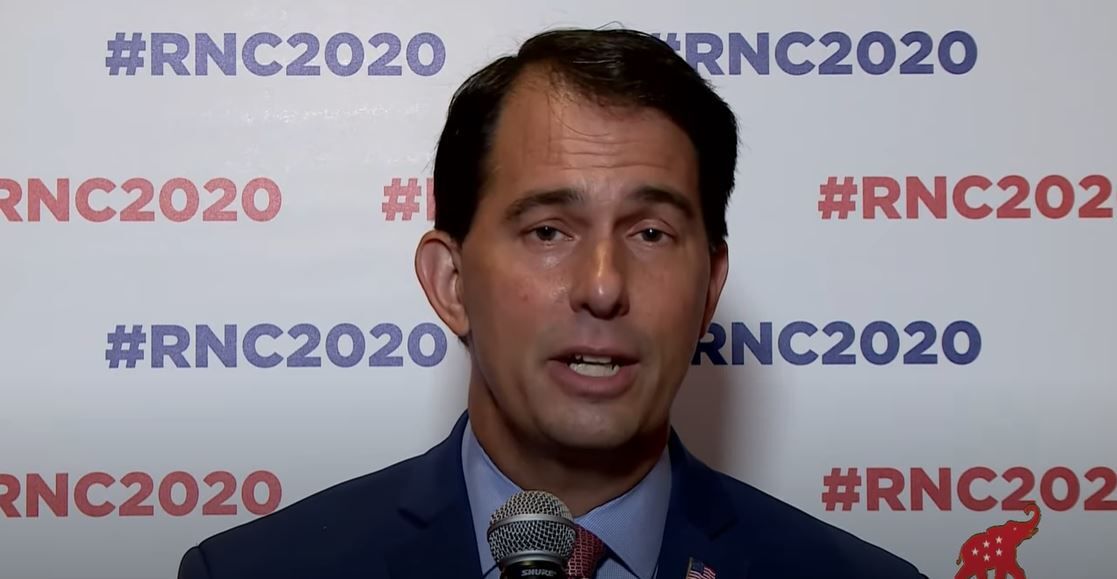 The few Wisconsin delegates who traveled to this week's Republican National Convention in North Carolina said the event — which was downsized due to the state's COVID-19-related restrictions — is successful so far.
Despite criticism from Republicans that last week's Democratic National Convention had shifted to a nearly entirely online event, this week's RNC has shifted to a similar format, with states only allowed to send six delegates each to the downsized event. The majority of delegates and GOP regulars are not expected to attend the event in person.
"It would have been great to have the entire Wisconsin delegation down here," Wisconsin delegate Tom Schreibel said Monday.
But while the format has shifted away from a more traditional convention, Schreibel said there was no shortage of GOP enthusiasm Monday in Charlotte. Both President Donald Trump and Vice President Mike Pence spoke at the event.
Schreibel, 57, said he sees that same energy back in Wisconsin.
"The fervor is there," he said. "The Trump supporters really see the true need and they're fired up to work hard these next few months. In all the years I've been in politics, I've never seen the base this fired up."
Schreibel, along with fellow RNC committee members Mary Buestrin and Charlotte Rassmussen, a member of the credentialing committee, and Andrew Hitt, the state's Republican Party chairman, were the only Wisconsin delegates to travel to the convention.
Buestrin could not be reached for comment, while Schreibel, Rassmussen and Hitt said they planned to return to Wisconsin on Monday evening.
Precautions taken
Rassmussen, who attended previous conventions in Cleveland and Tampa, said COVID-19 restrictions forced Republicans to hold an "abbreviated" event this year, with committee meetings taking place over the weekend.
"We really just did the business and we all knew how important it is and how historic it is because this is the first time this has ever happened," Rassmussen said on Monday. "Everybody was very energetic and very much with the president. … We see it in Wisconsin, we see it when we're on the ground over the last three months. People are very, very excited about the president's re-election."
Speaking from the convention in North Carolina, Hitt said participating delegates took multiple precautions due to the COVID-19 pandemic, including coronavirus tests at home before departing Wisconsin and again after arriving in Charlotte.
Attendees also have filled out daily symptom questionnaires and have contact-tracer chips on their personal credentials that record whenever a participant is within six feet of another person. Masks have been worn throughout the convention, Hitt added.
"A lot of precautions taking place down here," Hitt said on a call with delegates.
Wisconsin represents
As he delivered Wisconsin's delegate votes for Trump on Monday, Hitt touted Wisconsin's status as the birthplace of the Republican Party and the Dairyland's "world-famous cheese curds," and blamed the toppling of the Capitol grounds' "Forward" statue earlier this year on "Joe Biden's defund the police allies." Biden has said he opposes defunding police departments.
In response to the death of George Floyd, a Black man who died earlier this year in Minneapolis police custody, protesters in Madison knocked down the statues of "Forward," which has come to represent women's rights, and Hans Christian Heg, a Wisconsin abolitionist killed in a Civil War battle.
Hitt also criticized Biden's lack of a formal campaign stop in Wisconsin — something Republicans have often compared with 2016 Democratic nominee Hillary Clinton's decision not to campaign in the state.
President speaks
"Joe Biden was going to have their convention in Milwaukee and they didn't go. They didn't do it," Trump said. "We did this out of respect for your state. We didn't do this for any other reason than respect for the state of North Carolina. … I think you're going to remember that frankly on Nov. 3."
While Biden attended last week's DNC virtually from Delaware, Trump and Pence made campaign stops in Wisconsin.
"(Biden) hasn't even been to Wisconsin one time since the start of his campaign for president," former Gov. Scott Walker said as he introduced the vice president on Monday. "Mike Pence and Donald Trump will come back, not just to Wisconsin but to North Carolina and every other place across this country."
Concerned about COVID-19?
Sign up now to get the most recent coronavirus headlines and other important local and national news sent to your email inbox daily.