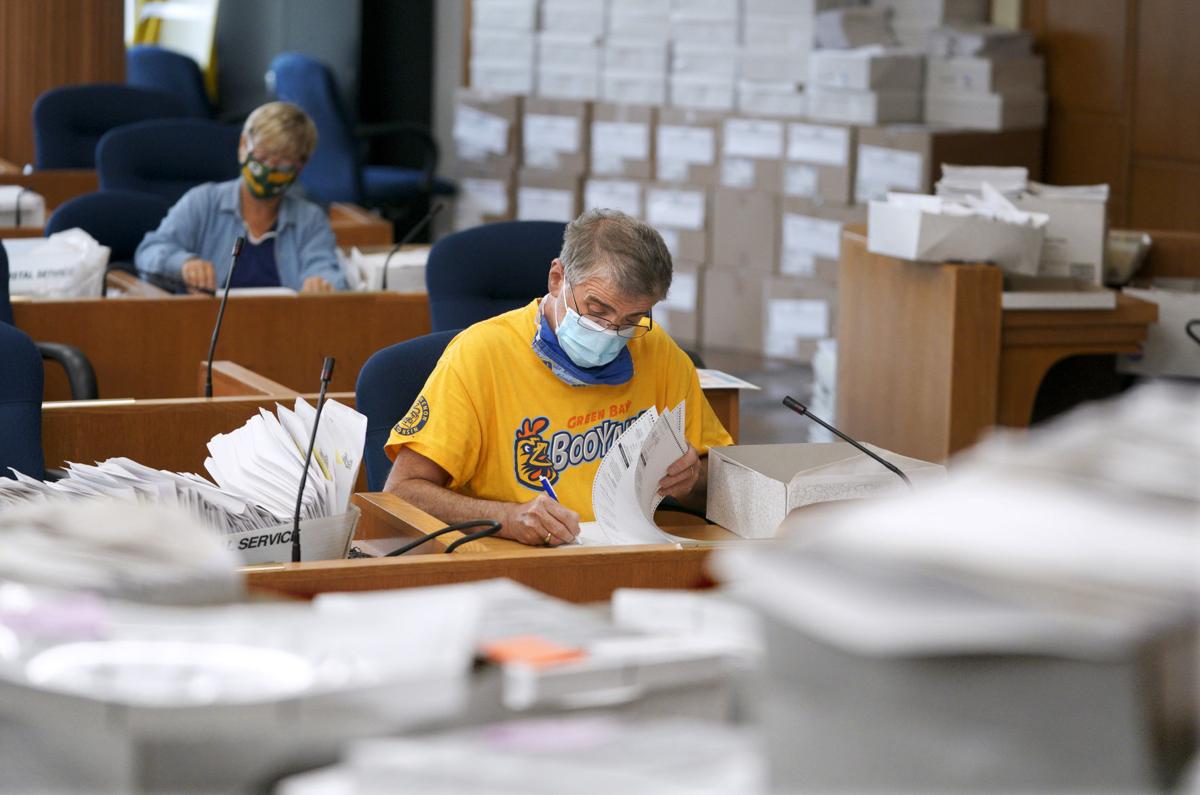 Despite predictions from President Donald Trump that it may take months to determine the results of the November presidential election, local clerks in charge of elections in Wisconsin say the delivery of unofficial results shouldn't look too different from any other presidential year.
Several municipal clerks from some of Wisconsin's largest cities say that despite the COVID-19 pandemic, which has significantly increased the share of Wisconsinites voting absentee by mail, they generally feel confident in their ability to compile unofficial election results either the night of Nov. 3 or the early morning hours after midnight, just like usual.
Still, the risk is still there of having a delayed election result in Wisconsin.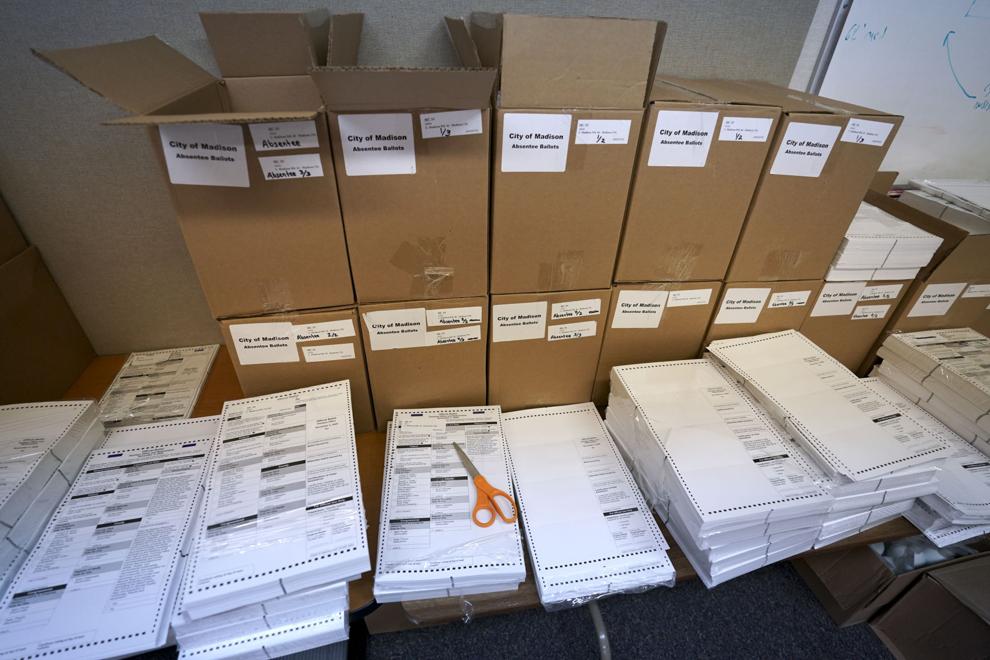 The state is one of a handful of key swing states this year, along with Michigan and Pennsylvania, that are expecting surges in the use of absentee ballots but are not allowed to begin processing mailed-in ballots until Election Day. Unlike Wisconsin, a number of states give their election officials advance time to do so.
Wisconsin's election laws could also be upended by a slate of lawsuits seeking to extend voting and registration deadlines because of the pandemic. The Wisconsin Supreme Court could order last-minute changes to laws being challenged that deal with the maintenance of Wisconsin's voter registration list, and exempting indefinitely confined voters from needing a witness to sign their absentee ballot.
Even if Wisconsin reports its election results on time, delays in other states could still mean the country won't know the outcome for days or weeks. For example, a judge ruled Friday that clerks in Michigan must accept late ballots so long as they are postmarked no later than Nov. 2 and received within 14 days of the election.
A judge may issue a similar ruling in Wisconsin. Whatever happens, elections officials are reminding voters that election-night results are never official, and it often takes up to a month to officially certify the results.
Clerks confident
Municipal clerks and other elections officials in the state's largest cities said they expect to have unofficial results compiled on Nov. 3 or by the early morning hours of Nov. 4.
Some clerks reported purchasing new, high-capacity voting machines to handle the expected influx of absentee ballots, and others are fine-tuning their absentee ballot counting process.
In Madison, a city that sent out about 80,000 absentee ballots this past week and will likely end up sending far more before Election Day, City Clerk Maribeth Witzel-Behl said she expects unofficial results to be compiled by a reasonable time.
"What we're doing is staffing each polling place to try to make it possible that they'll be able to process all the absentees during Election Day and not have a late night," Witzel-Behl said.
Witzel-Behl said the city uses Massachusetts Institute of Technology software to help predict how many poll workers are needed. The city plans to have poll workers call in at 11 a.m. on Nov. 3 to report the percentage of absentee ballots it has processed, a method the city employed in August.
That way, the city can send additional help to process absentee ballots at locations that are the furthest behind. Witzel-Behl said the city already has 3,000 poll workers able to work, the number it typically deploys for a presidential election, although the city invites more to apply.
'Very realistic'
In Milwaukee, which dealt with long voter lines and struggled this week to send out all its requested absentee ballots on time, election officials want people to temper their expectations for speedy results on election night.
"We are being very realistic and hoping to really set expectations for voters that you should not be expecting to have results when you go to sleep, (but) that by the time you wake up you should have results," said Claire Woodall-Vogg, executive director of the Milwaukee Election Commission.
Milwaukee is keeping its absentee ballot drop boxes open until 8 p.m. on Election Day, making for the possibility of an influx of last-minute ballots being dropped off, something the city is discouraging. The city expects 60% to 70% of voters to cast their ballot absentee.
While the city witnessed long voter lines in the spring election after limiting the city's polling places to just five, the city expects at least 172 of its normal 180 polling locations to be up and running on Nov. 3.
Woodall-Vogg said last-minute absentee drop-offs may be the difference between a relatively early result from the city and not finding out until the next morning. She said if between 2% and 5% of voters return their absentee ballots on Election Day, she'd expect a faster result, but if that figure swells to between 10% and 20% or more, it won't be until the wee hours of the morning that Wisconsin will have unofficial results from its largest municipality.
Woodall-Vogg said people shouldn't be surprised if media report 100% of precincts reporting on election night, only to see the results from 100,000 to 150,000 absentee ballots reported hours later.
Those late-night ballots could be game-changing. In 2016, Trump won the presidential election in Wisconsin by fewer than 23,000 votes.
The city is planning to use three times the number of tabulators that it did in April, and plans to have hundreds more poll workers assisting at the city's central count facility for absentee ballots.
Other changes
Clerks from a number of Wisconsin's largest cities say they've implemented changes to efficiently count ballots. In Waukesha, City Clerk Gina Kozlik said she's abandoning the central count system the city has used for the past several years for a system where absentee ballots get counted at the polling place.
That's the system most municipalities use, including Madison. Kozlik said she had concerns about a large central count operation during the pandemic, and thinks it will help make more efficient use of staff and voting machines. Kozlik said she likely wouldn't have had enough machines to accommodate both the number of in-person Election Day voting locations as well as a separate, central count facility used exclusively for absentee ballots.
It makes more sense for Kozlik, given that she'll have more polling locations up and running in November than for April's election, when she consolidated many polling sites due to the pandemic, freeing up ballot counting machines for counting absentee votes. She said she had trouble this year purchasing as many new voting machines as she would have liked, but ended up purchasing two and renting two, in addition to those she already has.
Like previous elections, Kozlik said she's also training some poll workers to exclusively process absentee ballots.
"I'm fairly confident we will be able to get everything in on Election Day," she said, adding that she expects the counting process to take about as much time as it did in 2016, barring any problems with equipment.
The city of Kenosha anticipates it will be able to count all its absentee ballots on Election Day, although the city plans to consolidate its polling places and could see lines at polling places. Other cities are switching to or considering central count systems for counting absentee ballots.
Oshkosh City Clerk Pamela Ubrig is considering a central count in the future, although not for Nov. 3. Janesville has secured a high-speed tabulator and has used a central count for absentee ballots since 2016 because it helps eliminate lines on Election Day.
Lawsuits pending
But all of the best-laid plans could be upended if a court orders any changes to voting deadlines due to the pandemic.
In April, for instance, U.S. District Judge William Conley ordered the deadline for local clerks to receive absentee ballots be extended from Election Day, on April 7, to nearly a week later, as long as those ballots were postmarked by 8 p.m. on Election Day.
Conley is expected to rule soon on a slate of cases brought by Democrats and other groups seeking to extend voting and registration deadlines due to COVID-19. Conley may extend the deadline for clerks to receive absentee ballots and prevent clerks from reporting results until the receiving deadline, making it a distinct possibility Wisconsinites may not know the state's election result until days later.
Postal Service ready
Wisconsin Elections Commission administrator Meagan Wolfe said elections officials are far more prepared than in April, when clerks around the state recorded numerous problems with the U.S. Postal Service delivering absentee ballots to voters.
In one of the worst examples from that election, a Republican state senator reported a postal worker had discovered "three large tubs" of undelivered absentee ballots from voters in Oshkosh and Appleton. Nearly 2,700 absentee ballots in Milwaukee were not sent and about 1,600 in the Fox Valley were not processed because of computer glitches and mailing problems.
In April, Wolfe said the Elections Commission didn't really have a formal relationship with USPS. Now, state elections officials meet weekly with the federal agency. Wolfe said the newly incorporated intelligent mail bar code system will allow clerks to determine where a ballot is in the mail stream, and if not, make a decision to still issue the voter a ballot.
USPS spokesman Robert Sheehan said the organization is prepared for a potential spike in volume due to increased absentee voting, and plans to engage standby resources to deal with any unforeseen demand closer to Election Day.
Still, he said USPS advises voters to request absentee ballots as early as possible, but no later than 15 days before Election Day. USPS also recommends domestic, non-military voters mail their absentee ballots at least one week prior to Election Day to allow for timely processing.
Three things to watch when Green Bay Packers host Detroit Lions
1. RENAISSANCE MAN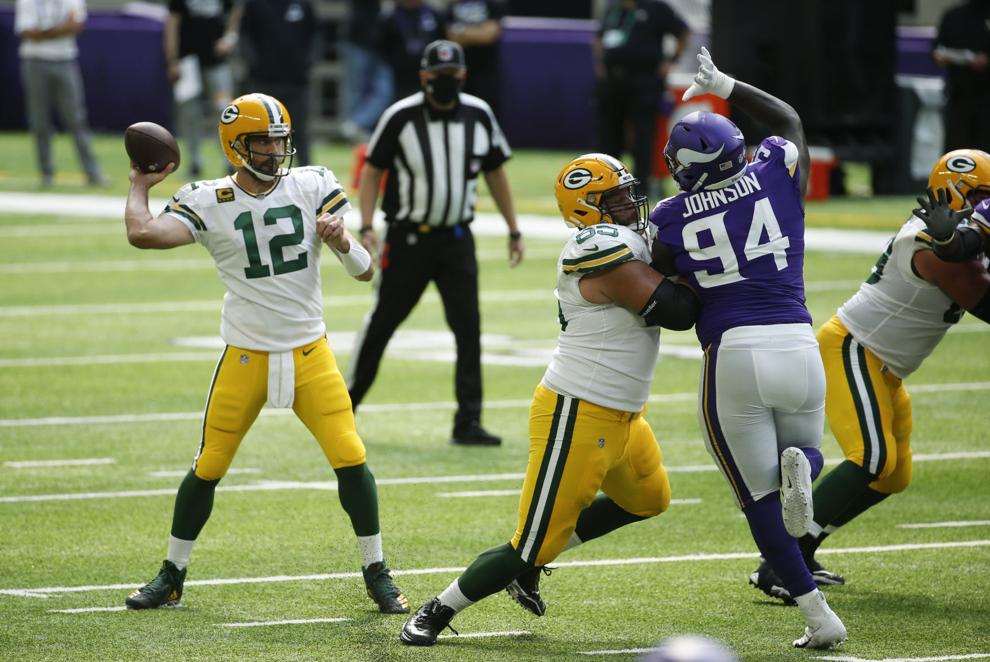 About midway through training camp, Packers quarterback Aaron Rodgers revealed that he'd gone back and looked at some old film of himself — some of it dating back to his Super Bowl XLV-winning season of 2010, some of it from five or so years ago — and incorporated his observations into his current game.
While the two-time NFL MVP has been unwilling to speak to the specifics of his findings, it's hard to argue with the results from last week's season opener, when Rodgers completed 32 of 44 passes for 364 yards with four touchdowns and no interceptions for a 127.5 passer rating in a 43-34 victory over the Minnesota Vikings. From the untrained eye, it appeared Rodgers was much more dedicated to getting the ball out of his hand quickly and on time, and he limited the number of times he extended the play to improvise. When he did, of course, it delivered terrific results, as two of his four touchdown passes (one to Davante Adams, one to Allen Lazard) came when he was on the move outside the pocket after the initial play broke down.
"I'm not going to expand on (what has changed), but I do feel like the key is, when you're throwing the ball in rhythm with good balance, your timing should be pretty good," Rodgers explained. "And when you have all three of those things synched up, the accuracy usually comes as well.
"It wasn't anything super special, it was just some things that kind of hit my brain in the moment, went back and looked at a few more clips and just started incorporating them. When it comes down to quarterback play, it's all about the rhythm and the timing and the balance. I feel like those three were pretty solid on Sunday, and the accuracy followed."
That's certainly what Lions coach Matt Patricia saw.
"I mean, he's just phenomenal. He's so hard to play against, and so difficult to defend," Patricia said at midweek. "One of the things I say about Aaron Rodgers all the time (is), he's so calm, he's just so collected the entire time he's out on the field. Certainly, as a coordinator going against him, trying to frustrate him or trying to stress him, you just can't affect the guy at all. And I think as I watch him the last several years, twice a year to play the guy, to just see his command and the way that he takes over the offense — and especially now in the second year watching the Minnesota game, even more so — the patience that he has to go through the play call, the checks, the adjustments, the take a look at a defense, the coverages, the fronts, he just moves all the pieces into the right spot so they can be successful. So, it is a major problem."
2. HE AIN'T LION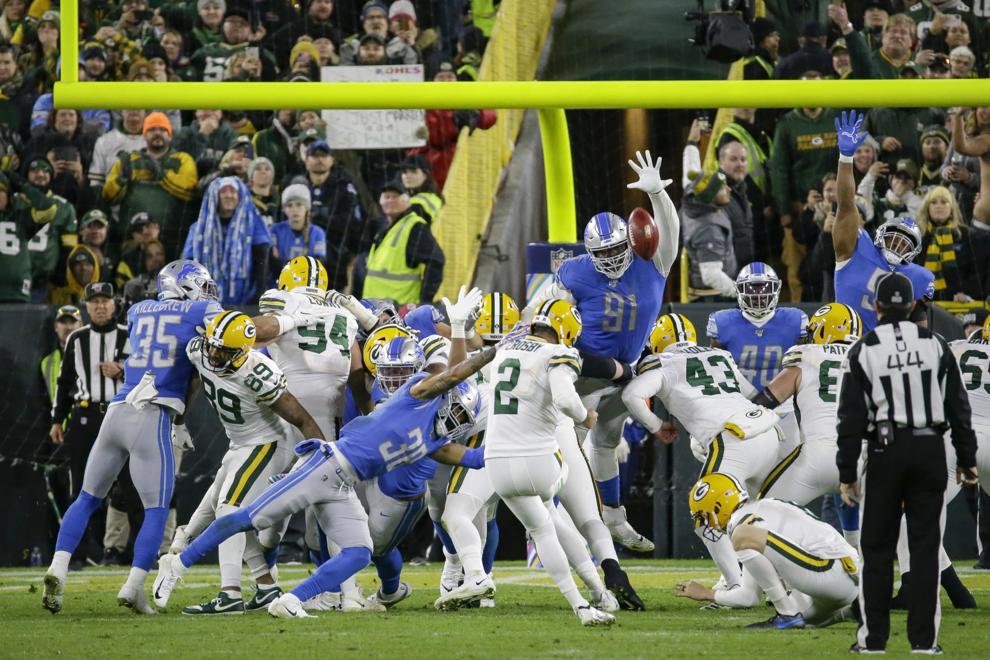 The Packers won both games on walk-off field goals by kicker Mason Crosby — a 23-yarder as time expired at Lambeau, and a 33-yarder as time expired in Detroit.
So if any of his guys were contemplating taking the Lions, who went 3-12-1 last season and collapsed during the fourth quarter of last Sunday's 27-23 loss to the Chicago Bears, lightly, LaFleur had an easy built-in reminder of why they shouldn't.
"We know we're going to get their best shot," LaFleur said. "They gave us everything we could handle last year. The fact that they were winning for literally 120 minutes out of 120 minutes, I mean, it was pretty much a miracle that we were able to take both those games."
The game will also be the first at Lambeau Field amid the COVID-19 pandemic, with no fans in the stands. The team practiced inside Lambeau on Friday in hopes of getting one last trial run before experiencing at home the same weirdness last week's game at U.S. Bank Stadium delivered.
Those who attended practices inside the stadium during camp experienced a louder ambient crowd noise soundtrack than what was played during Friday's practice and what presumably will be heard Sunday.
"It definitely sounded a little bit different when we were at Minnesota this past week," LaFleur said. "I was a little surprised. It was quieter than I anticipated. That's why I want to get back on Lambeau and try it one more time and make sure that we're doing things right here — because it certainly, in practice, sounded louder than it did in Minnesota."
3. FOUNTAIN OF YOUTH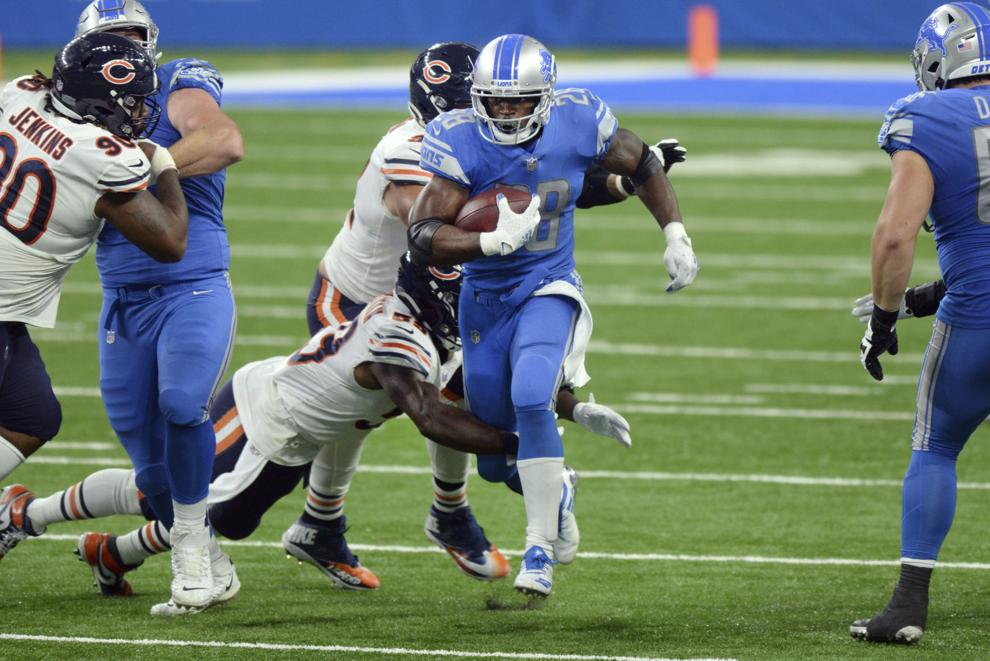 Packers defensive line coach Jerry Montgomery was tough on his guys throughout the week of practice, disappointed in the unit's effort in last Sunday's win at Minnesota, as the Vikings ran for 134 yards and likely would have hung an even bigger number on the Packers defense had the Vikings not been playing catch-up for much of the game amid Rodgers' MVP-level passing performance.
Now, the group will be challenged again by 35-year-old Adrian Peterson (above), who caught on with the Lions after being cut by the Washington Football Team on Sept. 4 and finished with 114 total yards from scrimmage (14 carries for 93 yards, three receptions for 21 yards) against the Bears.
"Shoot, he's got the fountain of youth," Montgomery said of Peterson. "He still runs like he's fighting and scratching for every yard that he gets. He's violent at the point of attack, he's a great jump cutter. The guy's a good back. He's been a good back for a long, long time. And it's no different this year."
Stopping him, along with Kerryon Johnson and D'Andre Swift figures to be even harder without Pro Bowl nose tackle Kenny Clark, who left last Sunday's game with a groin injury and did not practice all week. The Packers ruled Clark out on Friday afternoon.
"He stepped right in just like he had been here all the way through camp," Patricia said. "He was in camp (with Washington), he was in shape, he was ready to go for the season. He obviously put his work in through the course of the spring and through training camp, and he's in a good place. He was ready to come in and make something happen. Just thoroughly impressed with him as a player, as a person, as a professional. I think he's great for all those young guys to take an example of just how to be a great running back for as long as he's been. Really, it was truly awesome to watch."
---
Jason Wilde covers the Packers for ESPN Wisconsin. Listen to him with former Packers and Badgers offensive lineman Mark Tauscher weekdays from 9 a.m. until noon on "Wilde & Tausch" on 100.5 FM ESPN Madison.