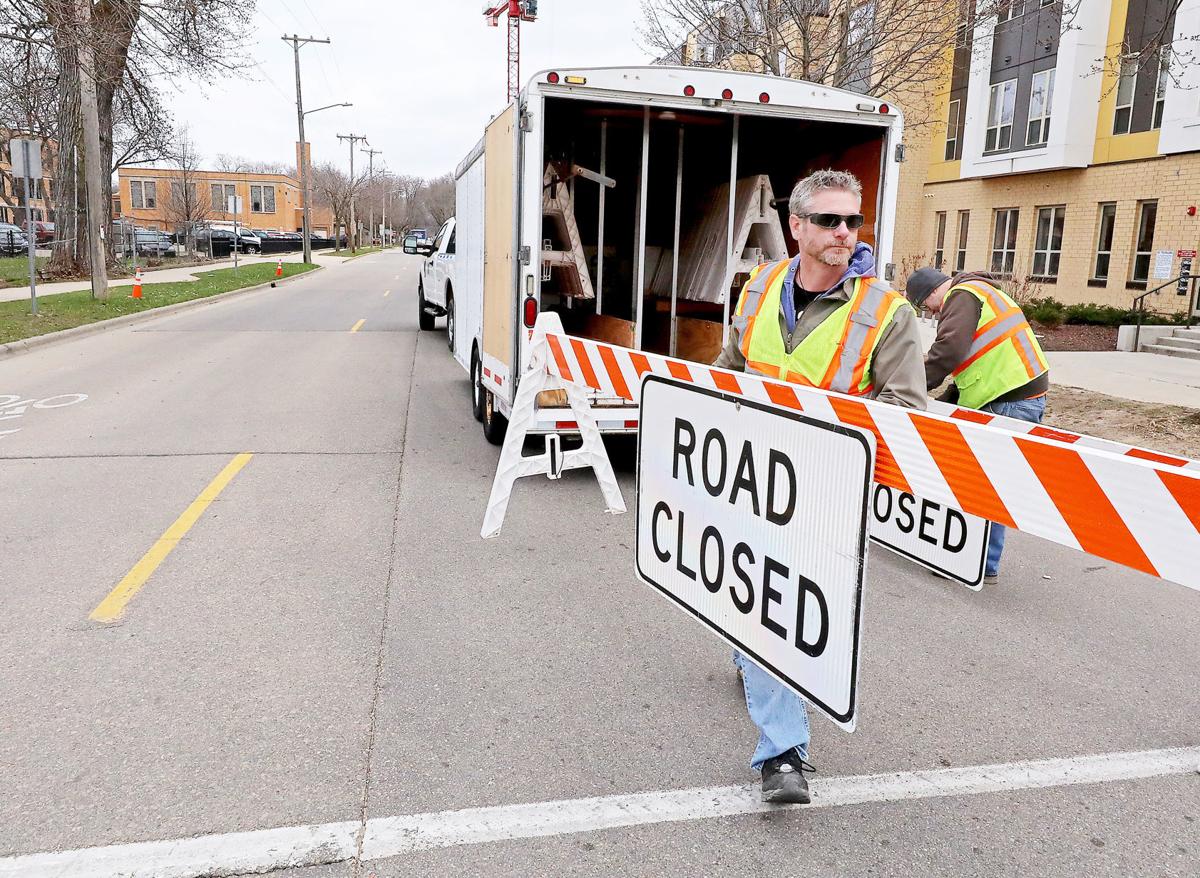 In weeks, the COVID-19 pandemic has transformed movement in Madison, slashing vehicle and bus trips, emptying parking garages and forcing changes from the timing of traffic lights to blocking streets and widening paths so pedestrians and bicyclists can practice social distancing.
Traffic volumes have dropped by half, allowing the city to use shorter traffic signal cycles to decrease waiting times at intersections and automatically activate pedestrian crossings, meaning pedestrians don't have to touch the button and get a longer crossing time. Metro Transit, which has made many changes to keep drivers and passengers safe, now has ridership at 10% of pre-pandemic levels. The city isn't enforcing most street parking meters and Downtown parking garages stand eerily empty.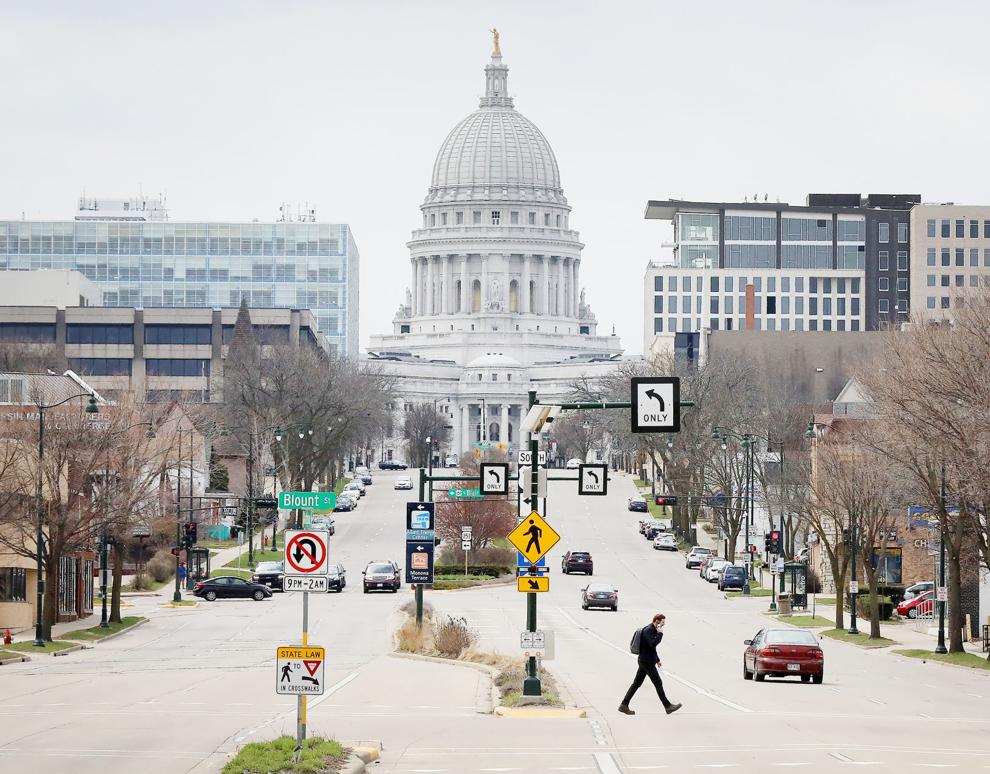 But what sounds like good news for users will mean a significant financial blow to revenues for Metro and the city's Parking Utility.
"The transportation effects of COVID-19 are consequential and likely to last for years," said Tom Lynch, city transportation director. "After having to quickly adapt to abrupt changes, we now look to recovery. We want to use this opportunity to build the transportation system we need in the future."
Impacts of the state's "safer at home" order is vivid in the heart of Madison.
"It's changed dramatically," said Downtown Ald. Mike Verveer, 4th District. "It's very tragic. The decline in activity Downtown, it's like a ghost town compared to the vibrancy of a month ago."
Shuttered shops, empty streets: Madison's silent spring amid the COVID-19 pandemic.
But Verveer and other city officials see and hear about many people getting out for a walks, walking dogs, going for runs, bike rides, sometimes crowding sidewalks, medians and paths to get some fresh air and exercise.
So Madison is taking a series of actions to create more space for them.
"In order to stay healthy while staying at home, we need to enhance opportunities for residents to safely enjoy the outdoors," said Ald. Tag Evers, 13th District.
The city is restricting traffic on East Main Street and several other streets to local traffic only. It will use barrels to test turning a traffic lane on Atwood Avenue from Oakridge to Walter Street over to bicycle use. Starting next week, the city will use gravel to widen the Capitol City bike path by 4 feet on either side of Monona Terrace from Blair Street to North Shore Drive.
"Since car traffic is down substantially while many are staying Safer at Home, the inconveniences should be minimal," said Ald. Patrick Heck, 2nd District. "In District 2, on East Mifflin Street, local traffic will still be allowed so folks will be able to park on the street or get to their driveways, and businesses will remain accessible."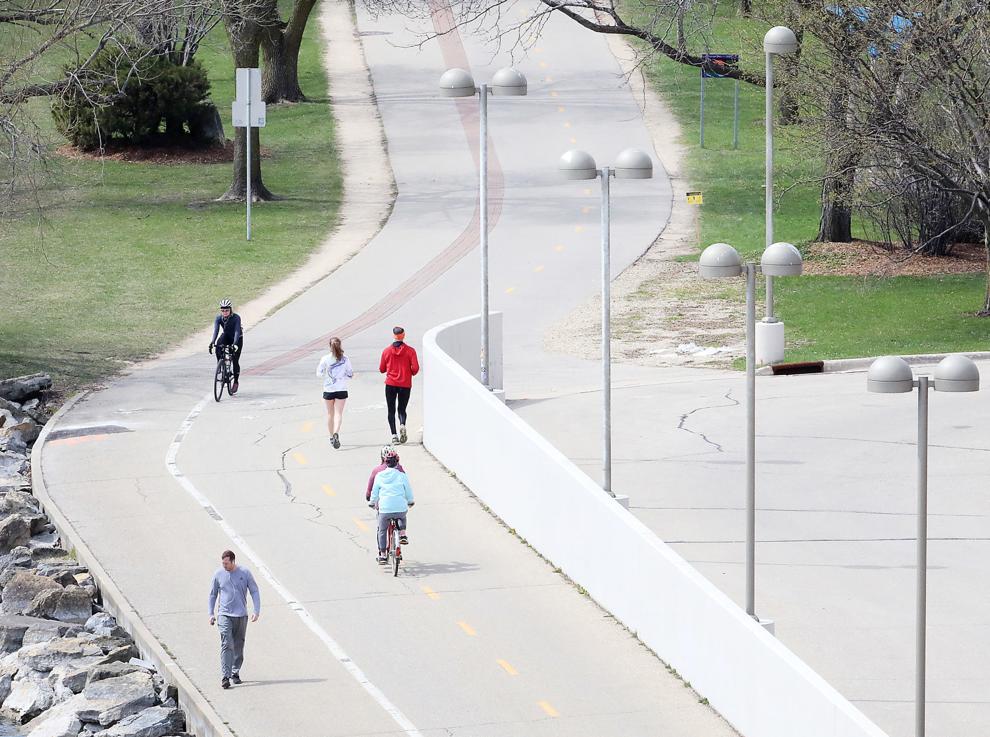 There may be other benefits. Unlike the other closures or reductions, Atwood Avenue "will also perform as a pilot to see how the future street reconstruction of this section of Atwood will operate," said Ald. Marsha Rummel, 6th District.
The Transportation Department also studied several different configurations — all at relatively high costs and consequences — to re-purpose a lane of John Nolen Drive for bicycles, but has put that move on hold, Lynch said, adding that the city is still reviewing measures to address social distancing needs.
Metro use plummets
No city agency has seen more change than Metro Transit, Lynch said.
Metro, which normally tries to build ridership, has been doing the opposite in the interest of safety, asking customers to use alternative forms of transportation if possible.
"I think we're at about 120 drivers on the road compared to about 200 pre-COVID," interim Metro general manager Natalie Erdman said.
As a safety measure, buses are operating on Saturday service levels — meaning they run less frequently — and customers are asked to ride only for essential trips, such as to get to jobs, medical appointments or grocery stores. Fares have been suspended, and riders are required to board and exit through the rear doors, while capacity has been limited to 15 passengers.
Drivers have face masks, and schedules have been arranged so only one driver uses a bus before it is cleaned. After a run, each bus is wiped down and then fogged.
"Every trip is important," Lynch said. "We have many riders that work at essential services, such as hospitals, and rely on Metro to get to work. The reduced service has been harder on them. Additionally, many riders without cars need Metro to get groceries and supplies."
But it's taking a financial toll.
"The suspension of the collection of fares, along with the reduced ridership, has a major impact on revenue," he said. "About 25% of the operating budget is paid for through our fare box. This effect is being experienced by every transit agency throughout the nation. We are hopeful that funds allocated in the (federal) CARES act will help compensate for this shortfall."
Parking changes
"It has also been rather dramatic, in the collection of fees, parking enforcement, and in the use of parking division staff," Lynch said.
To support businesses and reduce Metro ridership, the city suspended the on-street meter fee Downtown, he said. "We have created loading zones to support businesses as they provide takeout service. We have suspended one- and two-hour parking restrictions. And to accommodate parking needs of the many residents that are now at home rather than work, we have suspended the clean streets/clean lakes parking restrictions."
All other parking restrictions must be followed and all off-street garages and lots are operating as normal and still require payment.
But to promote safety, "we have also moved from manned fee collection to automatic parking fee collection, Lynch said. "These parking staff have been redeployed to other agencies. Their help was instrumental with the election this past week."
Verveer said, "There's more parking available than I've seen in my life." At the garages, "you can see right through them."
As a result, "the decrease in parking revenue is dramatic, whereas our operational costs remain relatively constant," Lynch said. "Parking revenues are used to pay for capital needs as well as support a variety of parking-related services throughout the city, including enforcement. This loss will need to be addressed in both this year's and next year's budgets.