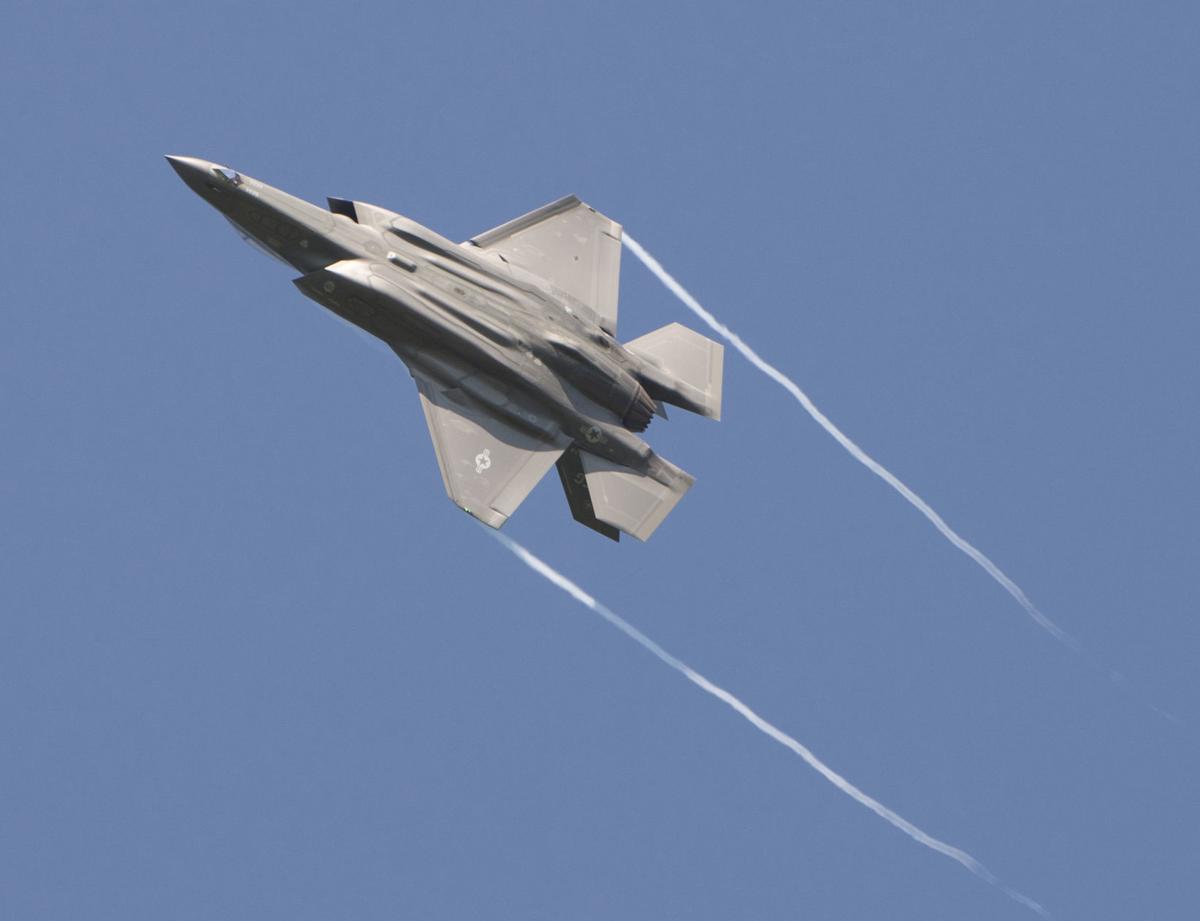 The Air National Guard base at Truax Field and surrounding Dane County community have much to gain with the addition of a squadron of 20 F-35 jets, though as opponents have made clear in recent public hearings, those benefits come with a cost.
The potential new mission for Truax's 115th Fighter Wing would bring dozens of new jobs and assured sustainability to the base, but also noise levels near 65-70 decibels — comparable to a vacuum cleaner — to more than 1,000 homes, many of which are low-income housing units.
What's less clear is what, if anything, Truax and the surrounding community stands to lose if the base at Dane County Regional Airport misses out on the F-35 jets.
Here's what we know so far about the potential economic impacts:
What are the economic benefits of the addition of F-35s at Truax Field?
Twenty new F-35 jets at Truax would add 64 jobs to the base, accounting for $1.8 million a year in local economic activity. Truax already generates more than $99 million in economic activity and supports more than 1,650 in-state jobs, according to a 2015 University of Wisconsin-Extension report.
Capt. Leslie Westmont, public affairs officer with the 115th Fighter Wing, said the F-35 jets would add security to all jobs at the base.
"If we don't upgrade to a new aircraft and we lose our flying mission — bases without a flying mission are less competitive," Westmont said. "So if we don't act now, our competitive edge just continues to decline. That's why this is really important."
U.S. Sens. Tammy Baldwin, D-Madison, and Ron Johnson, R-Oshkosh, former governors Scott Walker and Jim Doyle and state lawmakers have said securing the F-35s would keep the Madison base viable and ward off the possibility of a future base closing.
What happens if Truax Field's 115th Fighter Wing does not secure the F-35 jets?
Proponents of the F-35 jets have cautioned that, if the new jets are not secured, the base could be at risk of losing out on the 115th Fighter Wing's mission when the base's existing F-16 jets pass their designed useful lifespan.
A loss of mission could put all jobs at the base into jeopardy. If the base were to close it would result in an economic loss comparable to the 2015 closure of Madison's Oscar Mayer plant, according to Zach Brandon, president of the Greater Madison Chamber of Commerce and a supporter of the project.
However, Ann Stefanek, a spokeswoman with the U.S. Air Force, said it's speculative to assume Truax's mission would be in jeopardy without the F-35s.
"That's a leap, that's making two and three assumptions together," Stefanek said.
You have free articles remaining.
She added that a base's mission and aircraft fleet are determined on a case-by-case basis.
The nearly 1,100-page environmental impact statement on the addition of F-35 jets at Truax says there would be no significant socioeconomic impacts if the base proceeds with its existing fleet and "the minor economic benefit of additional based personnel and construction activity would not occur."
"Nobody is talking about Truax going away," said Rep. Chris Taylor, D-Madison, an opponent of bringing F-35s to the Madison base.
Are there other options for the base besides the F-35?
The current jets were built in 1987 and have been at Truax since 1992.
"They would need to be replaced with one aircraft or another," said state Sen. Mark Miller, D-Monona, a former military pilot who spent 30 years with the Air National Guard.
John Losinger, an F-16 spokesman with Lockheed Martin Aeronautics, said the company stopped manufacturing F-16 jets for the U.S. Military in 2005, yet still produces updated versions for international customers.
The service life of an F-16 jet like the ones at Truax is 8,000 flight hours, he added. The expected life span for the F-35 jet is the same.
Westmont said Thursday she could not provide the service hours on the 115th Fighter Wing's F-16 jets but said the aircraft are approaching the end of their service life.
But while the F-35s offer a new replacement for the aging F-16s, Stefanek said another option would be to phase in newer F-16s from other air bases — possibly those acquiring F-35s.
Is there a chance Truax won't get the F-35?
The deadline for public comment is Sept. 27 and the Secretary of the U.S. Air Force is expected to make a final decision early next year.
If approved, the first F-35 jets could arrive as soon as 2023.
At this point, Stefanek said, the environmental impact statement process remains underway but added the U.S. Air Force is proceeding with plans to put F-35s in the air over Wisconsin.
"Truax has been selected as a preferred alternative to receive the F-35 and there has been no change to that plan," Stefanek said.