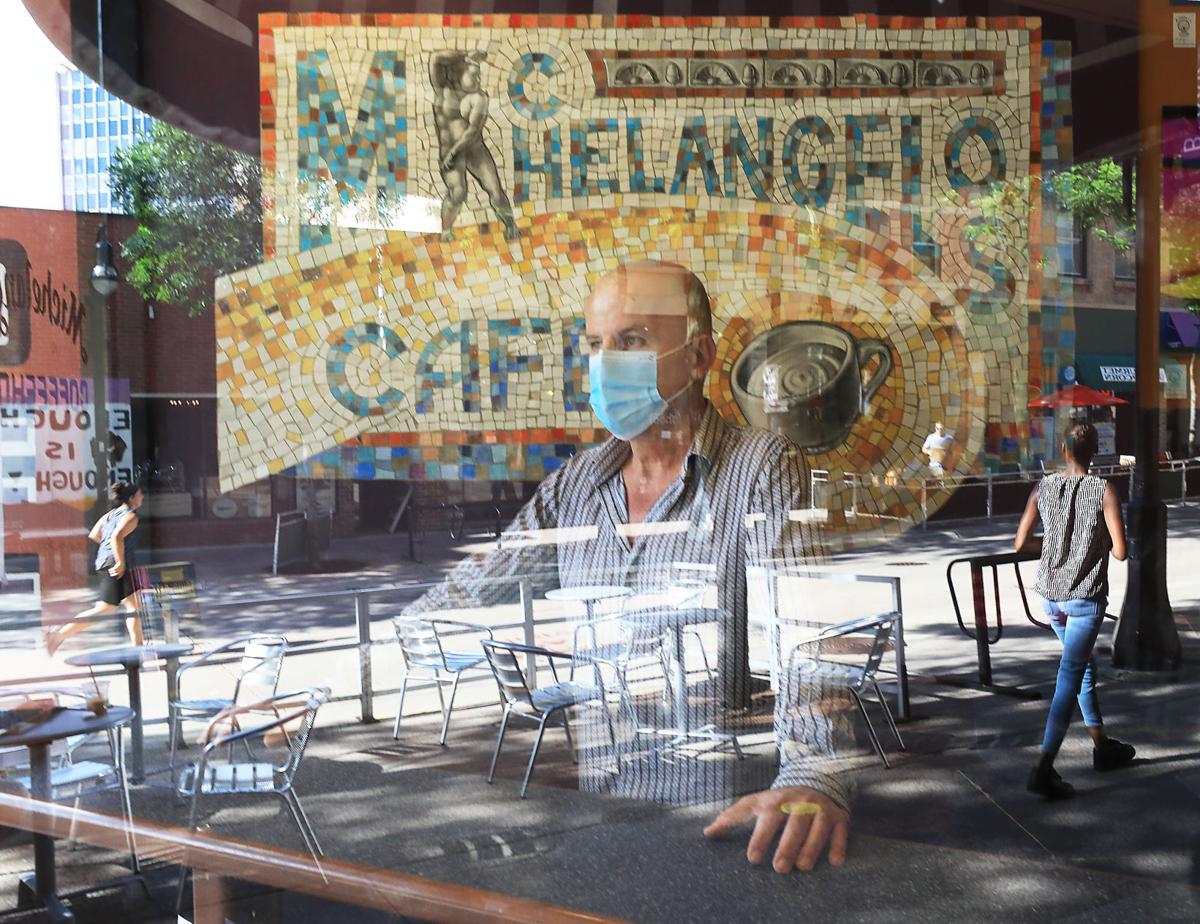 Ruin is mixing with revival on the state's most famed thoroughfare.
In the greater State Street area, where the COVID-19 pandemic and then destructive protests shuttered businesses, some have closed for good but many are beginning to reopen amid a mix of stress, cautious optimism and fear of more damage. Plywood window panels covered in graffiti and murals are slowly coming down to be preserved for exhibition. The pandemic remains a silent menace, with masks now omnipresent. Demonstrations ebb and flow. The public is beginning to come back.
Many businesses that reopened or plan to do so face substantial insurance deductibles — some more than $20,000 — to cover the cost of damage to property, while public health rules limit the number of customers inside businesses, dampening sales even as most rents remain high.
An initial attempt by the city to provide financial assistance to Downtown businesses exposed a raw divide between City Council members who supported the aid and others who argued the private sector should help instead, and that other parts of the city where more people of color live need the attention and resources more than Downtown.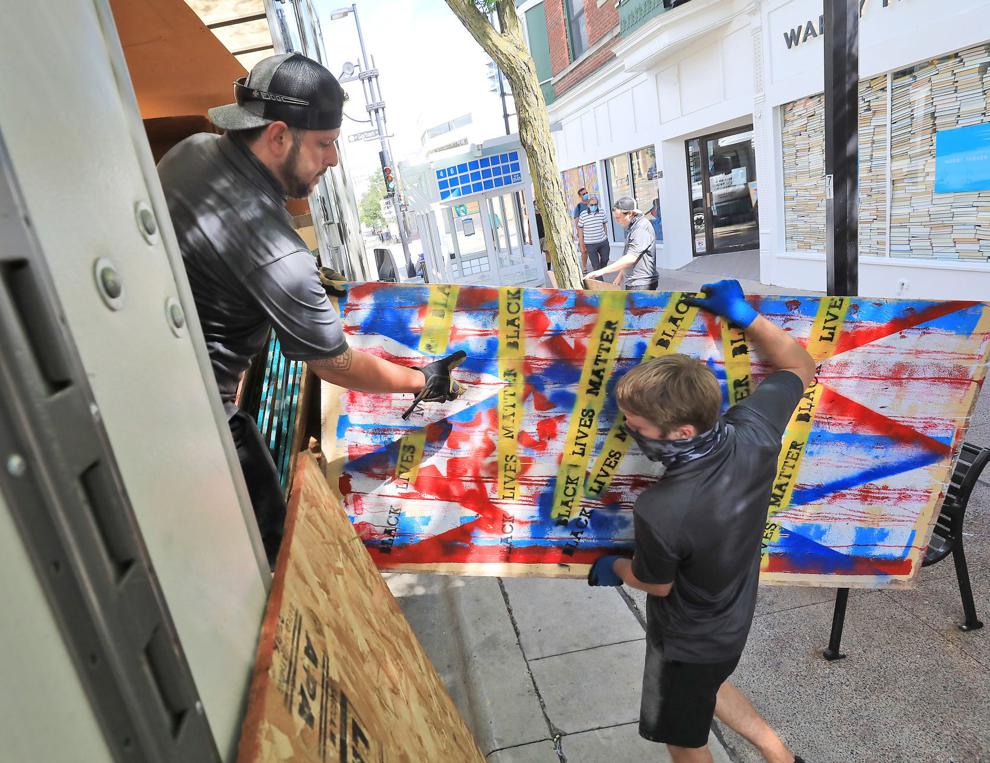 Late last month, the council rejected a proposal to provide $250,000 to help local businesses repair damage and create a $500,000 equity program aimed at supporting entrepreneurs of color in the city.
The council on Tuesday will take up an amended version of that plan, which would provide $128,000 to aid local businesses and $750,000 for a separate equity program.
"State Street was facing challenges before COVID-19 hit, and before the unrest and looting happened," Mayor Satya Rhodes-Conway said. "Too many landlords are content to have their storefronts sit vacant, and to charge rents that put tenants on razor-thin margins. This impacts who can afford to be on State Street and what kind of businesses succeed, which impacts who feels comfortable there. It will take all Downtown stakeholders coming together to tackle these challenges."
The city, meanwhile, is taking multiple steps, many at the prodding of Downtown Ald. Mike Verveer, 4th District, to promote normalcy and safety Downtown, from restarting water fountains to adding lighting and increasing police presence.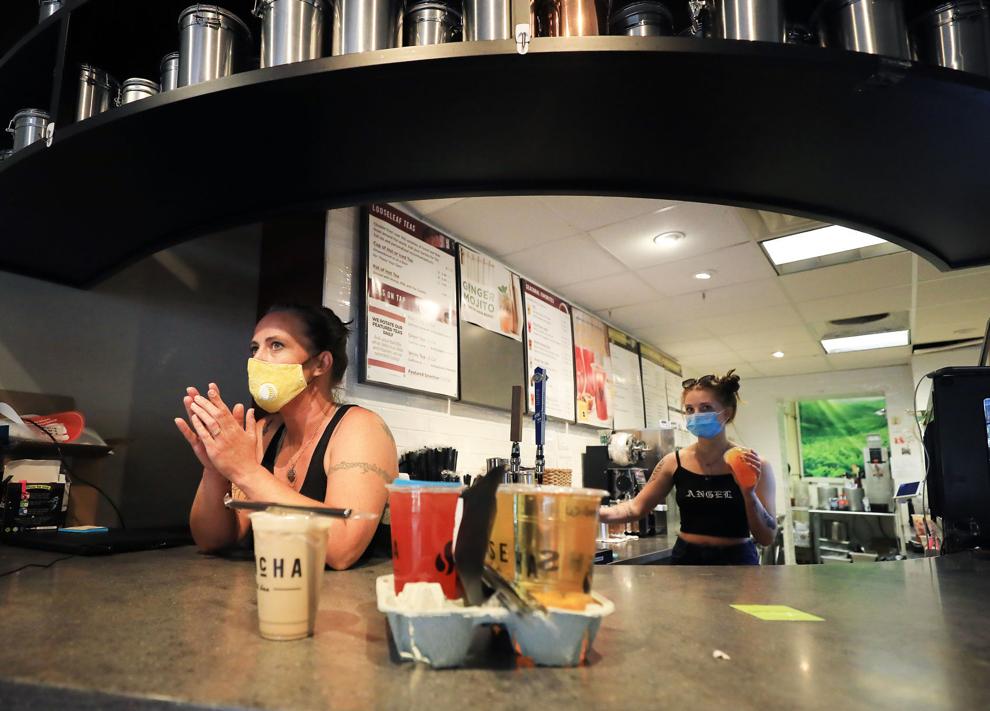 "How important is the well-being of State Street and the needs of State Street?" said Sam Chechade, who has operated Michelangelo's Coffee House at 114 State St. for 24 years. "We're encouraging people to come Downtown. But many people are afraid to come Downtown. How are we going to deal with this? We should all be trying to de-escalate and trying to solve things in a positive manner. We're all in this together."
Catastrophic blow
The pandemic and shut-down orders that followed have been "catastrophic," requiring all businesses on the street to close for a time and threatening those whose margins were already on the edge, said Jason Ilstrup, president of Downtown Madison Inc.
As restrictions eased, businesses aimed for a broad reopening on the weekend of May 30, said Tiffany Kenney, executive director of the Downtown Business Improvement District (BID).
That same weekend, peaceful protests over the killing of George Floyd in police custody in Minneapolis, filled State Street but devolved into widespread vandalism and looting over three nights from May 30 to June 1. The arrest of a Black activist for causing a disturbance in a restaurant triggered more violence and damage on the night of June 23, but it was mostly directed at statues and public buildings around Capitol Square.
It's all left the area battered. As of June 30, 15 businesses had closed for good with a total 41 vacancies. At least five more businesses have closed since then and it's unknown how many businesses will ultimately shutter, Kenney said. "It's 152 businesses and 152 different things happening," Ilstrup said.
"I'm extremely concerned about the current state of State Street, and frankly, its future," Verveer said. "I can't fathom what it would be like if my livelihood depended on the future of the street. I want to say I'm optimistic and we can come back. I'm encouraging everybody to do what they can to help."
Businesses that suffered damage have a mix of insurance coverage, some with high deductibles or provisions that counted each day of violence and damage as a separate incident that caused expenses to mount, Kenney said.
Still, many of the plywood panels covering windows are coming down — not only because businesses need windows to attract customers but because the art applied to them will eventually deteriorate, and many want it preserved, Kenney said. Others are staying up, either because the owners fear more damage or a glass shortage is forcing some to wait, she said.
The BID is labeling each donated panel, and volunteers are helping remove and take them to Monona Terrace for storage and preservation for future exhibits. Some businesses and property owners are displaying murals in shops.
The Downtown Visitor Center at Lisa Link Peace Park, 452 State St., reopened this weekend. Portable toilets placed at the park have been relocated, and a homeless encampment at the tiny park has been largely disbursed although safety concerns remain. Verveer has asked for increased street lighting and to turn on public fountains. Tree stumps and large rocks around plantings are being removed. Landscaping is being improved. Graffiti is being cleaned from public sidewalks and streets.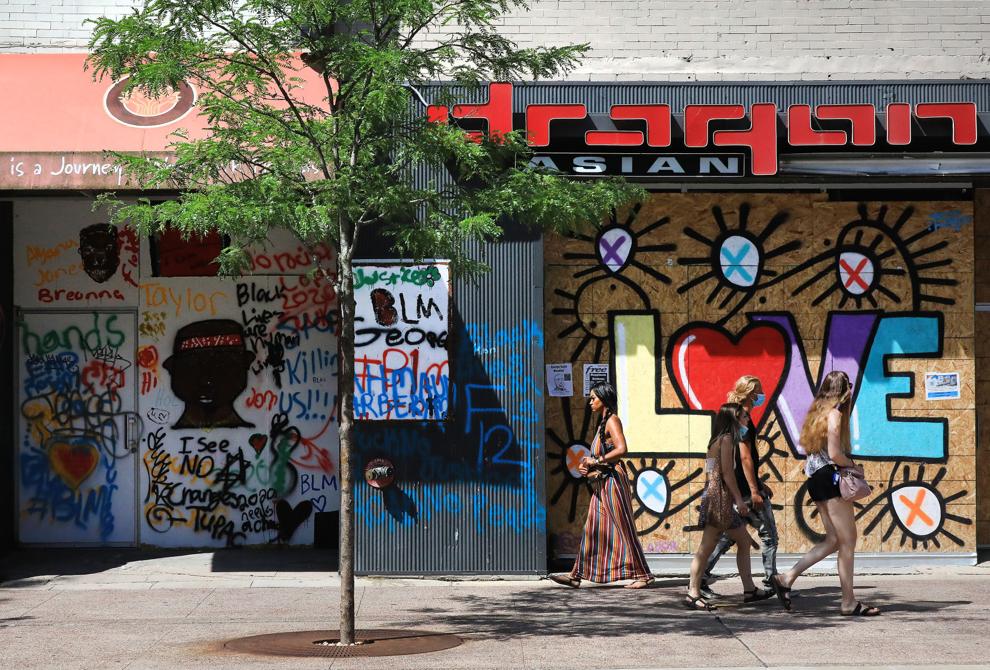 A few weeks ago, the city placed barricades at intersections and closed the street to bus traffic and all vehicles on weekends to accommodate a "Streatery" program that lets restaurants expand outdoor dining, but the response has been mixed and the city has since re-positioned barricades because some wanted police cars to resume patrols.
Meanwhile, the demonstrations continue.
On most nights, there's a gathering on Capital Square, usually on the State Street side, but protests have been regularly occurring in other parts of the city, Assistant Police Chief Paige Valenta said.
"Sometimes protests start in one area, then move — via marching or vehicles — to the Capitol Square and become co-mingled with those already gathered at the Square," Valenta said. "Recently, the gatherings at the Capital Square have not been violent or destructive. MPD has received complaints about noise, primarily amplified music and speeches, associated with protests on and near the Square."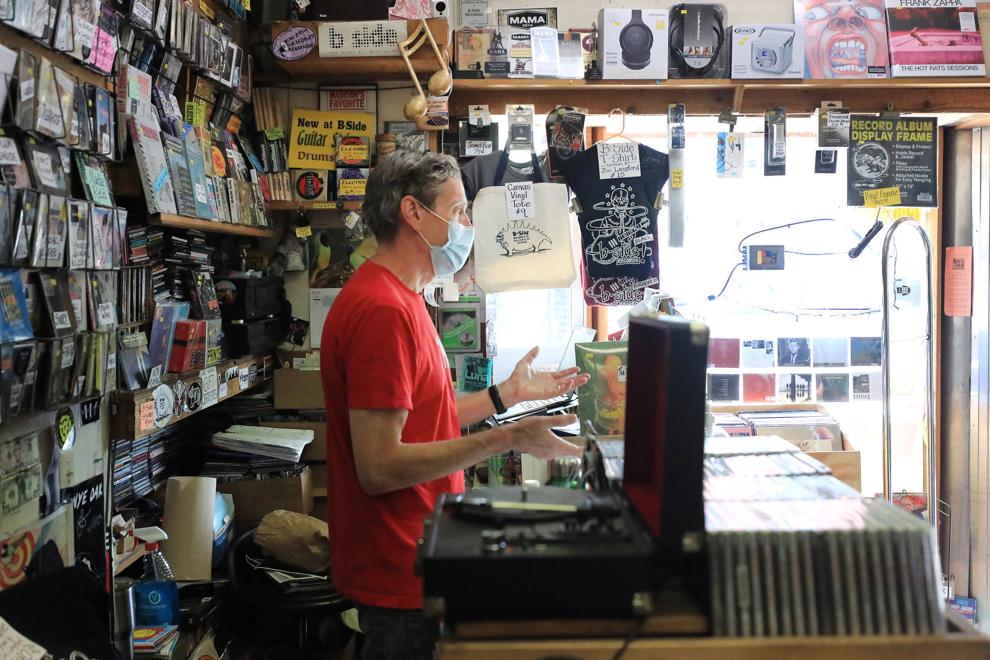 The department regularly has a number of officers Downtown and around State Street, and when not on call they're encouraged to be visible in the Downtown area, Valenta said. "However, the accelerating COVID pandemic coupled with ongoing protests, record levels of recent gun violence in the city and a surge in home burglaries have strained MPD resources and the availability of officers," she said.
It all leaves uncertainties.
"Everybody's definition is different about what causes fear, and the definition of safety is different. That's based on personal experiences," said Amy Moore, owner of Little Luxuries, 230 State St., and a past president of the Greater State Street Business Association, who, like many other operators, has signs declaring "Black Lives Matter" in her now uncovered windows. "We haven't had any issues. I do have customers who call before coming Downtown. We're trying to reassure people. This is a safe environment and a welcoming environment."
The city's role
In the aftermath of the initial damage and violence, volunteers helped clean up and the Boys & Girls Club of Dane County led a fundraising effort that produced roughly $200,000, with $30,000 going to the BID and Black and Latino commerces and $159,000 to help businesses pay for the cost of damages.
A private group is now organizing to create an endowment fund to support repair, recovery and revitalization, Ilstrup and Kenney said.
But there have been differences over the city's financial role.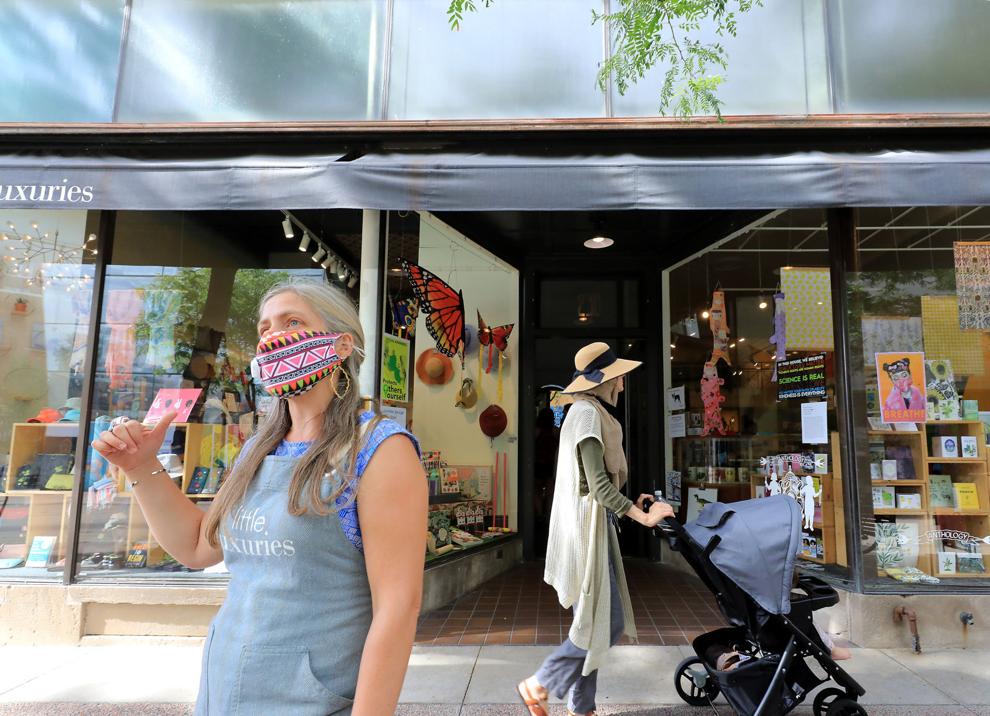 Rhodes-Conway and Verveer initially proposed a $500,000 program to help Downtown businesses, later revised to the proposal the council rejected on July 21.
"I supported Ald. Verveer's recovery and equity programs because they are the correct public policy," said Ald. Paul Skidmore, 9th District. "I think that it is critical that we approve both measures before it is too late to save some of the businesses that may fail."
Others saw the vote differently.
"I heard so many stories about how being in those (demonstrations) was the first time they felt safe and free Downtown," said Ald. Rebecca Kemble, 18th District. "The initiative as proposed would not do anything to re-imagine or transform State Street. It would be continued investment in more of the same, and the same has been a situation where even before the pandemic retailers were struggling."
Ald. Tag Evers, 13th District, said Madison, like other cities, is at a crossroads.
"Our public schools have some of the worst education gaps in the nation," Evers said. "The racial income and wealth gaps in our area are among the worst in the nation. Disparities in arrest rates and incarceration, in health care and public health outcomes, again among the worst in the nation. Lives are broken as we look the other way.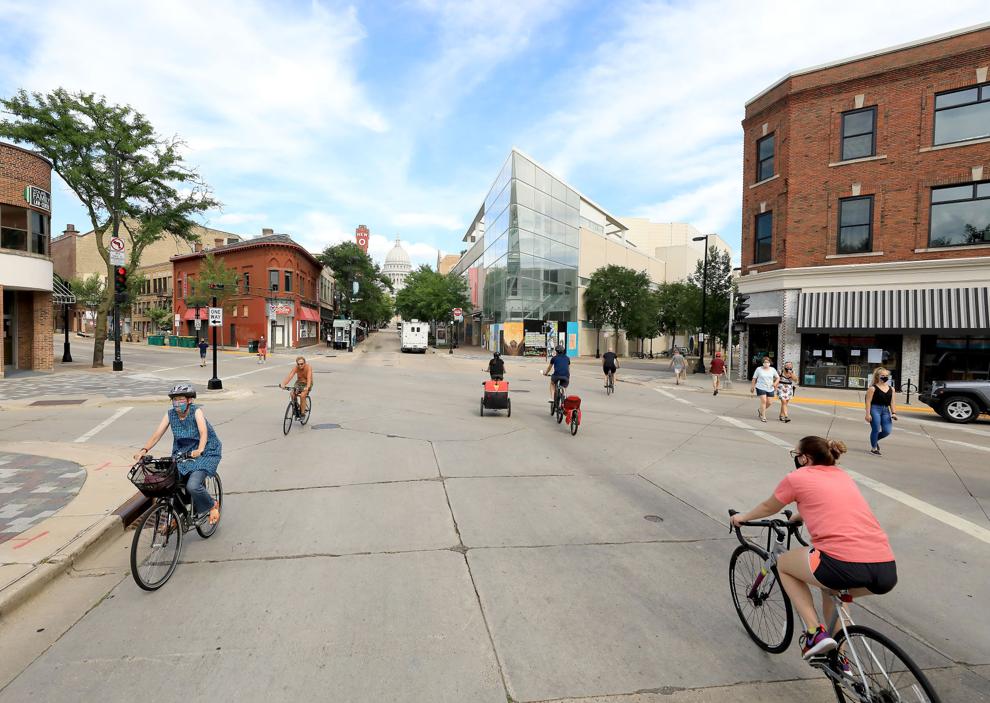 "If our efforts are focused on fixing broken windows, rather than fixing broken lives, we will have misread the moment," he said, adding that conversations with business leaders have convinced him the private sector has the capacity to assist the smaller businesses with bills for damages not covered by insurance.
On Tuesday, Ald. Lindsay Lemmer, 3rd District, will seek reconsideration of the defeated resolution and with Verveer will offer a substitute that trims the investment to $128,000 and changes the funding source, while Ald. Donna Moreland, 7th District, and others will propose to increase the equity program to $750,000.
Verveer, meanwhile, is exploring other options and would like to see the city create a new tax incremental financing (TIF) district in the State Street area that could produce new tax revenue for low-income housing, small business grants to improve retail spaces and more.
A former TIF district in the upper State Street area opened in 2003 with an assessed value of $409.4 million, and closed in 2018 with a value of $956.2 million. It helped reconstruct State Street, Capitol Square and adjacent side streets, boosted the city Affordable Housing Fund, provided State Street retail grants and assisted private developments.