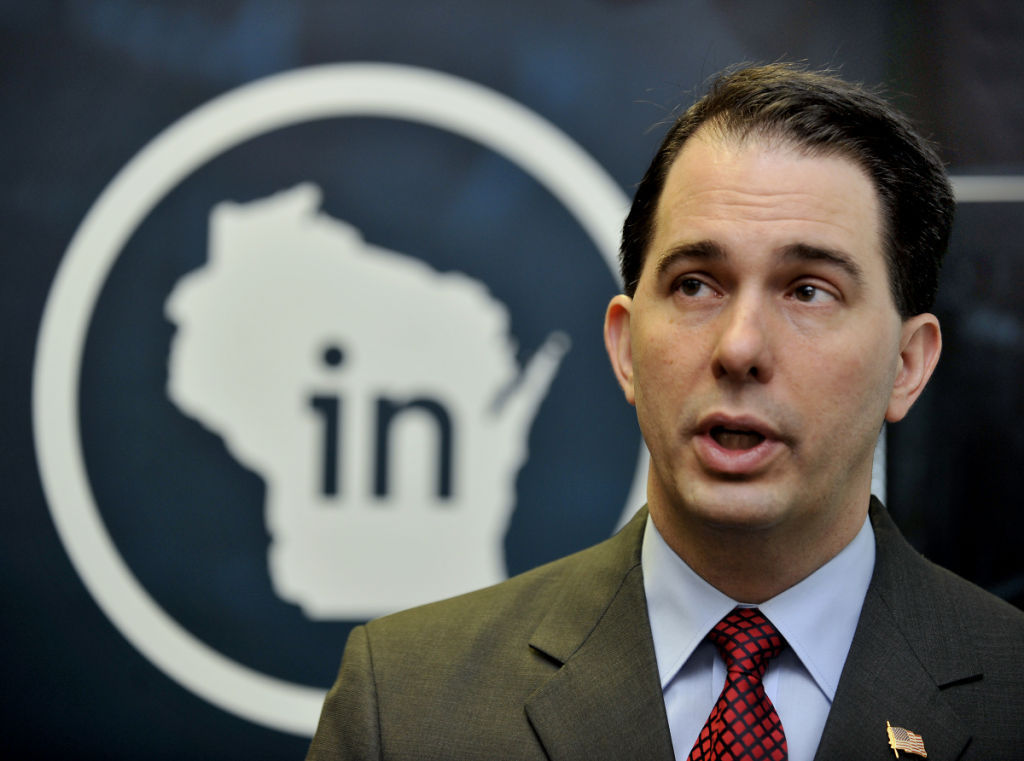 Gov. Scott Walker's flagship job-creation agency has made at least 27 awards totaling $124.4 million to companies without conducting a formal staff review, the agency reported Friday afternoon.
The new information comes on the heels of a State Journal report last month that found the Wisconsin Economic Development Corp. awarded an unsecured $500,000 loan to a struggling Milwaukee construction company at the urging of Walker's top cabinet secretary.
In its 2011 application, the Building Committee Inc. reported not being sued in the prior five years, though a State Journal review of court records found three lawsuits in 2010. The company later defaulted on the loan and WEDC sued last year to recover the money, though the company has since dissolved.
WEDC also released hundreds of pages of documents related to the bad loan Friday, including emails that for the first time provide documented evidence that former Department of Administration Secretary Mike Huebsch personally intervened to advocate for additional funding for the company in early 2012.
"Secretary Huebsch called and wanted to understand the proposal," Brenda Hicks-Sorensen, WEDC's then-vice president of community and economic development, wrote to then-CEO Paul Jadin on Feb. 28, 2012. "I reviewed it with him and he indicated he would be calling you."
Jadin then met with Huebsch on March 7, 2012, after which Jadin asked that someone connect the company's owner, William Minahan, with economic development officials in Milwaukee, according to another email exchange.
Then on April 25, 2012, David Volz, WEDC's government affairs director, wrote to Hicks-Sorensen: "Got a call from Sec. Huebsch yesterday, asking if we can provide him with a timeline for a 'definitive answer' on BCI that he can relay (the date, not the answer) to the owner.'"
The next day, underwriting manager Steven Sabatke wrote to Hicks-Sorensen that he received a call from a Milwaukee-based automotive leasing company that Building Committee Inc. owed it money.
"Apparently, Minahan told the guy that he has a grant coming from us and that he would be paid as soon as he received it," Sabatke wrote. "So the guy asked me about the grant. I told him that nothing has been approved."
WEDC rejected the request for an additional $1.5 million loan on May 1, 2012, but records show the agency continued to try and secure federal conservation bonds for the company from multiple counties in southeast Wisconsin at the direction of Ryan Murray, a Walker appointee who was hired in July 2012 as WEDC chief operating officer.
More than $4.5 million in bonding authority was transferred from Waukesha, Kenosha and Washington counties in early 2013, but BCI was not able to secure a financial commitment from a bank to obtain the funds.
You have free articles remaining.
Building Committee Inc. was one of the 23 companies identified by WEDC as not having received a formal staff review in a report released to its board and the media on Friday. Some of the companies received more than one award.
The report, by Jake Kuester, WEDC's vice president of credit and risk, covered 371 awards of more than $200,000 between July 1, 2011, and June 30, 2013. It found all 27 cases occurred prior to Sept. 25, 2012, before policies requiring a staff review were adopted.
According to WEDC, the 27 awards were tied to the creation of 6,165 jobs, but so far only 2,106 have materialized. Many of the awards are tax credits contingent on certain job-creation goals being met. They include enterprise zone tax credits of $62.5 to Kohl's Department Stores, $18 million to Kestrel Aircraft and $15 million to Plexus Corp.
"In talking with staff that were also employees of the Department of Commerce, they confirmed that it was an acceptable practice for the Secretary to approve an award with no formal written Staff Review when the need to be flexible and reactive to a business's needs warranted it," Kuester wrote. "That practice was carried forward into WEDC during its early days."
Democratic lawmakers on the board had requested the review in response to the State Journal investigation.
Assembly Minority Leader Peter Barca, D-Kenosha, said in a statement Friday that it's "outrageous" that the WEDC board is just now learning about "the enormous liability we face due to the careless and irresponsible approach WEDC leadership has taken in carrying out their responsibilities." He also criticized the agency for dumping hundreds of pages of documents on a late Friday afternoon.
"I am not at all confident we have even a fraction of the troubling details board members need in order to carry out our fiduciary responsibility," Barca said. "The people of Wisconsin need to have assurances that their taxpayer money is not unnecessarily at risk and that waste, fraud and abuse are not going on at this agency."
The review did not include any awards made as part of the state's Community Development Block Grant program. The State Journal also has reported on at least two loans made through that program that the U.S. Department of Housing and Urban Development had flagged as not having received an updated staff review.
In releasing the documents, WEDC spokesman Mark Maley said Walker had called for WEDC staff to conduct a complete review of the BCI loan and to present that review to the full board at its July 20 meeting.
Walker has not previously made any public statements expressing concern about the BCI loan. He has defended Huebsch, whom he recently appointed to the Public Service Commission, saying he "brought information about economic development possibilities" to WEDC and that the loan went through the same process as other deals.
DOA spokesman Cullen Werwie did not respond to questions about why Huebsch got directly involved. Minahan had previously lobbied several Democrats, including Gov. Jim Doyle, for funding with the help of former state Sen. Gary George, who had gone to prison on charges related to federal kickbacks. However, the only agency that gave him any money was Walker's WEDC.
Minahan also hired Eric Petersen to help lobby the Walker administration for funding. Petersen is a well-connected lobbyist with several clients who donate to Walker's campaign. Minahan made the maximum $10,000 contribution to Walker's campaign on election day 2010.
WEDC awards granted without staff reviews
Source: Wisconsin Economic Development Corp.
| Company | Contract date | Award | Expected jobs | Actual jobs |
| --- | --- | --- | --- | --- |
| Kohl's Department Stores | 7/17/2012 | $62,500,000 | 3,000 | 473 |
| Kestrel Aircraft Company | 1/18/2012 | $18,000,000 | 665 | 24 |
| Plexus Corp. | 6/18/2012 | $15,000,000 | 350 | 0 |
| Spectrum Brands | 11/9/2011 | $4,000,000 | 0 | 83 |
| Ruud Lighting | 11/3/2011 | $3,275,000 | 469 | 340 |
| Blue7 Solutions | 12/27/2012 | $3,250,000 | 250 | 17 |
| Baptista's Bakery | 2/8/2012 | $2,260,000 | 240 | 107 |
| Collaborative Consulting | 6/8/2012 | $2,250,000 | 200 | 138 |
| Miiwaukee Electric Tool Corp. | 9/5/2012 | $2,050,000 | 103 | 360 |
| Specialty Retail Shops Holding Corp. | 5/14/2015 | $2,000,000 | 129 | 94 |
| Ta Chen International | 6/3/2013 | $1,025,000 | 92 | 1 |
| KCS International | 4/15/2013 | $820,000 | 170 | 62 |
| County Materials Corp. | 4/30/2013 | $750,000 | 43 | 65 |
| The Water Council | 3/19/2012 | $750,000 | 0 | 0 |
| WD Parket | 9/4/2012 | $750,000 | 150 | 84 |
| Ruud Lighting | 11/3/2011 | $725,000 | 0 | 0 |
| Racine Railroad Products | 5/14/2012 | $620,000 | 32 | 4 |
| Wisconsin Center for Manufacturing & Productivity | 12/22/2011 | $550,000 | 0 | 0 |
| Blue7 Solutions | 12/27/2012 | $500,000 | 0 | 0 |
| WTS Paradigm | 9/4/2012 | $500,000 | 0 | 0 |
| WTS Paradigm | 9/4/2012 | $500,000 | 103 | 32 |
| Building Committee | 9/19/2011 | $500,000 | 0 | 0 |
| Precision Ice Blast Corp. | 2/20/2012 | $400,000 | 65 | 45 |
| Ripon Foods/Heritage Wafers | 11/5/2012 | $400,000 | 100 | 155 |
| Fed Ex SmartPost | 4/24/2012 | $388,250 | 0 | 0 |
| J.M. Smucker | 12/22/2011 | $300,000 | 4 | 0 |
| Global Entrepreneurship Collective | 8/16/2012 | $300,000 | 0 | 22 |
| TOTAL | | $124,363,250 | 6,165 | 2,106 |