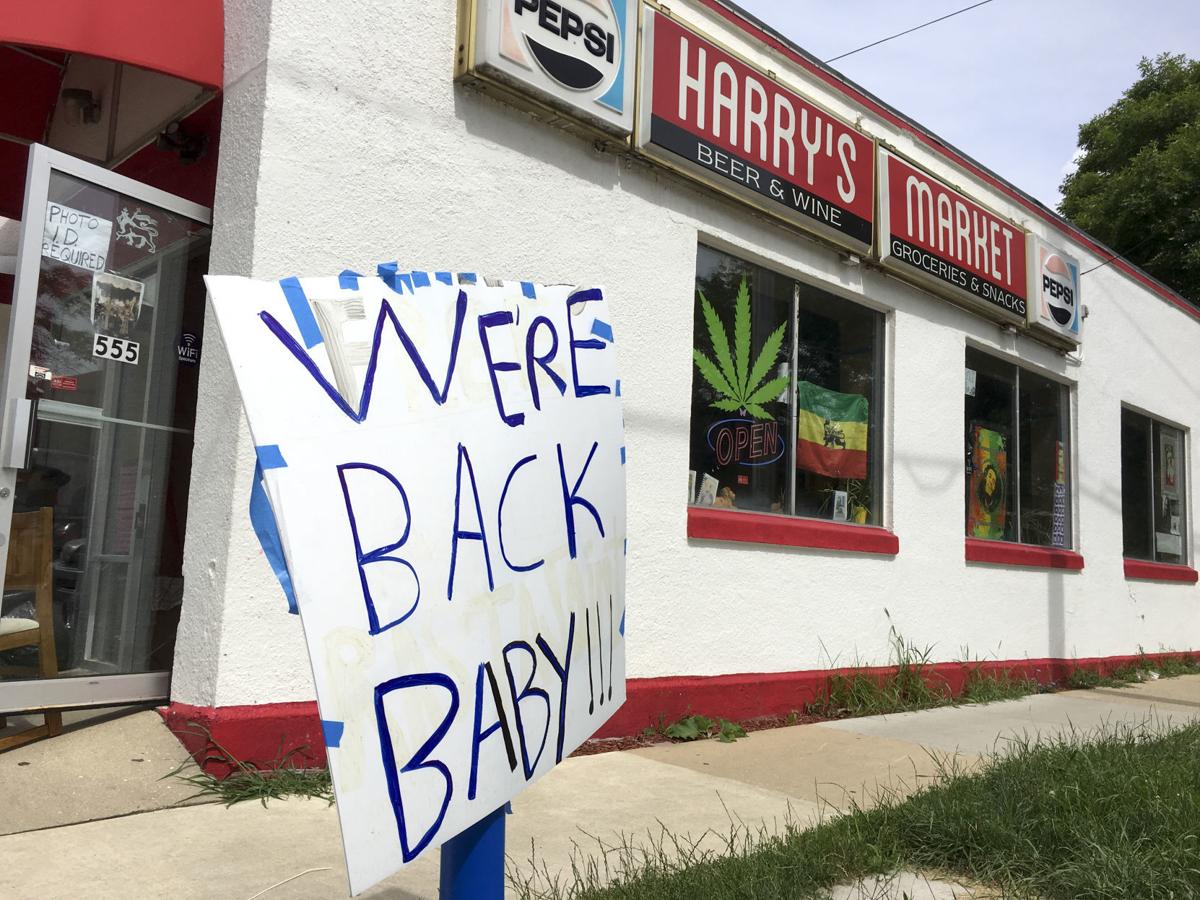 After a favorable court ruling, a self-styled Rastafarian church Downtown has reopened, but without the prior open use of cannabis and acceptance of "donations" from church members in exchange for dispensations of marijuana "sacrament."
On Wednesday, a hand-made sign saying "WE'RE BACK BABY!!!" stood outside the storefront Lion of Judah House of Rastafari, 555 W. Mifflin St.
Madison natives Jesse Schworck, 39, and Dylan Paul Bangert, 23, opened the church in March, but after an investigation authorities raided the establishment, arrested the leaders, and shut down operations on May 29. The back door is still boarded up from the raid, which was initiated by the Dane County Narcotics Task Force and involved more than 20 officers.
Schworck and Bangert were charged with maintaining a drug trafficking place and possession with intent to deliver marijuana. Bangert also faces one count of delivery of marijuana, while Schworck faces three delivery counts. Schworck also faces misdemeanor battery and disorderly conduct charges stemming from an alleged dispute with a customer who he said took marijuana "sacrament" from the church without paying, a criminal complaint states.
Both men contend that police and the city are infringing on their right to practice their religion.
On Monday, Dane County Circuit Judge Jill Karofsky ruled that Schworck could return to the church, which Schworck's lawyer, Anthony Delyea, said offered an air-conditioned space for homeless people, along with food and clothing.
Karofsky removed the bail condition prohibiting Schworck from being in the 500 block of West Mifflin Street, but said other conditions remain in place barring Schworck from committing any new crimes or using or possessing any controlled substances, including marijuana.
"I'll be lawful, that's my intent," Schworck told Karofsky.
Later Monday, co-defendant Dylan Bangert's bail conditions were also changed to allow him to be in the 500 block of West Mifflin Street.
Schworck's case is to be set for trial. He formally entered not guilty pleas to charges and is next scheduled to appear in court on Aug. 9, when Karofsky will hear a motion for return of property seized by police, including a large amount of cash. Bangert has not yet had a preliminary hearing. His case is set for a status conference on Thursday.
Last month, the owner of the building, Charanjeet Kaur, filed eviction proceedings against Schworck and Bangert. The eviction case is delayed until November, court records indicate, pending the resolution of a federal lawsuit the pair has filed against the city of Madison, the Police Department and several other entities and individuals.
"We took our lumps but we're still above water," Schworck said Wednesday at the building, where church members were regathering and helping with cleanup. "Right now, we're just chilling and letting everyone know we're okay. We're still fighting the good fight."
The space is refurnished with a couch, chairs and table with a chess set atop it. The fix up includes repairing the back door broken during the raid, painting walls green, gold and red, restocking counter tops and shelves with Rastafarian literature, vintage clothing for sale, roller blades for rent, and establishing a food bank.
Absent were the once openly displayed glass jars filled with marijuana, paraphernalia and related items. Several people were hanging out and a few visitors came and left, but there were no offers or exchanges of cannabis on Wednesday afternoon. Schworck said he isn't checking if visitors might possess marijuana.
But Schworck stressed that he's following his bail conditions. "It's important to take it easy for the next couple of weeks," he said.
'Magnet' for trouble?
Downtown Ald. Mike Verveer, 4th District, who represents the area, said he will soon propose to further liberalize the city's cannabis laws, but was "disappointed" by the court ruling.
"This place has been a magnet for individuals who are loitering and camping out in the vicinity of the building," he said. "My concern is this will turn into an illegal homeless services center and that it will continue to be a nuisance for residents in the area. My hope is that the eviction process will be expedited and that the landlord will be able to successfully evict them."
Whether Schworck and Bangert will try to sell marijuana again "is anybody's guess," Verveer said. "I know the cops will be keeping a close eye on it."
Madison police Central District Capt. Jason Freedman could not be reached for comment. City Attorney Michael May said the city is aware of the court ruling and is evaluating next steps.
But open-minded
Schworck and Bangert, who claim perhaps 10,000 members from all parts of the state, have maintained that the church is rooted in Rastafarianism, a religious movement that employs the ritualistic use of marijuana. They say they don't pressure members to become Rastafarian, and that many if not most simply use cannabis to ease mental or physical stress or for meditation. It's up to members to seek fellowship or learn more, they have said.
The pair and supporters remain confident that they will prevail in court and eventually be able to resume previous activities.
"Our plan all along was to stay here," Schworck said.
State Journal reporter Ed Treleven contributed to this report.